PC growth in 2012 estimated at 4.4 percent by Gartner
We're in a post-PC world, but the PC is still holding on with Windows 8 and ultrabooks on the way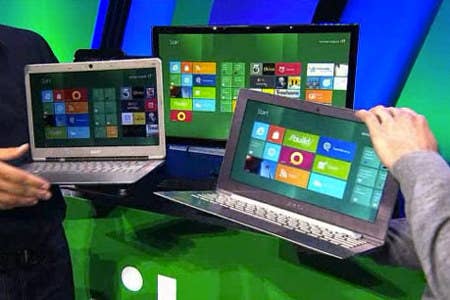 According to a forecast by Gartner, Inc., PC shipments are expected to hit 368 million units in 2012, a 4.4 percent increase over 2011. Gartner expects that number to grow to over 400 million in 2013, despite the continued success of "post-PC" platforms like Apple's iPad.
"PC shipments will remain weak in 2012, as the PC market plays catch up in bringing a new level of innovation that consumers want to see in devices they purchase," said Gartner research director Ranjit Atwal. "The real question is whether Windows 8 and ultrabooks will create the compelling offering that gets the earlier adopter of devices excited about PCs again."
The increasing power in tablets and smartphones has allowed those devices to take the place of a traditional PC for many consumer tasks, including email and social networking.
"PCs will face more competition as we see new media tablets based on operating systems from Android and Microsoft, as well the new iPad," said Atwal. "Consumers will now look at a task that they have to perform, and they will determine which device will allow them to perform such a task in the most effective, fun and convenient way. The device has to meet the user needs not the other way round."
Gartner also expects for PCs to be big sellers in emerging markets.
"Emerging markets are key to driving worldwide PC growth in both the short and long-term, and our expectation is that 2012 and then 2013 onwards will be supported by growth in emerging markets as their share increases from just over 50 percent in 2011 to nearly 70 percent in 2016," said Mr. Atwal. "Emerging markets have very low PC penetration and even with the availability of other devices we still expect a steady uptake of PCs."