FIFA's fight to join the "big three" of esports
More than 300 EA staff are working on esports, but can the publisher's football franchise challenge Dota, League of Legends and CS:GO?
Although traditional football is indisputably one of the biggest games in the world, its virtual equivalent still isn't among the esports high-flyers.
Nevertheless, with 260 million players around the world, the potential for EA Sports' FIFA is clearly there. And the growth seen in the game's various esports competitions has been pronounced.
"Last year we saw a tripling of our viewership numbers," Todd Sitrin, senior VP and general manager of EA's competitive gaming division, told Gamesindustry.biz. "Everyone knows that there is the big three in esports - Dota, League of Legends and Counter-Strike: GO. We are not quite at that level yet, but we are in the same region of viewership that the Overwatch League sees."
The 2018 FIFA eWorld Cup Finals at London's O2 generated more than 29 million views across online platforms over three days. FIFA esports events are streamed on YouTube, Facebook and Twitch, as well as broadcast on two TV channels, BT Sport and Sky Sports.
"I think that surprises a lot of people, because why would people want to watch people play this when they can just watch the live sport counterpart?" says Sitrin. "And the reason is really simple. FIFA esports is by far the most accessible esport that exists out there."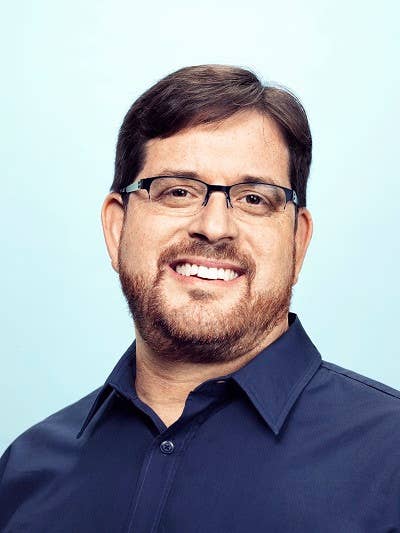 He continues: "Everybody knows the rules of the game. Billions of people around the world know the teams that are being played. Billions of people know the players and have an emotional attachment to them. All of that makes it easy to watch and understand. If you look at a lot of the other games that I just mentioned, those are very complicated, deep, inaccessible viewing experiences. So there's a difference right off the bat in terms of the ease of use."
Nevertheless, the FIFA esports audience figures barely touch those of the most recent League of Legends World Championship Finals, which attracted nearly 100 million unique viewers - hitting similar highs to US TV sports extravaganza the Super Bowl. Additionally, the $250,000 FIFA eWorld Cup victor's prize is paltry compared to the Dota 2 International's $24.8 million combined prize pool.
However, one advantage FIFA has is its player base. There are millions of competitors participating in FIFA esports, helped in no small part by the esports qualifiers being incorporated into the console game experience.
"Last year, we had about 20 million people compete inside the Champions mode at the beginning part of the qualifications," says Sitrin. "Sometimes we have over a million players that are competing just on single weekends."
In spite of its comparatively meagre prize-pool, FIFA boasts a huge fan-base with a hunger for competition. By supporting this hunger, EA says it has been able to reach new audiences and retain players for longer.
"Everyone knows that there is the big three in esports - Dota, League of Legends and CS:GO. We are not quite at that level yet"
"This serves as a marketing function. It brings attention to the game, and it brings people to playing the game," says Sitrin. "That's a traditional reason for a company like ours, a publisher, to invest in competitive gaming, and we have had some huge successes there. We've had 20 million people competing in our game."
Sitrin explains that competitive players are engaged players: "We get five times more engagement from those who play competitively versus those who don't. That translates into more revenue, more people buying the game, and more people spending money in the game."
Sitrin also adds that the entertainment aspect of esports can become a business in of itself through sponsorship, media rights, and licensing fees. EA has invested significantly in competitive gaming, and there are between 300 to 400 EA staff working on esports projects in one way or another; from the development of technology to the nitty gritty of league operations.
"We want people, no matter what their competitive skill, to be able to compete," says Sitrin. "That means designing modes inside in the game that are built for competition. It means creating community-level competitions where less than 100 people can play in their local community. It is about building mid-tier level events where a lot larger groups can come, but it's still not at the highest elite level. And then there's the Elite level, like the FUT [FIFA Ultimate Team] Champions Cup that happened in Bucharest in November."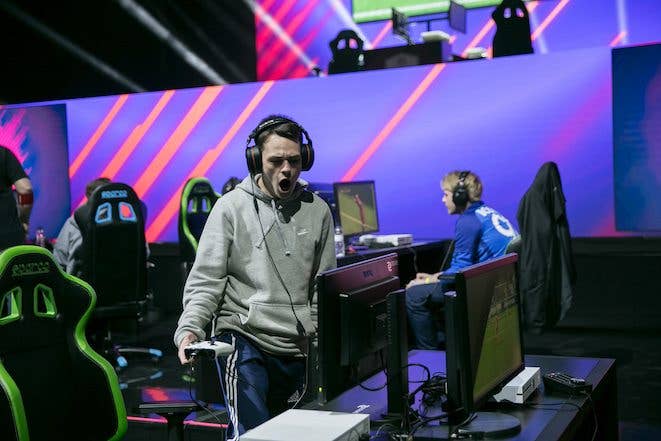 Although EA has invested internally in a major way, it still works with a number of partners around the world when putting on esports events.
"We are trying to build a really robust ecosystem of competitive gaming," states Sitrin. "That requires tens of millions of dollars of investment on a yearly basis to put that on."
He continues: "We don't believe, first of all, that any one company should put that on, whether that's EA or anyone else. We feel like it should be spread out. We want multiple people to be involved in building that ecosystem, because everybody has their strengths. Some people are geared towards the community-base, others are geared towards the higher end of the ecosystem. But they are all incredibly important. So for us, we want many people to invest in the ecosystem."
"We are trying to build a really robust ecosystem of competitive gaming... That requires tens of millions of dollars of investment on a yearly basis"
According to Sitrin, EA's competitive gaming division has around "30-odd" partners in a given year, including tournament operator Gfinity and esports league PGL. A host of real-world football leagues have also partnered with EA.
"We have official partnerships and competitions that are being run by the Bundesliga, the English Premier League, La Liga, League One, The Dutch League, MLS in North America, and many others," says Sitrin, who counts 15 to 20 leagues running licensed competitions in partnership with EA.
While there is no guarantee that traditional football fans will take to playing FIFA as a result of these partnerships, the growing convergence between traditional sports and esports brands will likely result in audience crossover of some kind, especially in terms of advertising and sponsorship -- one of the more potent profit opportunities in the space.
Non-endemic sources of investment are becoming more prevalent in esports generally, with brands such as Domino's Pizza, Orange and Air Asia getting involved, along with entertainment companies such as WWE. Events like the upcoming Esports BAR in Cannes specifically seek to introduce non-endemic entities to the sector.
For the future, EA has set its sights on building its player and viewer community, and it plans to do that in the same way as traditional sports.
"We want to build an emotional attachment to what we are doing," concludes Sitrin. "Both in the game if you are a competitor, and also the tens of millions of people who are viewing; getting them to build an affiliation with the players and the esports teams that are participating in our competition."
Todd Sitrin is an advisor to the Esports BAR, which takes place in Cannes next month from February 12 to 14. GamesIndustry.biz will be present at Esports BAR to discuss publishers' success in esports. For more details, click here.
Interview conducted by Christopher Dring.