Origin download code giveaway costs EA dear
Thousands of games delivered for free as survey reward scheme goes awry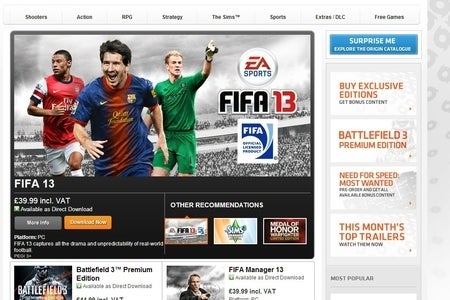 EA has been stung by an error in a download code giveaway which resulted in thousands of games being downloaded for free from the publisher's online store.
Codes were given to users who completed a survey, intended to allow the download of a single game each from EA's Origin service. Instead, each code could be used without limit, by any Origin user in North America.
Before long, news of the exploit hit the pages of Reddit, resulting in an explosion of users looting Origin for multiple titles - as many as forty each.
One user, PaladinMats, proudly posted the following list of games in his 'haul'.
Dead Space
Dead Space 2
Dragon Age: Origins
Dragon Age: Awakening
Dragon Age II
Crysis
Crysis Warhead
NFS Shift
NFS Hot Pursuit
NFS Undercover
NFS Shift 2 Unleashed
NFS World ($20 speed boost credit included)
Medal of Honor
Littilest Pet Shop
Burnout Paradise the Ultimate Box
MySims
Command & Conquer 4 Tiberian Twilight
Command & Conquer 3
Command & Conquer: Red Alert 3
Command & Conquer: Red Alert 3 - Uprising
Mass Effect 1
Mass Effect 2
Battlefield 2 Complete Collection
Battlefield 2142 Deluxe Edition
Battlefield Bad Company 2
Battlefield Bad Company 2 Vietnam DLC
Battlefield Bad Company 2 SPECACT Kit Upgrades
FIFA Soccer 12
Tiger Woods PGA Tour 12
Sim City 4
SimCity Societies
SimCity Societies: Destinations
Mirror's Edge
Mirror's Edge DLC
Mercenaries 2: World in Flames
Shank
Shank 2
Spore
The Saboteur
Harry Potter and the Order of the Phoenix™
Harry Potter and the Deathly Hallows™ - Part 1
Harry Potter and the Deathly Hallows™ - Part 2
Bulletstorm
Sims 3 add-ons
EA has been contacted for comment on the incident, but has yet to make an official statement regarding the planned response. It's unclear as to what the cause of the problem may have been.