Oculus Rift tops awareness among VR headsets - Nielsen
Still, only 22% of gamers have heard of the Rift, with awareness for the Vive and PSVR even lower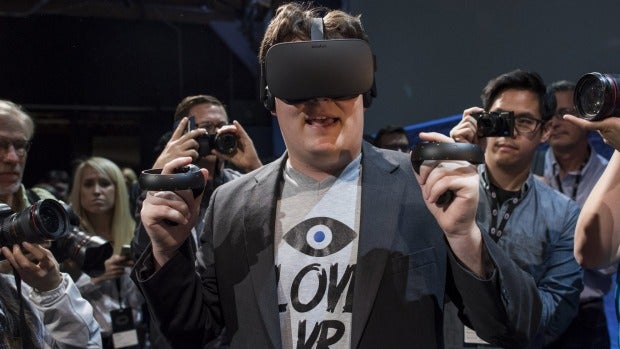 According to Nielsen's newest 360 Gaming Report, which is based on online surveys completed by more than 2,000 teens/adults over age 13, 37 percent of all US gamers have heard of at least one VR/AR device, but on an individual basis, the three VR headsets currently on the market or hitting the market later this year have a fair amount of work to do in spreading awareness. As you might expect, Oculus is leading the pack (see chart below) but not even a quarter of gamers are familiar with the Rift.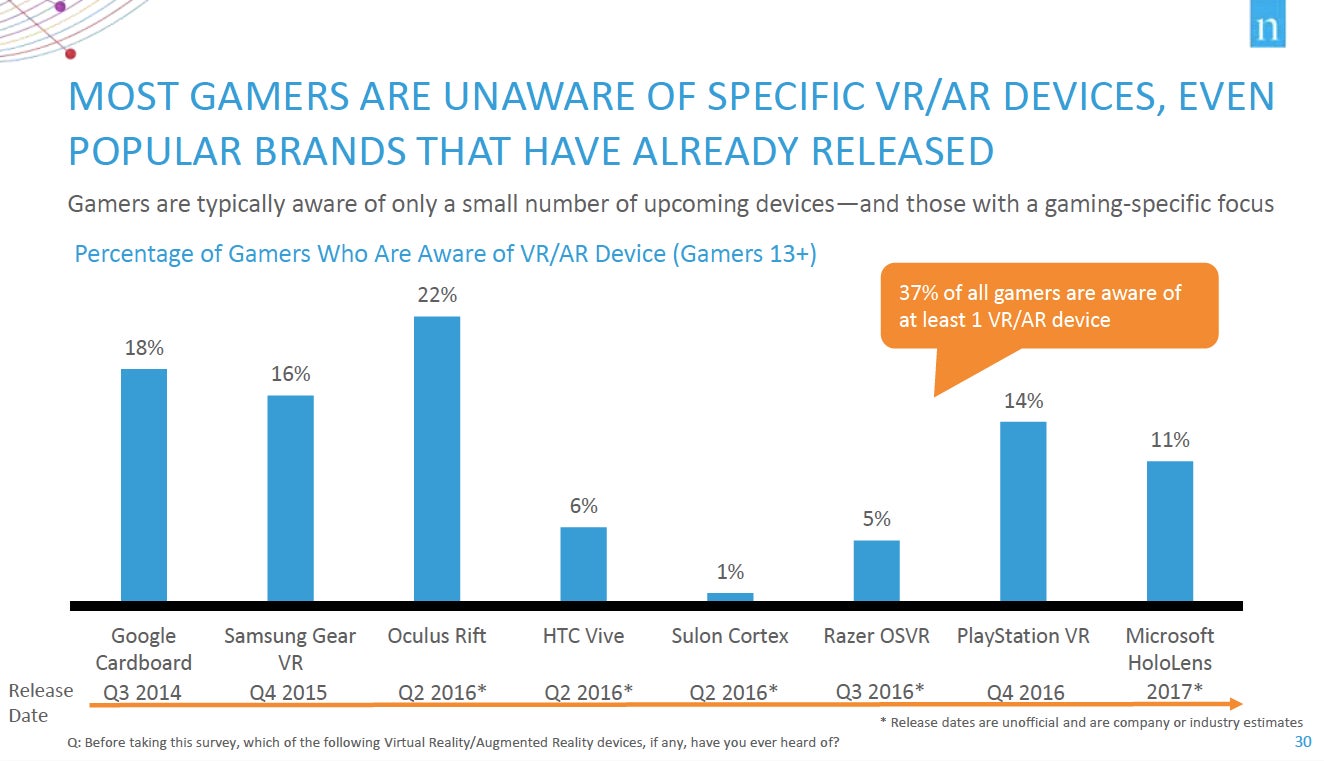 "Education will be an important factor for these companies to get the word out. However, this type of experience doesn't really lend itself to traditional marketing driven education. A lot of the education will likely be organic through buzz/word of mouth and come from early adopters," Nielsen Games GM Michael Flamberg commented to GamesIndustry.biz.. "This reinforces the importance of social influence in the development of these devices and content to foster a spirit of experience sharing so that early adopters can more easily advocate for VR. The early adopters, tech enthusiasts and social influencers can then cascade their influence to the masses.
"These are also devices that will require some investment from consumers and will be an immersive experience so for gaming, content available on the devices will be another key driver. [VR headsets] also have the potential to do a lot more than just gaming. Viewing other forms of content (live events, movies, TV) and engaging with a broader set of categories and functions will also help the devices in time (product development/engineering, health care, training, etc.)"
Those gamers who are interested in VR/AR are generally young and make a decent living with an average annual income of nearly $63,000 and a monthly video game spend of close to $20. So these are highly valuable people with disposable income that brand advertisers will want to pay attention to.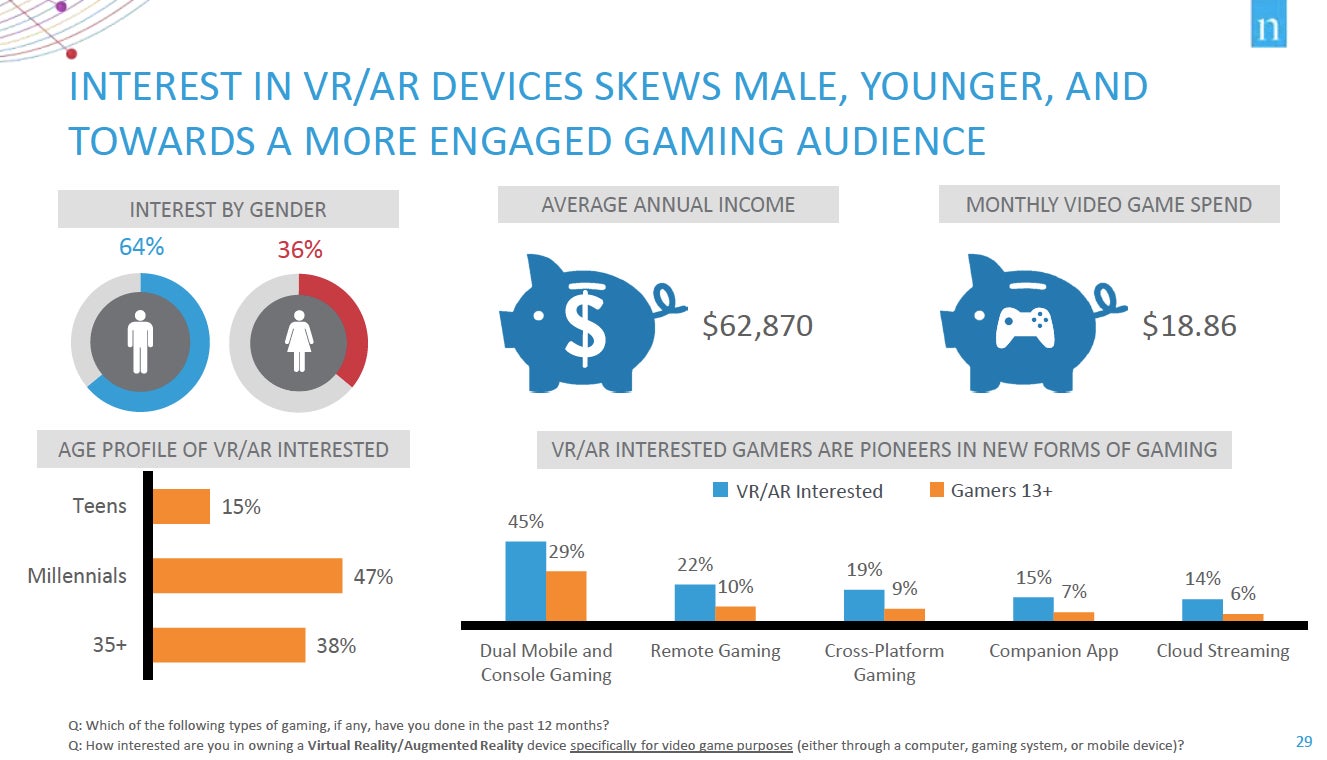 The same can be said for another audience explored in Nielsen's report: eSports viewers. In fact, eSports viewers generally skew even younger with 51 percent of them being Millennials and they have an even higher average annual income, closer to $70,000.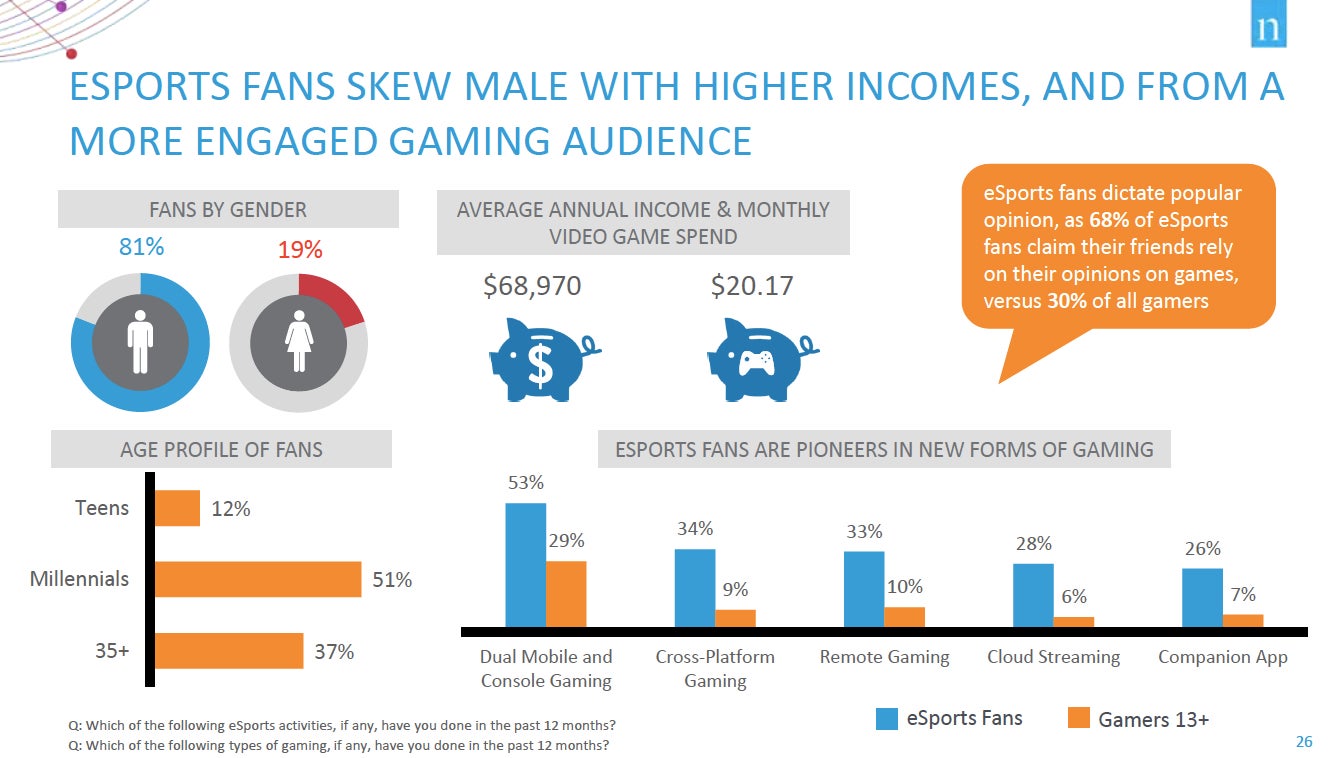 "eSports fans are a valuable audience for the category and for brands. eSports attract fans for its entertainment value, particularly the drama of competition and the relevance of gaming to their own leisure time. To grow further, eSports will need to be easier to engage with, and both more social and interactive. More local events and increased mainstream coverage will also be key. To be successful in the space, brand fit and sponsorship execution will be important for sponsors/advertisers, who should pursue eSports as one part of a broader brand strategy," noted Flamberg.
Interestingly, while Twitch has become a home for eSports events, Nielsen's data found that it's far behind as a platform for general viewing of video game related content, which is dominated by YouTube (see chart below).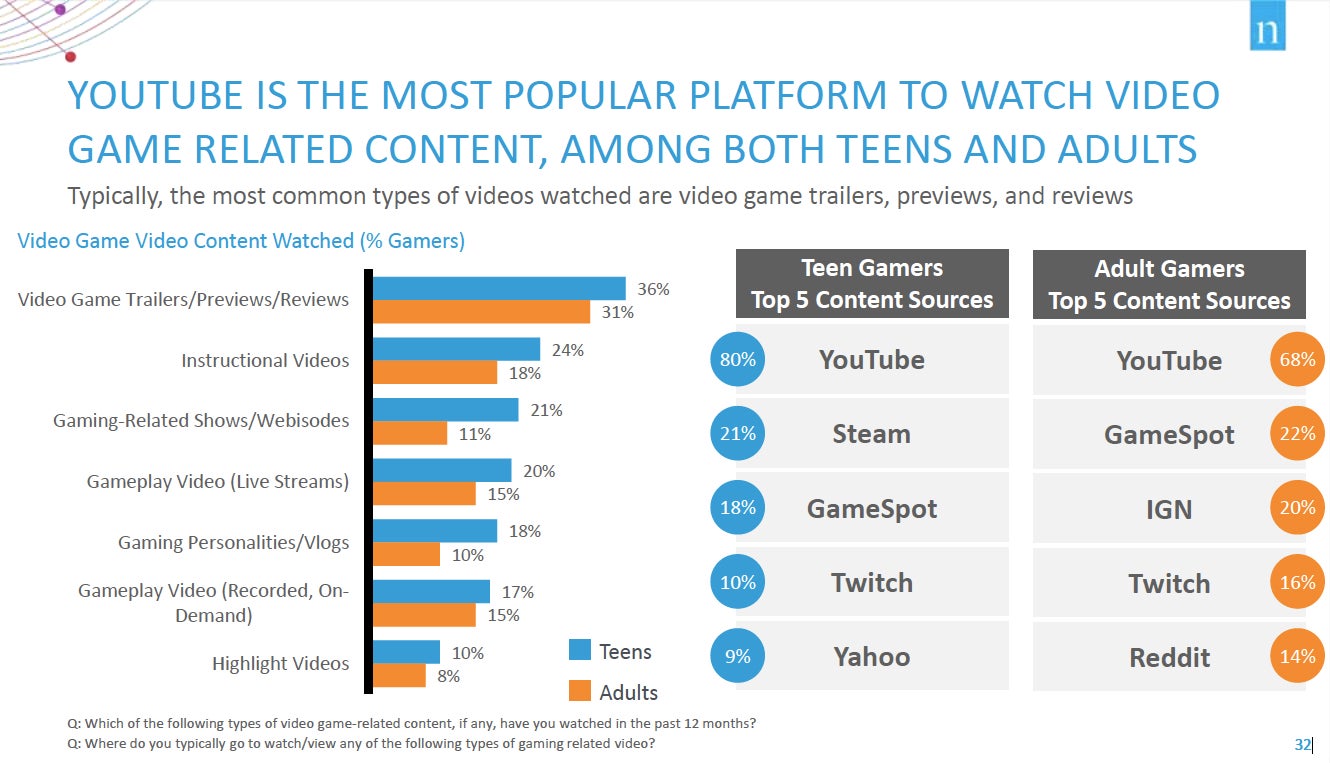 "The question asked about video game-related content in general (i.e. this can include trailers/previews/reviews, gameplay videos, etc.) as opposed to eSports content specifically. This study went out to a general pop sample and broadly includes all gamers (console, PC, mobile, hardcore/casual, etc.) as opposed to focusing on highly engaged gaming consumers. Those factors combined explain that platforms like YouTube especially are for the broader audiences and have larger reach in general for gaming content," explained Flamberg.
"However, we have seen in our eSports research (released late 2015) that Twitch is definitely the destination for eSports fans as Twitch is the top destination for eSports content/programming well ahead of YouTube and other gaming sites like GameSpot and IGN. This could have implications for marketing - do you reach the majority of viewers/consumers just by being on Site A, or do you really need to get your content on all the different sites?"
GamesIndustry.biz readers who would like more information or a free copy of the full Nielsen report can send a request to peter.roithmayr@nielsen.com.