Obama calls for violent game research [Updated]
President asks Congress to fund studies on effects of games on kids, saying, "We don't benefit from ignorance"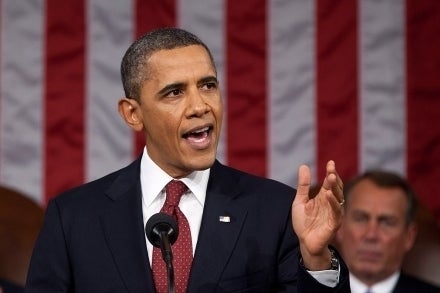 President Barack Obama today unveiled a series of measures intended to curb gun violence in the wake of last month's Newtown school shooting. While most of his proposals centered on gun control issues, he also called for more research into the effects of violent video games on children.
"Congress should fund research on the effects violent video games have on young minds," Obama said. "We don't benefit from ignorance. We don't benefit from not knowing the science."
Beyond the gaming research, the President called for universal background checks, as well as bans on the sale of assault weapons and high-capacity magazines. He also asked Congress to confirm his appointment for director of the Bureau of Alcohol, Tobacco, and Firearms. That position has been an issue for some time, as the Bureau has only had a series of acting directors since 2006.
Obama acknowledged that his measures will face considerable opposition from legislators and political lobbies alike, who he said wanted nothing to change. The only way his proposals can be passed, he said, is if the public and the members of those groups make their own vocal calls for change.
Update: The Entertainment Software Association has released a statement on President Obama's gun violence proposal.
"ESA appreciates President Obama's and Vice President Biden's leadership and the thoughtful, comprehensive process of the White House Gun Violence Commission. We concur with President Obama's call today for all Americans to do their part, and agree with the report's conclusion that the entertainment and video game industries have a responsibility to give parents tools and choices about the movies and programs their children watch and the games their children play," said the organization in its statement.
"The same entertainment is enjoyed across all cultures and nations, but tragic levels of gun violence remain unique to our country. Scientific research and international and domestic crime data all point toward the same conclusion: entertainment does not cause violent behavior in the real world."
"We will embrace a constructive role in the important national dialogue around gun violence in the United States, and continue to collaborate with the Administration and Congress as they examine the facts that inform meaningful solutions."