Nvidia introduces new gaming console
Portable Project Shield plays Android games, streams PC games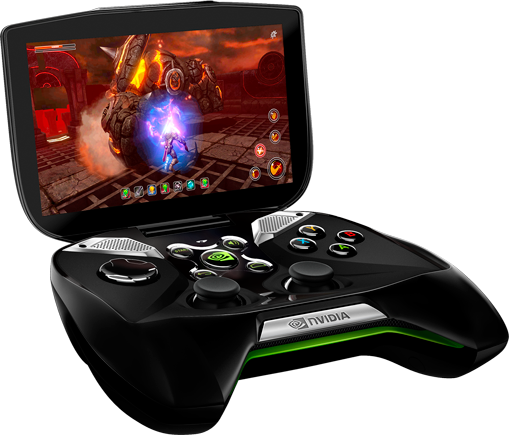 Update: According to the geforce.com website, Shield will ship in Q2 of 2013 for the US and Canada, with a worldwide rollout to follow. Pricing and final specs will be announced closer to availability.
Nvidia just held their CES press conference, announcing a new gaming console, Project Shield, that may just change the gaming industry. Project Shield is a portable gaming console built around the new Tegra 4 chip (also just announced) running Android, with an unusual form factor. Essentially, Project Shield is a standard game controller (looking very much like a Xbox 360 or a PS3 controller) with a 5 inch HD screen attached. Project Shield not only runs Android games, it can also stream games from any Windows PC powered by an Nvidia GTX GPU, accessing titles on its Steam game library from anywhere in the home.
According to Nvidia, "Project Shield combines the advanced processing power of Nvidia Tegra 4, breakthrough game-speed Wi-Fi technology and stunning HD video and audio built into a console-grade controller." It can be used to play on its own integrated screen or on a big screen, and on the couch or on the go. Project Shield can instantly download Android games, including Android-optimized titles available on Nvidia's TegraZone game store. It can also be used as a wireless game receiver to a nearby PC equipped with an Nvidia GeForce GTX 650 GPU or higher.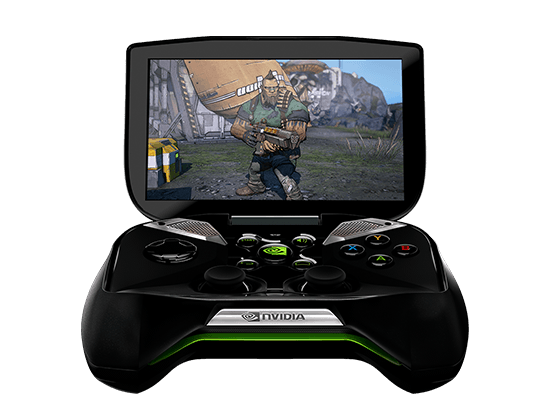 "Project SHIELD was created by NVIDIA engineers who love to game and imagined a new way to play," said Jen-Hsun Huang, co-founder and chief executive officer at NVIDIA. "We were inspired by a vision that the rise of mobile and cloud technologies will free us from our boxes, letting us game anywhere, on any screen. We imagined a device that would do for games what the iPod and Kindle have done for music and books, letting us play in a cool new way. We hope other gamers love SHIELD as much as we do."
Huang showed Project Shield running games like Assassin's Creed III and Need For Speed: Most Wanted, streaming them from a nearby PC and routing the video through Project Shield to a 4K TV (that's a TV running at four times the resolution of a 1080p HDTV, or 3840 x 2160 resolution). The process showed no apparent lag, and the gaming proceeded smoothly during the demo. Huang noted that right now you'd need to connect an HDMI cable to tProject Shield and the TV, but 'soon' you would be able to stream video wirelessly from Project Shield to a properly equipped TV, similar to Apple's AirPlay technology.
Project Shield includes the new Tegra 4 chip, which Nvidia is billing as 'the world's fastest mobile processor.' The chip has a custom 72 core GeForce GPU and the first quad-core application of ARM's most advanced CPU core, the Cortex A-15. The integrated 5-inch, 1280x720 HD retinal multitouch display is 294 dpi. Nvidia also promises that its Tegra 4 with Direct Touch technology gives it touch responsiveness that is a more consistent, accurate and smooth-flowing touch input experience than a standard touch device.
Nvidia is not neglecting audio, saying that Project Shield "provides fidelity and dynamic range never before available on a portable device, through its custom, bass reflex, tuned port audio system -- with twice the low-frequency output of high-end laptops." Other features include 802.11n 2x2 MIMO game-speed Wi-Fi provides high-bandwidth, ultra-fast wireless for seamless game streaming, and the latest version of Android Jelly Bean.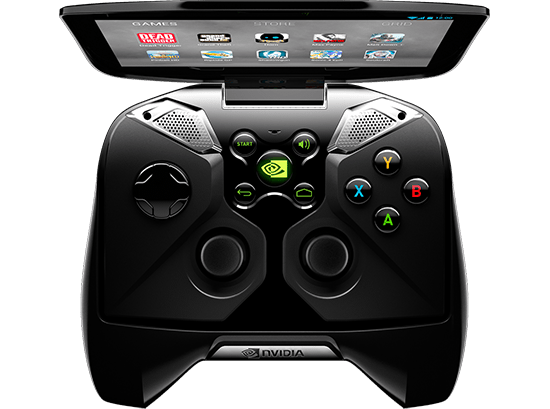 Mark Rein, vice president and co-founder of Epic Games, said: "With Project Shield, Nvidia brings an uncompromising, high-performance console experience to mobile devices. Amazing games including Real Boxing and Hawken, which utilize the latest Unreal Engine technology, look fantastic on Project Shield. This is just the beginning, and we're truly excited to see what more Unreal Engine developers will do with so much horsepower in such a compact gaming device."
Bill Wagner, chief production officer at Meteor Entertainment, said: "Coming from the openness of a PC platform, we love how accessible Project Shield is, and the flexibility it gives gamers everywhere. Project Shield gives us the cutting-edge ability to bring a huge free-to-play PC game like Hawken to the handheld gaming audience."
Being able to play PC games anywhere in the house with a good-quality controller, and put those games on a TV screen when you like are both compelling features. It's worth noting, though, that many PC games are not controller-friendly, and really require a keyboard and a mouse to be played well. Nvidia may have solutions in mind for such games, but nothing was said about that during the press conference.
Nvidia made no mention of two of the most important features of Project Shield: the release date and the price. It's likely that Nvidia plans to release the device in the next quarter or two; a later release would give competitors plenty of time to come up with strategic responses, and no sensible company would want to make it easy for the competition.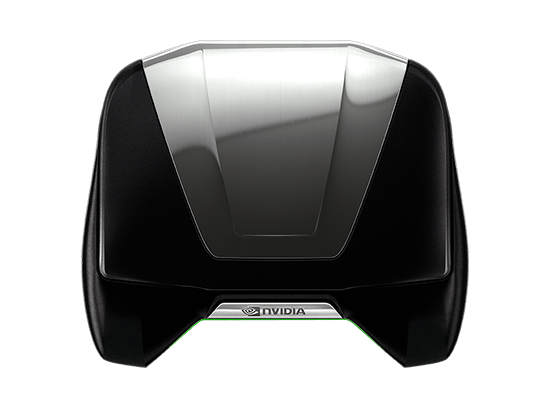 Pricing is critical, of course, to the potential success of Project Shield. The marketplace is crowded with consoles, handheld consoles, smartphones and tablets all trying to appeal to gamers. A Project Shield at $100 might sell incredibly well; the same device at $500 would likely sit on shelves. Given the hardware capabilities outlined, Project Shield's price will probably lie somewhere between these two extremes. The exact price point, and the amount of marketing and developer support behind the device, will make a big difference to its ultimate fate in the marketplace.
While many questions remain, this announcement from a company like Nvidia should be cause for Sony, Nintendo and Microsoft to give some thought to their console strategies and how they might respond if Project Shield proves popular. Nvidia will have to put some serious resources into Project Shield if they expect to make headway against current and future consoles. One thing's for sure: The console wars of 2013 are already off to an interesting and unexpected start only a few days into the year. Get ready for a wild ride this year; whatever happens, it won't be boring.