NTT Docomo demos two-sided, translucent OLED phone screen
Android prototype shows gaming potential with Rubik's cube test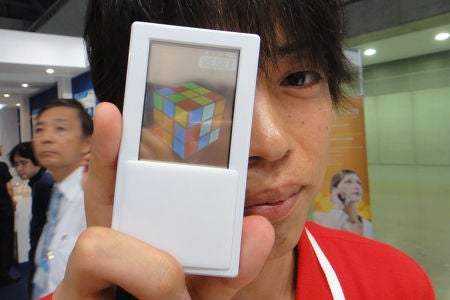 Fujitsu and Docomo have demonstrated a concept hardware prototype of a mobile phone with a two-sided, translucent OLED touch screen.
Similar in concept to the Vita's rear-touch panel, which allows users to manipulate on-screen objects without obscuring them with a finger, the prototype was used to demonstrate a Rubik's Cube game, as you can see in the video below.
Whilst the device is very much an early proof of concept, with a small, low resolution screen of 320x240, Docomo and Fujitsu are keen to develop the technology to make it commercially viable.
"You could hold down an icon on the front, and slide on the back to move an icon, or use the message bar, or create a new application," said a company spokesperson.
"For example, from the front, you can only move the whole Rubik cube like this, but if you slide your finger across the front while holding down the back, you can rotate just one face. So this display makes gripping operations possible.
"The display is QVGA (320 x 240), at 2.4 inches. We think it needs to be bigger if we're to market this kind of phone. But even in this form, we think it could be used as a sub-display. In that case, it will have a limited display capability, so we think the range of applications could be wider.
"Compared with a standard smartphone, this one still has slightly low brightness, so it's a bit hard to view in bright places. We'd like to improve the technology to overcome things like that."