NRA releases iOS game
Gun lobby launches firearm safety and target shooting app rated for ages 4 and up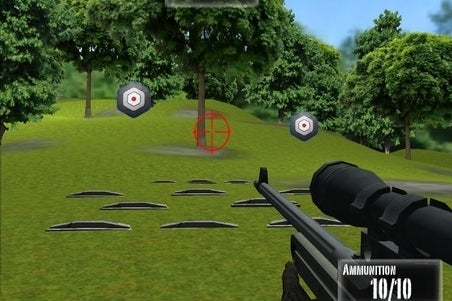 Last month, the National Rifle Association derided the gaming industry as "a callous, corrupt, and corrupting shadow industry that sells and sows violence against own people through vicious violent video games..." This weekend, the group launched its own game for the iOS platform.
Rated for ages 4 and up (meaning it contains no objectionable material), NRA: Practice Range is a target practice game for iPhones and iPads where players use a variety of firearms to shoot bullseyes as well as human-sized targets on a handful of ranges. The game also includes tips on gun safety, an NRA newsfeed, and information on various states' gun laws.
The game was developed by MEDL, whose previous apps include Cheech & Chong's Fatty Comedy App, Britannica Kids: US Presidents, The Honey Badger Don't Care, and the official Wienerschnitzel app. Practice Range is available for free on the App Store, with unlockable guns as $1 in-app purchases.
This is not the NRA's first foray into gaming. In 2006, it released the budget PlayStation 2 title NRA Gun Club. Like Target Practice, that game focused on shooting targets. It received an E10+ for Everyone 10 and Older rating from the Entertainment Software Rating Board.