Nintendo confirms Super NES Classic to launch on September 29
The company's worst kept secret is now a reality; system includes 21 games in total [UPDATE: Nintendo to produce "significantly more" than NES Classic]
After discontinuing the fast-selling NES Classic system, Nintendo had been strongly rumored to be prepping a follow-up SNES Classic. Today, the company has indeed confirmed that the SNES Classic edition will launch on September 29, well in advance of the holidays.
For 80 bucks, consumers can relive the glory days of the Super Nintendo, as the SNES Classic edition comes packed with 21 of the era's best titles, including Super Mario World, Super Mario Kart, Super Metroid, The Legend of Zelda : A Link to the Past, and for the first time an unreleased version of Star Fox 2.
The SNES Classic hardware will come with an HDMI cable, two wired SNES controllers, one USB charging cable with AC adapter, and similar to the redesign of the discontinued NES Classic, it will be significantly smaller than the actual console from 1991.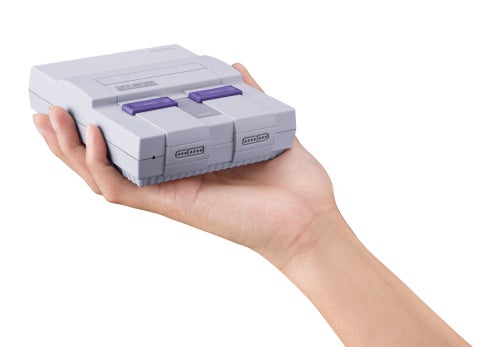 "While many people from around the world consider the Super NES to be one of the greatest video game systems ever made, many of our younger fans never had a chance to play it," said Doug Bowser, Nintendo of America's Senior Vice President of Sales and Marketing. "With the Super NES Classic Edition, new fans will be introduced to some of the best Nintendo games of all time, while longtime fans can relive some of their favorite retro classics with family and friends."
There's no word on how Nintendo plans to handle allocation for the SNES Classic. The company's production for the NES Classic did not satisfy demand and then Nintendo chose to end production. We've sent an inquiry to Nintendo for comment and we'll update you with any new info.
Update: A Nintendo representative has informed GamesIndustry.biz that the company "will produce significantly more units of Super NES Classic Edition than we did of NES Classic Edition." The company is not providing any specific numbers, and added, "We have nothing to announce regarding any possible shipments beyond this year." Therefore, it's unclear if the SNES Classic will be a limited time system and then discontinued like the NES Classic or if Nintendo will keep making them if it's in high demand.
The representative continued, "Our long-term efforts are focused on delivering great games for the Nintendo Switch system and continuing to build momentum for that platform, as well as serving the more than 63 million owners of Nintendo 3DS family systems. We are offering Super Nintendo Entertainment System: Super NES Classic Edition in special recognition of the fans who show tremendous interest our classic content."