Newell: Valve business up 50% last year
"There's this sort of insatiable desire for gaming right now"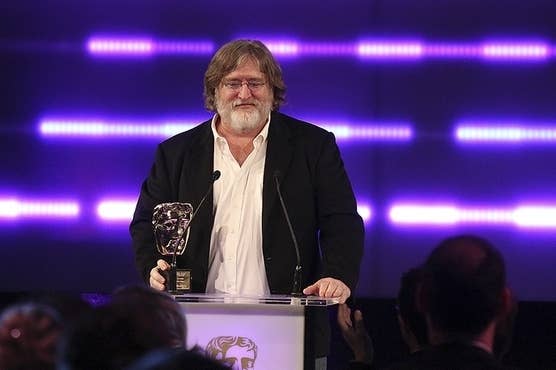 Gabe Newell has revealed that Valve saw a 50 per cent increase in business last year, and highlighted the importance of the player as a proactive figure in future game development.
"There's this sort of insatiable desire for gaming right now," he said in at interview at the recent BAFTA awards, where he received a fellowship.
"I think in the last year our business has grown about 50 per cent on the back of the opportunities that have been created by having these open platforms. And just so people sort of understand the scale of how big it's getting... so like the last Dota 2 update we were generating 3 and a half terabytes per second, so that's about 2 per cent of of all of the mobile and land based internet activity was just for a single game update."
He also suggested that in the future gamers would become more and more part of building the game, and even speculated on how that would affect award shows like the BAFTAs.
"I think we've seen a bunch of very interesting stuff happening so if you think of a multiplayer game or a social game really as being a collaboration between a game designer and their community, we continue to see that when we have stuff like the workshop where we're actually drawing users in and they're making €300,000 a year generating content for each other, it's really an acknowledgement of the reality of those democratic principles at work."