Newell: PC and TV gaming the same
Valve head says division between desktop and console gaming is artificial, sets goal for controller development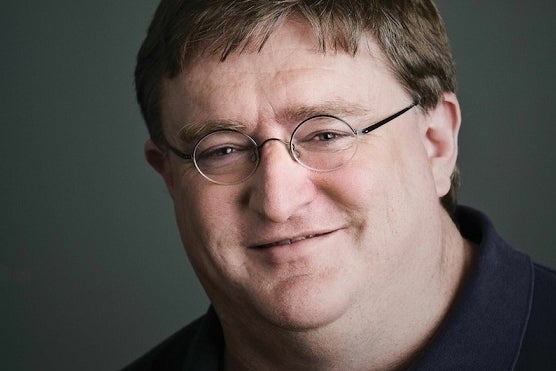 With Big Picture Mode and the upcoming array of Steam Boxes, Valve is trying to make the jump from the PC to the living room. But to hear Valve's Gabe Newell explain it, that's no jump at all. Speaking in a pair of appearances on The Nerdist Podcast this week, Newell downplayed the differences between the two.
"We thought the distinction between living rooms and PCs was artificial," Newell explained. "That's why we did 10-foot [Big Picture Mode], and why we're putting 10-foot into our games onto Linux. We don't think there's any reasons why these are islands. We don't think you have a different set of friends when you go into your living room... We think you can extend the PC totally to be in the living room."
Newell wants to break even more of the format walls down. Answering a question about how long it will be before gamers can take it for granted that they'll be able to play their games wherever they are with whatever devices they have handy, Newell said it could have happened already.
"Why doesn't my game experience continue whether I'm on mobile, in the living room, at work or on an airplane," Newell asked. "It's not because it isn't technically feasible, and it's not because it isn't the right thing to do. It's because the people who control mobile right now, Apple, have zero interest in interoperating well with the people who currently are controlling the living room, and they're completely interested in creating this silo separate from what you're doing on your laptop or your desktop."
Newell also explained the company's own forays into new areas, specifically the hardware market. He said that after achieving the level of success Valve has, the company has shifted its focus to "trying to be interestingly innovative." That meant looking at other huge successes in recent years--like the iPad and Wii--and realizing that what separated Apple and Nintendo from Valve is that those other companies had been thinking about the entire user experience, top to bottom. For the controller, that means something with "the control and preciseness that you're used to with a mouse and a keyboard, except [done] in a mobile-friendly, living room friendly way."
"At this point, we think that all of the margin, all of the profitability has been stolen out of [hardware]. Dell has terrible margins. Razer has terrible margins. And we're super profitable, so we need to start taking some of that and feeding it back into more speculative investments, like [Valve R&D man Michael Abrash's] project or the controllers. So that's the big picture version of it."