New Super Mario Bros. 2 breaks 1m sales in Japan
With no strong competition, the popular 3DS game holds number one for third week in a row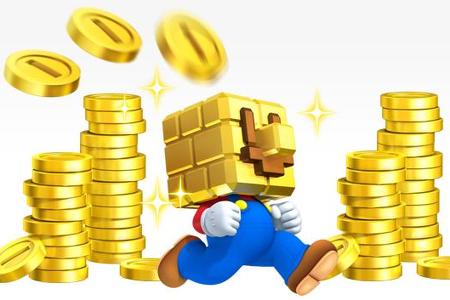 New Super Mario Bros. 2 held the number one spot in Japan for the third week running, as the summer drought failed to throw up any compelling challengers.
The popular 3DS game broke the 1 million sales milestone, though the only pressure came from Namco Bandai's Bakemonogatari Portable, in second place with 34,000 sales - less than half of New Super Mario Bos. 2's haul.
The only other new entry to reach the top ten was Bushiroad's Tantei Opera Milky Holmes 2, entering at ninth with just over 10,000 sales.
The hardware chart also remained static, with the 3DS continuing its dominance despite losing almost half its weekly sales following the spike caused by Mario. Every other hardware format also lost sales in a slow week for the Japanese games market.
The full software chart is below, with life-to-date sales in parentheses:
[3DS] 01. New Super Mario Bros. 2 (Nintendo, 07.28.2012): 71,092 (1,013,850)
[PSP] 02. Bakemonogatari Portable (Namco Bandai, 07.28.2012): 34,513 (NEW)
[NDS] 03. Pokemon Black & White 2 (Pokemon, 06.23.2012): 33,745 (2,665,428)
[WII] 04. Dragon Quest X (Square Enix, 08.02.2012): 20,616 (556,749)
[3DS] 05. Demon Training (Nintendo, 07.28.2012): 12,652 (132,026)
[WII] 06. Just Dance Wii 2 (Nintendo, 07.26.2012): 11,947 (149,928)
[3DS] 07. Taiko Drum Master Chibi Dragon and the Mysterious Orb (Bamco Nandai, 07.12.2012): 11,409 (183,400)
[PSP] 08. Tantei Opera Milky Holmes 2 (Bushiroad, 08.23.2012): 10,502 (NEW)
[3DS] 09. Kobito Zukan Kobito Kansatsu Set (Columbia, 07.26.2012): 9,549 (71,612)
[3DS] 10. Monster Hunter 3G (Capcom, 12.10.2011): 7,816 (1,534,129)
[WII] 11. Wii Sports Resort (Nintendo, 06.25.2009): 7,313 (2,978,562)
[PSV] 12. Special Reporting Division (Nippon Ichi, 08.23.2012): 6,515 (NEW)
[WII] 13. Kirby 20th Anniversary Special Collection (Nintendo, 07.19.2012): 6,301 (178,027)
[PSP] 14. Kuroko's Basketball (Namco Bandai, 09.09.2012): 6,136 (53,967)
[WII] 15. Mario Party 9 (Nintendo, 04.26.2012): 5,747 (526,378)
[PS3] 16. Persona 4 Arena (Atlus, 07.26.2012): 5,501 (159,109)
[3DS] 17. Little Battler eXperience Baku Boost (Level-5, 07.05.2012): 5,441 (124,342)
[3DS] 18. Run For Money: Flee From the Strongest Hunters in History (Namco Bandai, 07.05.2012): 4,708 (96,764)
[PSP] 19. Digimon World Redigitize (Namco Bandai, 07.19.2012): 4,470 (142,016)
[PS3] 20. Rinne no Lagrange: Kamogawa Days Game & OVA Hybrid Disc (Namco Bandai, 07.19.2012): 4,352 (NEW)
The full hardware chart is below, with previous week's sales in parentheses:
Nintendo 3DS: 64,921 (107,140)
PlayStation 3: 12,243 (19,202)
PlayStation Portable: 10,676 (14,051)
PlayStation Vita: 9,751 (11,082)
Wii: 8,476 (14,805)
Xbox 360: 563 (632)
PlayStation 2: 439 (627)
Nintendo DSi: 311 (410)