New Steam games on the rise following launch of Direct
Ico Partners' data indicates 730 games released in the last four weeks, with 213 games last week alone
The last six weeks have brought a spike in the number of games being released on Steam, culminating in 218 titles launching on Valve's platform in the first week of August alone.
The figures come from Ico Partners' Thomas Bidaux, who tweeted a graph showing a marked weekly increase in the number of new Steam games since June 19. Two key events are marked on the graph: the launch of Steam Direct on June 13, and the annual Steam Summer Sale shortly after.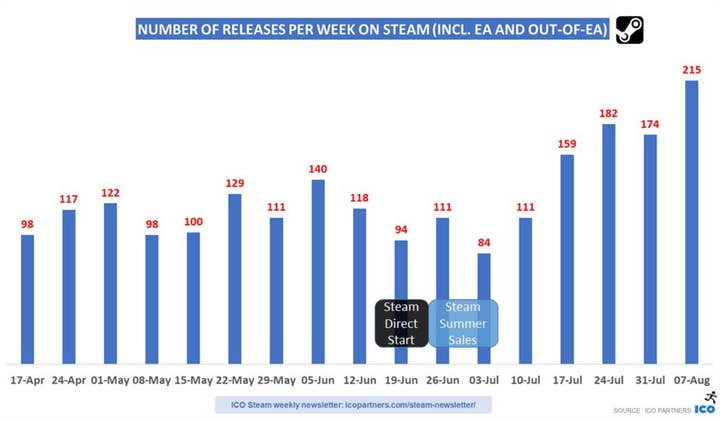 The link is not explicit, but there is an unmistakable rise in the number of games released on Steam throughout July; and the last four weeks in particular, all of which had seen 159 or more releases. Prior to that, the number of games had stayed within an 84 to 140 range for 12 consecutive weeks.
Steam Direct was introduced to replace the Greenlight system, effectively opening up the platform to any developer that could pay the $100 fee. In a blog post published on the day Direct went live, Valve said, "most likely...there will be an initial surge of new submissions and then a new rate somewhat higher than what was coming through Greenlight."
Ico Partners' graph may be showing the surge Valve anticipated, one that may also calm down over time and settle to a new, "somewhat higher" rate. However, a separate tweet from Bidaux also highlighted the degree to which the number of new games on Steam had increased in the year leading up to Direct.
First week of July 2016 - 28 games released on Steam
First week of July 2017 - 84 games released on Steam

— Thomas Bidaux ✨ (@icotom) August 7, 2017
Speaking to GamesIndustry.biz at the start of this year, Stoic's John Watson described the role that new releases on Steam played in The Banner Saga 2's slow start in April 2016. When the first game launched in January 2014 it was up against 70 new games on Steam, he said, but, "with The Banner Saga 2 it was over 400, so that is a factor."