New Kindle Fires start at $159, go to $499
Amazon's pricing looks to shake up the market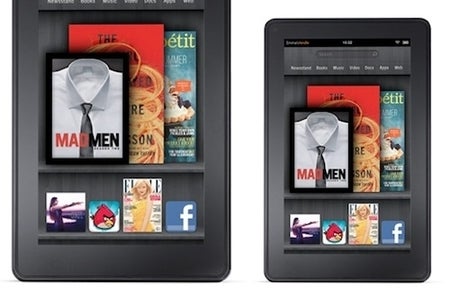 Amazon didn't disappoint today with its announcements, introducing new hardware, software and services up and down its Kindle product line. The standard Kindle e-book reader is now $69, and a new Paperwhite reader with a higher-res touchscreen and frontlighting begins at $119. For the game industry, though, it's all about the Kindle Fire, and Amazon CEO Jeff Bezos today pumped pure oxygen into the flames. He's starting from a strong market share place, stating that the Kindle Fire accouinted for 22 percent of all tablets sold since its debut.
The new Kindle Fire has doubled its RAM to 1 GB (storage is still 8 GB) and includes a 44 percent faster processor, a front-facing camera and better battery life for the astounding price of $159, down from the previous $199 price. This puts them $40 less than Google's Nexus 7 tablet. The tablet will ship September 14, with pre-orders beginning soon.
The real stars are three new Kindle Fire HD models. The Kindle Fire HD 7 is a 16 GB, 7 inch tablet that features the TI OMAP 4470 dual-core processor that Amazon claims is faster than the Tegra 3; screen resolution is not yet announced. Like its larger cousins, it will have dual speakers, Bluetooth, HDMI output, and enhanced Wi-Fi. The Kindle Fire HD 7 will retail for $199.
Next up is the Kindle Fire HD 8.9 tablet, with an 8.9" 1920 x 1200 display at 254 ppi resolution. The device is 8.8 mm thick and weighs 20 ounces, and the screen has a polarizing filter to cut down glare. The processor is a TI OMAP 4470, it has dual speakers, and it is the first tablet with MIMO, dual-band (2.4GHz, 5GHz) technology, which Amazon says makes the tablet's WiFi 41 percent faster than the latest iPad. There's also Bluetooth (presumably 4.0) support and HDMI output, and 32 GB of storage, all for $299.
Finally, the high end of Amazon's product line is the 8.9 inch Kindle Fire HD with 4G LTE and 32 GB of storage for $499. You get 250 MB of data a month, 20 GB of cloud storage and a $10 Amazon Appstore credit, all for $50 a year. That appears to be an impressive deal, compared to current iPad pricing where a 32 GB iPad with 4G LTE is $729.
Amazon also announced Whispersync for Games, which would allow game developers to store game progress in the cloud.
The competition has suddenly gotten very fierce for holiday hardware dollars. The entry level Kindle Fire is now less expensive than a Nintendo 3DS ($159 versus $169), and the Kindle Fire HD 7 undercuts the PS Vita by $50. When Nintendo rolls out the Wii U, Amazon's tablets will be competing for household dollars. We still have yet to see the new iPhone, which is sure to sell in the millions over the holidays. Apple is rumored to be announcing the new iPad Mini in October, supposedly a 7.85 inch tablet that will sell for $249. Apple may be rethinking their pricing all up and down the tablet line in light of Amazon's aggressive pricing.