New Apple TV adds games
Set-top box runs new tvOS system, showcased with Crossy Road, Harmonix's Beat Sports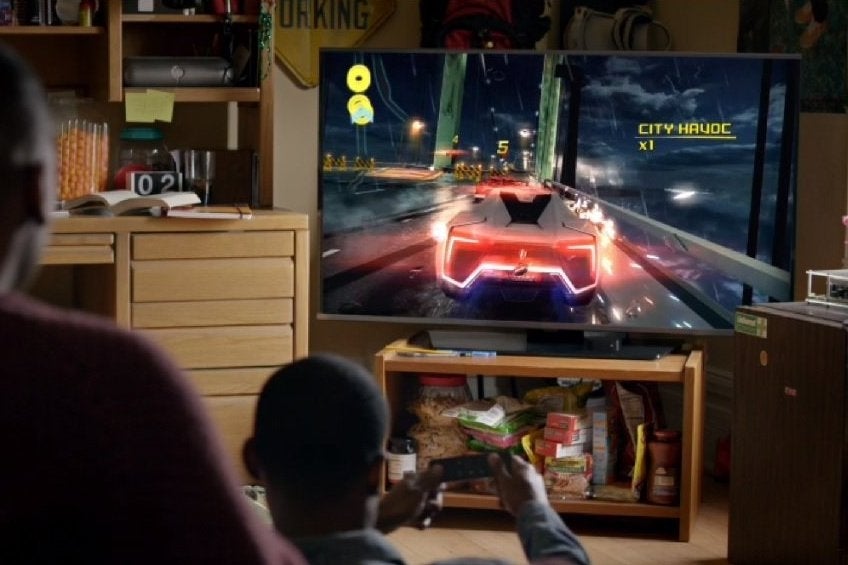 As expected, Apple unveiled its newest iteration of the Apple TV at an event in San Francisco today, complete with all new gaming functionality.
When it arrives late next month, the latest Apple TV will run a new OS called tvOS that adds apps to the streaming box's capabilities. Beyond offerings like Netflix and HBO GO, the Apple TV will also feature games controlled using the packed-in remote control, including TV ports of Hipster Whale's mobile hit Crossy Road, Guitar Hero, Transistor, and an original Harmonix game called Beat Sports.
While tvOS is a new operating system, Apple has said it uses many of the frameworks and technologies of iOS, and the systems are designed to work together. Additionally, developers will be able to offer "universal purchase" options so that buying one version of a game allows a user to download it on all Apple devices. It also supports MFi-based third-party controllers. The tvOS developer beta program opens up today.
The Apple TV controller connects with the hardware via Bluetooth, and features a microphone for voice commands, as well as an accelerometer, gyroscope, and touchpad. The new Apple TV will be available in a 32GB version for $149 or with 64GB of storage for $199. The legacy Apple TV will continue to be sold at a $69 price point.
In addition to the Apple TV, the tech giant also announced a new 12.9-inch iPad Pro with its own Surface-like keyboard accessory and an Apple Pencil stylus, as well as the new iPhone 6S and 6S Plus with 3D Touch pressure-sensitive displays. The iPad Pro range will launch in November and starts at $799 for a 32GB model, with an extra $169 for the keyboard and $99 for the Pencil. The iPhone 6S and 6S Plus will start at $199 and $299, respectively, for 16GB versions of the hardware on a two-year contract. The phones hit stores September 25.