Neversoft working on Call of Duty content
A revamp of the company's webpage points to its future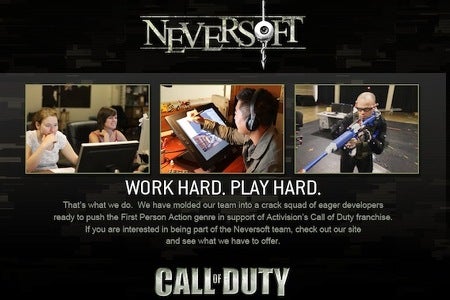 Tony Hawk and Guitar Hero developer Neversoft is now working on Call of Duty content for Activision. The developer updated its website to showcase a new focus and hire some new talent.
"We have molded our team into a crack squad of eager developers ready to push the first-person action genre in support of Activision's Call of Duty franchise," the website's frontpage now reads.
Eight positions are available, including Senior Level Designer, Senior Environment Artist, and Senior Concept Artist. All positions mention the development of "our new FPS".
No other details are given, so while this could be a standalone Call of Duty game, it could also be Neversoft helping with Infinity Ward or Treyarch's titles. Internet detective Superannuation previously hinted that Neversoft was working on a space-themed FPS title.
"Neversoft has been working on their space FPS for nearly 2 years at this point. Wonder if we'll hear anything soon," a tweet in April stated.