More allegations surface against Rooster Teeth's Ryan Haywood
The former Achievement Hunter host was described as "predatory," allegedly taking advantage of power imbalance to solicit sexual favours from young women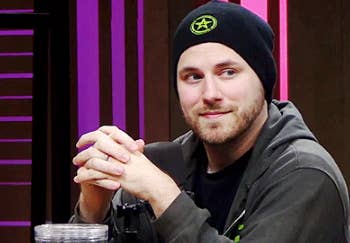 More alleged victims have come forward against former Achievement Hunter host Ryan Haywood, with accusations ranging from online solicitation to statutory rape.
Haywood was let go by video production company Rooster Teeth last week after explicit photos he reportedly sent to fans leaked online.
A Reddit user has now created a spreadsheet breaking down the most recent allegations, some of which date as far back as 2004, but the majority between 2016 and 2019.
Haywood has been accused of having sex with multiple people while they were allegedly under the age of consent. The document also links to numerous testimonies of consenting adults who claim to have had an affair with him.
One alleged victim named Michelle released a YouTube video recounting her relationship with Haywood, which she claimed started in August 2017 when she was 17. Michelle and Haywood started chatting on Twitter and it quickly became "flirty," she reported, adding that they ended up "sexting consistently."
In September 2017, they allegedly met to have sex. Michelle claimed that Haywood didn't ask about her age, but did ask her if she was in high school or college.
Michelle added that he was aware that she was a virgin when they first met. She described their sexual encounter as "very rough," a choice of words also used by others that allegedly had affairs with him.
Haywood also allegedly removed the condom he was wearing without Michelle's consent -- another element that's been recounted by other alleged victims.
She later down the line told him she was underage when they first met, to which he allegedly replied "Well, I trust you more than anyone."
She described the former Achievement Hunter host as a manipulative predator, taking advantage of imbalanced power dynamics to solicit sexual favours from young women and teens -- a pattern of behaviour also described in other allegations against Haywood.
Kotaku Australia reported that Achievement Hunter has now resumed livestreaming, more than a week after the first accusations against Haywood came out. Host Jack Pattillo said that the recent events have been "crushing."
"It has been overwhelming and watching something we've built up be hit so hard, having no idea it was happening, being completely blindsided by it and just going through the amount of emotions just of anger, sadness, rage and guilt and everything," he said.
"I have to apologise to the community. I'm sorry we've let you down. I'm sorry this happened. Please understand how crushed we are too. Every single story, everything I've read, every report that's come out, it's a punch to the gut."
He called for fans to get in touch using the email address conduct@roosterteeth.com if they ever have any issue with a staff member.