Mobile players only spend in an average of 1.6 games - NPD
New data from research firm also shows over a quarter of the market controlled by Supercell and King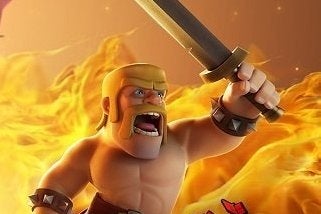 The mobile games market has seen tremendous growth in recent years and while the games still only cost a fraction of the amount required in the PC/console space, the top-heaviness of the best-selling titles is something both markets are beginning to share more and more.
The NPD Group shared with GamesIndustry.biz new information from its Checkout Tracking service, which examined the behavior of around 2 million mobile players in the U.S. between December 2014 and May 2015. The top ten games in terms of dollar share were as follows:
Clash of Clans (9.5 percent)
Game of War - Fire Age (8.3 percent)
Candy Crush Saga (5.8 percent)
Candy Crush Soda Saga (3.8 percent)
Boom Beach (2.7 percent)
Fallout Shelter (1.8 percent)
Big Fish Casino (1.7 percent)
DoubleDown Casino (1.6 percent)
Gummy Drop! (1.4 percent)
SimCity Buildit (1.3 percent)
If you've been following App Annie's charts over the months, that top ten shouldn't shock you, but the consolidation of power is even more clear when you examine the top publishers in terms of dollar share: Supercell (13.4 percent), King (11.9 percent), Machine Zone (8.3 percent), Electronic Arts (3.95 percent) and Big Fish (3.6 percent).
"It will be less about capturing lightning in a bottle and more about building a brand"
NPD analyst Liam Callahan was surprised at how quickly the mobile games market is starting to resemble the console market. "A few key franchises for consoles continuously make up a large percentage of revenue each year; however, I think it is shocking to see mobile is following the same pattern already," he said.
"I think this shows how as consumers start to commit money to a free-to-play game, they sort of get locked in as they want to see the entertainment value on the money that they spent. As the mobile space begins to mature, many of the basic ways to launch a product will lead to success, meaning: raising awareness of the product, having consumers understand the value of their purchases, and listening to feedback from your consumer to improve your product. It will be less about capturing lightning in a bottle and more about building a brand."
Measuring success may be tough when players spend in so few games, however. NPD's data shows that players will spend in about 1.6 games on average (that includes both in-app and full game purchases) with the average dollars per buyer being $33.55 - so the market is relying heavily on the so-called whales.
"This may be the nature of the beast as free-to-play games require a certain amount of commitment in time and once consumers spend, they likely want to continue playing that game to see a 'return on investment.' In contrast, many traditional paid games in the console space likely cause consumers to pay upfront, then devote a certain amount of time to the game and then move to a new game, so I bet the 1.6 statistic isn't that different, really. It does underscore the fact that the gaming space is competitive no matter where you are," Callahan added.
Interestingly, looking closer at where the spending is coming from, the mobile revenue stream is coming from a much older audience. Only five percent comes from the 18-24 range while 26 percent comes from the 45-54 age group and 25 percent comes from the over 55 crowd. Trailing those is the 25-34 age group at 19 percent and the 35-44 age group at 24 percent. It's possible though that this too could start shifting younger as more and more core titles become popular on mobile.
"Currently on consoles, younger content is often purchased by parents for their children. So, some of that is at play here in the mobile space with parents authorizing purchases for young kids," explained Callahan. "I do agree that the content is what is driving these trends and as content shifts toward a certain demographic - we'll see if it actually shifts towards 'core' content - then the purchasing demos will follow suit. For example, a game like Fallout Shelter was a big surprise out of E3, and many 'core' gamers likely downloaded and spent money in the game. Perhaps this trend of established 'core' IP moving to mobile will see success in the future."
Content may be affecting the gender makeup on mobile as well. Women were responsible for 47 percent of the dollar share on mobile compared to 53 percent for males, but it's a good deal higher in favor of men when it comes to consoles. "Looking at the past year, 64 percent of console software purchases were by males, which is 10 percentage points higher than in the mobile space. I think this stat points to content, where more casual games that typically appeal to female players is more popular," Callahan said.