Microsoft reveals the diversity of its workforce
Like its closest competitors, Microsoft is 70 per cent male and 60 per cent white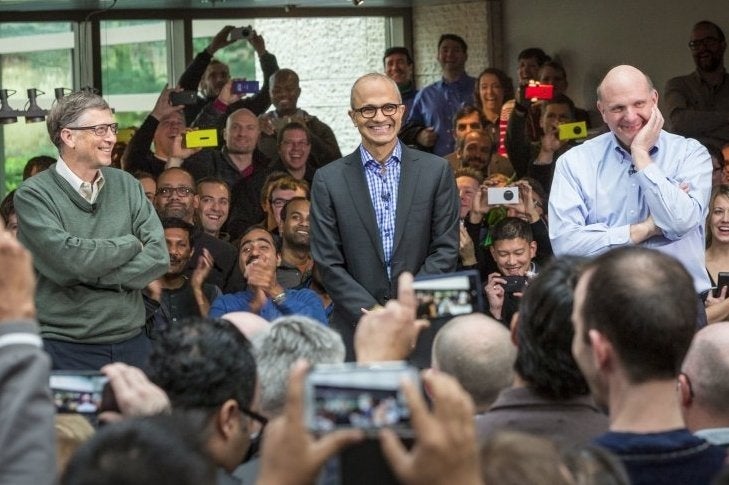 Microsoft is the latest tech company to reassert its commitment to diversity in the workplace, releasing figures that describe the makeup of its workforce.
Out of more than 120,000 employees worldwide, 29 per cent were women as of September 30 this year - an increase of 4 per cent over the prior year. The highest proportion of female employees were in "Non-Tech" disciplines, with 44.5 per cent overall. In "Tech" and "Leadership" positions the proportion was lower, with just over 17 per cent in each.
In terms of ethnic background, Caucasians are by far the dominant presence, comprising just over 60 per cent of the US workforce, and 72 per cent of Leadership roles. (Note: ethnicity figures only apply to Microsoft's American presence, which is consistent with the approach taken by other tech companies.) People of Asian ethnicity are the next best represented in every job category, with 28.9 per cent of its total US staff and 20 per cent of Leadership positions.
Perhaps the most surprising revelation, though, is the lack of representation for "African Americans/Black" and "Hispanic/Latino" - 3.5 per cent and 5.1 per cent of Microsoft's US workforce respectively. According to a census taken in July 2013, Latino Americans were more than 17 per cent of the total population of the US, and African Americans were more than 13 per cent. By contrast, a census taken the previous year found that just over 5 per cent of Americans were Asian.
The data was released in response to questions from Microsoft's employees, who wanted to better understand where the company stood on diversity in the workplace.
"As you look at the data, you will see that we are in generally the same position as others in our industry," said Lisa Brummel, executive vice president of human resources, in an email published by ZDNet.
"In our 20-plus years of committed efforts toward managing diversity and inclusion effectively, what we've learned is that diversity is not a finite goal that can simply be achieved, then 'checked off' a list. It is a journey that requires constant self-assessment and recommitment."
Both Google and Apple have released similar reports on diversity, and both showed similar distributions to Microsoft: around 70 per cent male and 60 per cent Caucasian.