Microsoft launching Xbox One in China this September
Console will be the first to take advantage of Shanghai Free Trade Zone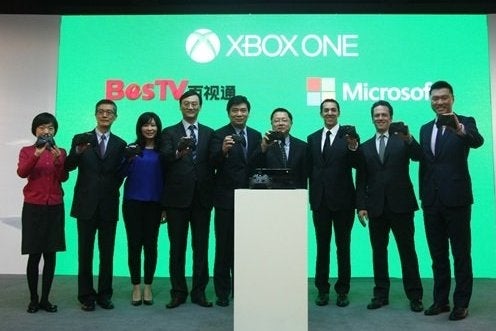 Microsoft has confirmed that it will be the first console manufacturer to take advantage of the expansion of the Shanghai Free Trade Zone to launch its machine in China, with the Xbox One coming to the region in September this year.
In an official blog post, Yusuf Mehdi spoke about the local business partnership which has enabled the platform owner to tap into this potentially enormous market.
"Today marks a monumental day for Xbox, as together with our partner BesTV New Media Co., we announced we will bring Xbox One to China in September of this year," wrote Medhi. "This is a historic moment in our partnership as we work toward the first official Xbox launch in China. Xbox One will also be the first system of its kind to launch in China.
"The culture of games and entertainment is rapidly growing in China, with nearly half a billion people playing games - roughly a third of the country's population and more than the entire population of North America. The gaming industry saw massive growth in the last year - generating more than $13 billion in 2013, an increase of 38% in the last year alone. Gamers in China have shown they love gaming - mostly on PC, mobile and online - and game developers in China have been delivering innovative games for years. Creators and gamers alike have eagerly awaited a new generation of entertainment experiences in China.
"On behalf of the entire Xbox team, we are incredibly excited to bring Xbox One and the next generation of games, entertainment, online education and fitness to China. Launching Xbox One in China is a significant milestone for us and for the industry, and it's a step forward in our vision to deliver the best games and entertainment experiences to more fans around the world. Enwei Xie will lead Xbox China as general manager, bringing years of Microsoft experience both in China and abroad."
The extension of the free trade zone, confirmed last year, marks a significant development in China's gradual and somewhat grudging lowering of international trade barriers. It's not yet clear how long the extension will be granted for, or whether it could be extended to cover new areas of business, but Microsoft is clearly expecting to establish a significant presence in the region, as are its partners.
"The launch of Xbox One here will bring distinction as the first-ever game console with OTT functionality in China," said Dazhong Zhang, senior vice president, Shanghai Media Group, and chairman, E-Home Entertainment Development Company Ltd. "The launch of Xbox is a milestone for our company in the family entertainment market and will create profit growth opportunities. Furthermore, we will continue our investment and support into research and development for gaming content together with Microsoft. Via our cooperation with the world's leading team, we will continue to develop video games fused with Chinese culture and provide further distribution support for locally produced Chinese video game content to the world."