Microsoft begins rolling out Xbox 360 update
Dashboard refresh featuring Internet Explorer, Xbox Music begins weeks-long global launch process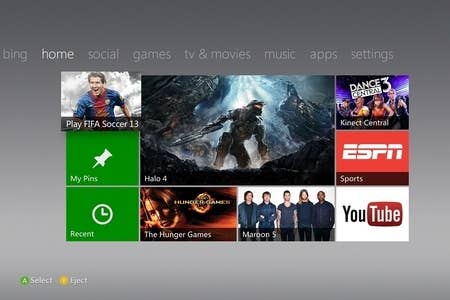 The Xbox 360 dashboard is getting another makeover. Microsoft today began the official global rollout of its latest system update, featuring a number of tweaks and the debut of the console's first web browser and new music service.
According to Xbox Live director of programming Larry "Major Nelson" Hryb, the update will see "a gradual deployment across subscribers and regions." Microsoft targeted about 3 million systems with the first wave of updates, and plans to add to that number "over the course of a couple weeks."
As for what users will notice after they apply the update, the introduction of the Xbox Music service and Internet Explorer to the console top the list. Beyond that, Microsoft is changing the user interface of the dashboard to include more tiles on each screen, a content recommendation algorithm to help with product discovery, and a customizable section of the dashboard where users can pin their favorite games and apps.
Other changes to the system are less likely to be as widely appreciated. Users in nine countries (Canada, France, Germany, Japan, Mexico, Italy, Spain, Austria, and Ireland) will be able to use the Kinect voice search function after updating, US Xbox 360 owners will get access to a Sports destination page, and the Zune Video Marketplace will be renamed with the update to Xbox Video.
One of the previously announced features of the update, Xbox SmartGlass, will not be available until after the October 26 launch of Windows 8.