Meet Sweet Justice: the external sound team bringing audio excellence to Fortnite, Halo, Star Wars and Demon's Souls
We discover the unique business style behind one of the world's most exciting sound design teams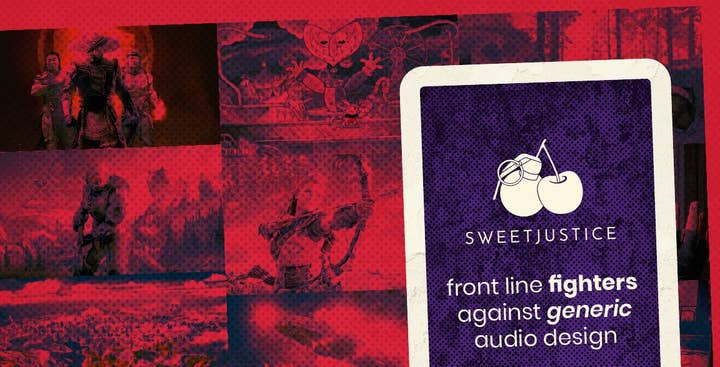 You may not know of Sweet Justice, but you will have almost certainly heard of their work in games. This international sound design company has built a reputation for delivering audio excellence, as featured in some of the most highly regarded games on the planet, from Fortnite to Demon Souls, Cuphead to Half-Life: Alyx and Halo to The Ascent, and more.
Established in 2014 by veteran sound designers Samuel Justice and Chris Sweetman, Sweet Justice has been breaking the conventions of how external sound teams are expected to integrate and perform since day one.
"It started with just the two of us," says Sweetman. "I was working on a conceptual title, called Fortnite with Zak Belica at Epic, and Sam was audio director on Frictional Games' Soma, after having just moved back to the UK from Sweden. From there we just started to grow organically."
And grow it has. Sweet Justice now has 22 core members that provide sound services to the video games industry.
These services include complementing in-house and centralised audio teams on AAA franchises, and providing post-production work to improve in-game cinematics and global marketing campaigns.
Furthermore, games studios often ask Sweet Justice to help define their core audio aesthetic, as well as to create custom sound effects that can set their titles apart. Alongside this creative work, the team also provides implementation support for AAA studios, which involves helping them to best implement their own in-house content.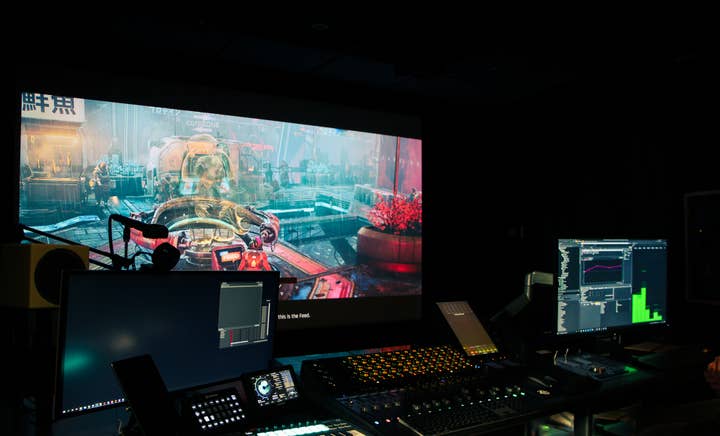 A creative commune
Speaking of bringing things together, central to Sweet Justice's success has been its company structure.
"When Sam and I first discussed starting Sweet Justice, something we agreed on right away was that we didn't want a traditional employer/employee company structure. It just felt alien and against our non-corporate ethos," explains Sweetman.
"As such, we decided to keep the company structure simple, which allowed us to concentrate on the creative.
"Apart from two individuals, every member of Sweet Justice works for themselves. This has enabled us to keep our stress and company overheads low, and allowed changing the company direction and adjusting headcount mid-project to be a breeze."
He adds that doing away with traditional company structures, such as the idea of bosses being above employees and having formal HR departments, has helped the company to thrive.
"A flat hierarchy was essential for us and has been instrumental in creating a sense of family and empowerment within our walls"

Chris Sweetman
"A flat hierarchy was essential for us and has been instrumental in creating a sense of family and empowerment within our walls. As one of our clients says: 'It's like the mafia but without the violence and criminal behaviour!'" says Sweetman.
Not just playing the hits
This culture of hand-picking staff and, in Justice's words, building "a creative commune" for experts who live and breathe audio, has led the company to expand and work on a string of major titles by AAA studios and indies.
Some of the titles that Sweet Justice has been trusted to create audio for include: Demon's Souls on PS5 (cinematics and in-game sound effects), Mortal Kombat 11 (cinematics and in-game sound effects), Ratchet & Clank: Rift Apart (in-game cinematics), Returnal (cinematics and in-game sound effects), Marvel's Spider-Man franchise (ambisonic immersive up-mix), and the forthcoming Halo Infinite (in-game cinematics and sound effects), as well as contributing to the Star Wars, God of War, Call of Duty and Battlefield franchises. And not forgetting Fortnite, which Sweet Justice has been providing ongoing sound design support for since the beginning.
But Sweet Justice hasn't just been working exclusively on AAA franchises. It has created what it sees as a "one-stop audio solution" to assist indie teams. "Sweet Justice Indy is an initiative we created to help up-and-coming studios who need guidance and support with audio production but don't have the financial means to support their vision," says Justice. So far, huge hits Cuphead and Neon Giant's The Ascent, have both been through the Indy program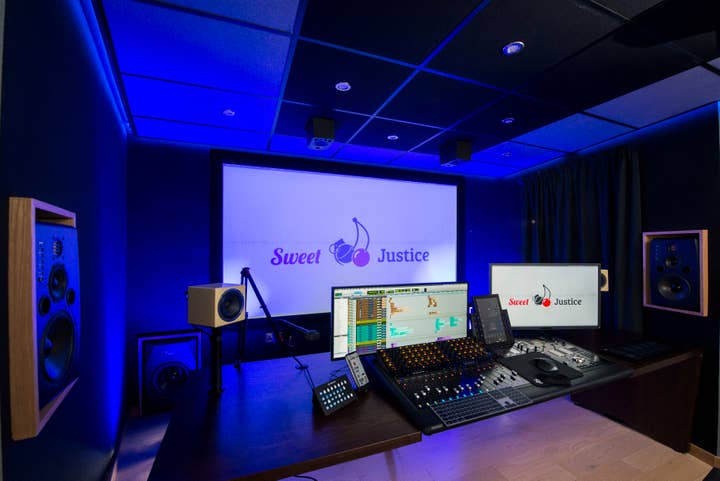 How sweet it is to... work remotely
Distributed working is one of the key areas that Sweet Justice has been excelling in, and it was doing it well before the global pandemic hit. Its team members are located all over the world, with clusters in the UK and US, and also Canada, New Zealand and now Sweden.
"When we first started operating, remote working was fairly unusual and it took years to build the infrastructure and trust in Sweet Justice.
So, how do they do it? After being approached to work on a project, Justice and the other directors speak to the rest of the team to see if the potential project is something that will excite them. They ask who may wish to direct and work on specific elements, such as weapon sound effects and so on. This democratic approach gives everyone a chance to express their ideas and take on different roles from project to project.
"The work itself is driven by the studios. There is no extra layer of Sweet Justice hierarchy and project management," explains Justice. "The Sweet Justice team members join your team and become a part of it. You work with a person, not a resource. I guess, at first, this was a little odd for most studios, but as we are all familiar with working from home now, it's second nature."
New studios, same spirit
Sweet Justice have recently added two more company directors, both of whom have a long history in sound design, namely Csaba Wagner in Los Angeles and Ben Minto in Stockholm, Sweden. With Wagner's appointment Sweet Justice now have a US office located in California, alongside their original base in the south of England.
"Our reputation has led us to handle major marketing campaigns not only in games but other industries"

Csaba Wagner
Wagner started his career at Danetracks, followed by stints at Soundelux and E2, working on films such as Pacific Rim, Transformers 4 and Need for Speed, before diving deeper into game cinematics and marketing. To this end he joined well known post house Source Sound where he worked on trailers, cinematics and ad campaigns for seven years, until in 2019 he accepted an offer to join Sweet Justice as a company director and sound supervisor.
"Today we are working on a lot of exciting first-party projects, and this is in part what led me to joining Sweet Justice," says Wagner. "I head up our Cinematics and Marketing team in the US. Our reputation has led us to handle major marketing campaigns not only in games but other industries collaborating with agencies such as Tool of NA. With marketing departments reaching out to us early on to help them establish the tone for their campaigns through sound and music."
He points out that Sweet Justice's open structure has enabled it to attract talent from the film industry, too. These include illustrious Sound Designers such as Eilam Hoffman (Gravity, Bright, His Dark Materials) David Farmer (Loki, Ant Man, LOTR Trilogy) and Jay Jennings (Gozilla vs Kong, Transformers, TMNT).
"We're all equals here," Wagner continues. "The supervisor takes the lead with the global vision, but every team member has the freedom to introduce their ideas and see how they work in the context of the game, cinematic or trailer. There are no bad ideas here. Sometimes the craziest concepts are the most impressive. We strive to look outside the box and our crew is highly motivated to explore new avenues every single time."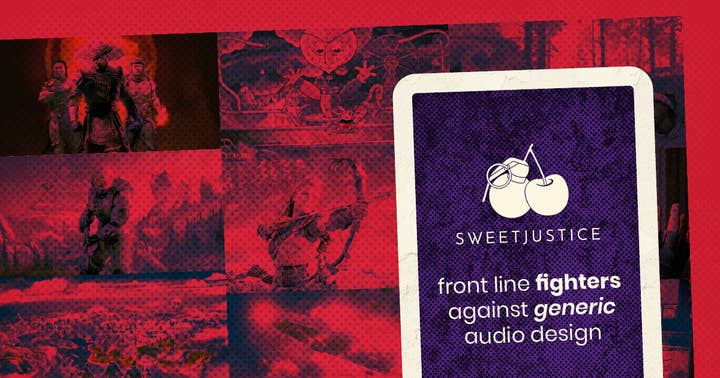 The welcoming atmosphere is also what drew Minto to join the Sweet Justice team. After over 20 years working in-house with game audio at Acclaim, Criterion Games and then heading up the audio team at EA DICE for 15 years -- where he oversaw the audio production on plenty of Battlefields and Star Wars Battlefronts -- Minto joined Sweet Justice. A former mutual colleague of both Justice and Sweetman, he "played cupid" by introducing the two of them and coining the company name Sweet Justice.
"They could easily have said yes to every project and be at least three times the size by now, but they have been very careful and considerate in who they work with, what they work on and how they build their team," says Minto.
"Sweet Justice was always in the back of my mind and it was just becoming irresistible, especially seeing how much fun they were all having.
"As well as bringing my sound design talents and experience of audio directing large titles across multiple studios, I'm going to help with running the day-to-day business, as well as streamlining processes and planning how we manage all these amazing, huge projects."
Preparing for the sound design challenges of the future
Sweet Justice has been working diligently to refine its approach to sound design and business. But as the world slowly recovers from the pandemic, the team is aware that the pressure to deliver top-quality audio for games has only become more challenging for many teams and individuals.
Minto says: "It has become increasingly difficult to hire in-house audio staff in the past few years, whether that's due to COVID-19 or a drain on industry resources from other industries that desire games experience, or something else. There is a lot of competition, especially for people with that golden five years' experience, and one or two shipped AAA titles.
"I've seen many big projects need to almost double their audio team size in the final six months, and many struggle to fill all the seats they need to finish the project. Increasingly, teams are relying on external talents from groups like Sweet Justice. I'm not sure we are seeing the end of the studios model, as in Hollywood, but there is definitely a feeling of change in the air."
Sweet Justice has multiple AAA projects lined up, and is already booking for 2023 and beyond. Sweet Justice Indy is reviewing more possible projects, and with the imminent release of Unreal Engine 5, and especially the MetaSounds component, the company is looking to up its implementation game even further. It has now brought on Gustav Rathsman, former Technical Audio Director at EA DICE, and John Tennant, co-author of Microsoft's Project Triton, which is the first pre-computed acoustics solution for video games.
In closing, Justice says: "It's a very lucky position to be in, but one we don't take lightly. The same ethos that got us here today is the same one that will guide our future. And we remain true to that and true to who we are."