Loot Crate files for bankruptcy, lays off over 50
Employees report no notice or severance despite promises that "operations will continue as usual"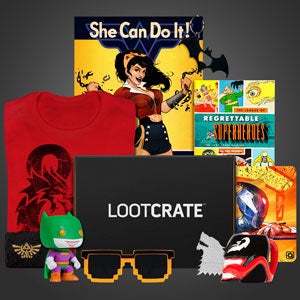 Subscription box service company Loot Crate has filed for bankruptcy, agreeing to be acquired following continued liquidity struggles over the last year and a half or longer.
In a press release, CEO Chris Davis acknowledged that the company had been unable to recover from a string of past struggles over the last 18 months. But those seem to go back going back to at least 2016, when the company first laid off 12, then held layoffs again in 2017 before defaulting on a loan that it then refinanced in 2018 thanks to a $21 million term-loan. Most recently, 150 employees were laid off in July when Loot Crate closed a plant in Vernon, CA.
At least one factor in these ongoing financial troubles appears to be the addition of more and more "themed" Loot Crates alongside its regular subscription service, the number and specificity of which quickly became unsustainable.
Now, investor Money Chest LLC has purchased the company's term-loan and offered up to $10 million in funding to keep operations running as planned. And according to Davis, that's the plan.
"We have worked diligently to overcome challenges with our capital structure, along with legacy issues the Company has been struggling with for the past 18 months. We are very pleased with our progress from an operational efficiency standpoint, however, the company still faces liquidity issues," he said. "After careful review of a wide range of available options, management determined that a sale of the Company is in the best interests of all parties, including our valued Looters (customers) and employees.
"Daily operations will continue as usual, unique and exciting fan items will be purchased, crates will be shipped, and all aspects of the business will go on as before the Chapter 11 filing. Our employees will continue to be paid as usual during this transaction."
However, former employees claim that all is not as smooth as Loot Crate has promised.
Gizmodo reports that 50 more employees were laid off last week, just a day or two before the bankruptcy announcement, with only 60 full-time employees remaining at the company. On Twitter, former anime senior community manager Shawnee Hale (who left the company in November, according to her LinkedIn) said these employees were laid off "with no severance and no warning." Others, including former technical director Chris Darbro (who was affected by the layoffs) corroborated the report.
"The layoffs happened very last minute, with everyone's final check's being hand cut/printed in office, and for the first time in many years that I can recall, not a single employee was granted a cent of severance pay," said Darbro. "Severance pay had been an established norm over the years, and many people (myself included) were counting on that in the event something happened to cause another layoff, etc, to help keep the bills paid and such.
"There's been a lot of speculation that the reason for that was those who put this layoff together knew the company would be filing bankruptcy, and that they did this knowing former employees couldn't pursue legal action because of bankruptcy protections. Is this how and why this went down the way it did? I don't have the ability to say, but I can see the sense in it from those involved in making the decision who likely were apathetic to the employees that would be lost."
GamesIndustry.biz has reached out to Loot Crate for comment.