LEGO goes up against Skylanders and Infinity with Dimensions
Franchise-mixing range encourages kids to "break the rules"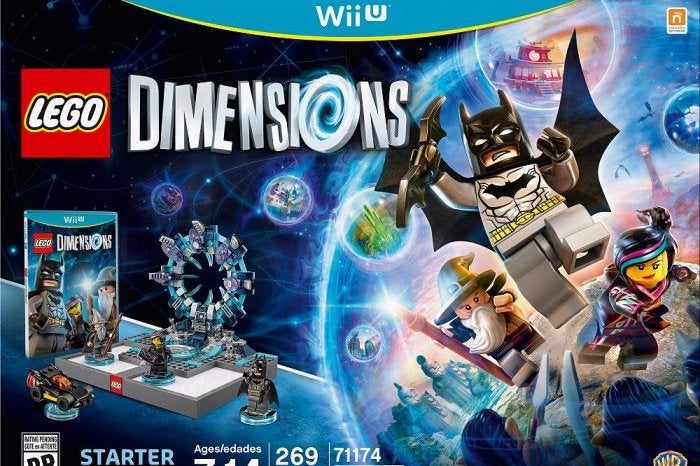 Lego has thrown its sharp-edged plastic hat into the ring of the toys-to-life market: the digital/realworld crossover space dominated by Activision's Skylanders series.
The new playset, called LEGO Dimensions, embodies the care-free, franchise mash-up direction espoused in the recent LEGO Movie and features that film's joint lead, WyldStyle - alongside Batman, Gandalf, a Batmobile and the LEGO Gateway, which serves as the RFI platform for the toys. Labelled as a starter pack - we can clearly expect LEGO to bring the full might of its catalogue of IP agreements to bear in the coming months.
The announcement was leaked on Reddit after days of heavy hint dropping and teaser images which were placed on the websites of various LEGO franchises. Traveller's Tales, well-established caretakers of the LEGO digital brands, is developing Dimensions, which will be published by Warner.
Further details have emerged from a Toys'r'Us listing which shows the game coming to Wii U, Xbox One and 360, and PlayStation 3 and 4. If those details are correct, expect to be paying $99.99 for your 'starter pack', no matter the platform.
Warner Bros. has since confirmed the range, adding a few more details on what to expect.
"A small sample of packs available in 2015 include the Back to the Future Level Pack with a LEGO Marty McFly minifigure, a Lego Ninjago Team Pack with Kai and Cole minifigures, three Ninjago Fun Packs with Jay, Nya and Zane minifigures, two DC Comics Fun Packs with Wonder Woman and Cyborg minifigures, three The Lord of the Rings Fun Packs with Lego Gollum, Lego Gimli and Lego Legolas minifigures, four The Lego Movie Fun packs with Emmet, Bad Cop, Benny and Unikitty characters, and a The Wizard of Oz Fun Pack with a Lego Wicked Witch of the West minifigure," a statement reads.
"Additional packs to round out the 2015 assortment will be announced in the months leading to launch. Further waves of expansion packs will be released regularly following the launch of the game and into 2016. Future expansion pack purchases will continue to work with the Starter Pack, even in the fall of next year. No compatibility chart necessary."
The arrival of LEGO to the market could shake things up considerably. Disney Infinity, despite selling well, has failed to trouble the $3 billion worth of Skylanders games and accessories which have been sold worldwide. Nintendo's recent efforts, the Amiibos, are less of a direct competitor, but have so far appealed largely to collectors rather than players, but have still achieved a significant presence - partly due to a well-managed and typically Nintendo policy of stock shortages. With three powerful brands already occupying the market, LEGO needs to make things work first time.
Traveller's Tales brings a great deal of experience, kudos and good will to the prospect - particularly thanks to the studio's long association with the brand. There's a clear and immediate expectation that the games behind the toys will be solid and enjoyable, something which both Skylanders and Infinity had to establish, despite employing some serious talent of their own. Also, if LEGO is able to leverage existing brand partnerships like Harry Potter, Lord of the Rings and Star Wars, it will have an breadth only really challenged by Infinity. However, as Skylanders has shown, it's not always brand strength which wins out. But then again, LEGO clearly has the edge over all of its competitors in the toy stakes, too.
Just watch your feet this Christmas.