Leaked document reveals next Xbox price, tech details
Unconfirmed roadmap of console through to 2015 removed from Scribd by Microsoft's legal counsel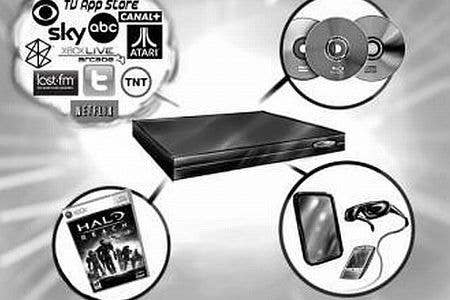 Purported details of Microsoft's road map for the Xbox console through 2015 have been revealed in a 56 page PowerPoint document uploaded to Scribd by an unknown source on Saturday.
The document calls for the "Xbox 720" to be released for the 2013 holidays with 4-6x the power of the current Xbox 360, at a price of $299.
A few hours the leak, the posting was removed from Scribd at the request of Covington & Burling LLP, an international law firm that lists Microsoft as one of its clients.
The document described a box of multiple CPUs and GPUs, allowing for backwards compatibility with the Xbox 360 through an included PowerPC CPU, an estimated 4-6x increase in graphics performance, and background processing enabling TV recording while playing games.
The plan aims for "True 1080p and Full 3D", implying an ability to run 60 fps games at 1080p resolution. The Kinect 2 hardware is included, allowing for four player concurrent tracking with improved voice recognition, dedicated hardware processing, and a "better, wider, deeper" play space allowing use in smaller areas.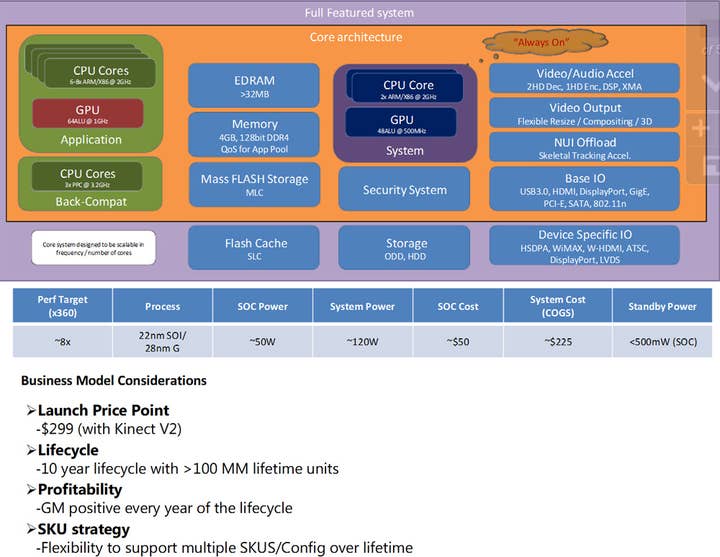 The Xbox 720 is designed to be always on in a low-power state to allow for multimedia operation, to be "the only box you need for premium living room entertainment." Blu-Ray is included, along with USB 3.0, HDMI, 802.11n, Gigabit Ethernet, PCI-E, DisplayPort and SATA connectivity. Storage includes the Blu-ray drive, a hard disk drive, and flash storage as well. Video RAM is pegged at 4 GB of 128 bit DDR4 RAM.
Beyond the Xbox 720 lies a project called Fortaleza Glasses, which are apparently similar to Google's Project Glass - except they would work in a living room setting with the Xbox 720 to provide an immersive augmented reality view, and a 4G version would work anywhere. (Note: Fortaleza is a Brazilian city, in the same region as Natal; "Project Natal" was the codename for Kinect.)
But is it all real? The document is ostensibly an internal working proposal to a Microsoft team, done sometime in late 2010. It's an awful lot of work to fake up something 56 pages long, but there are people on the Internet who have created more elaborate fakes. Microsoft's legal eagles ordered it taken down, which some take as a sign of authenticity; but equally that could just be a desire not to have a document out there that looks like it came from Microsoft full of misleading and possibly damaging information (if it hurts Microsoft's future hardware marketing and sales in some way). Of course, if this document was created in late 2010, much could have changed since then in any case.
Some analysts have pointed out that $299 is not a realistic price point for hardware including all the capabilities listed. Possibly, but it's also true that Microsoft could be prepared to lose a few billion dollars making this hardware successful. They did that with the Xbox and the Xbox 360; it's not at all unusual to lose a few hundred dollars on each console sold, in the beginning. Microsoft has enough cash that losing a few billion to establish themselves as a leader in the next big consumer market is a reasonable proposition.
Whether or not the document is real, it points out some interesting possible directions for Microsoft. It seems logical that Microsoft would want to dominate the living room by extending the media capabilities of the Xbox 360, and adding a feature set designed to take on Apple, Google, Sony and Nintendo. The road map also calls for the launch of "XTV Pay TV service" in 2012 on Xbox 360, Phone, and PC. Will we see such an announcement this year? That might be an indicator of the document's veracity.
The possibility of an impressive set of hardware features at an aggressive price would certainly put a great deal of pressure on Nintendo and Sony, if not Apple and Google. The stakes were already high in the next round of the console wars, and it may be that a willingness to lose a lot of money will be one of the most powerful weapons on the battlefield.