Kongregate expands to Steam, "exploring opportunities" in premium
The GameStop-owned F2P publisher hopes to be able to support more indie developers
Kongregate, the free-to-play web portal operated by retailer GameStop, is aiming to get the attention of more indies by expanding into Steam publishing. The company's first Steam title is Slashy Hero from Gentlebros and it's available now. Kongregate plans to follow that with Spellstone, a collectible card game from Synapse Games, in November. Beyond the publishing move, Kongregate is offering a new unified SDK that will allow developers to view consistent metrics across platforms (web, mobile and Steam) and it gives players the ability to save game progress across platforms.
"Despite the growth of newer platforms, PC gaming remains a viable and exciting option that our players want to explore. By adding Steam to our publishing business, we can support even more indie developers and deliver unique and innovative content to gamers worldwide," said Emily Greer, president and co-founder of Kongregate.
Greer assured GamesIndustry.biz that Kongregate's move into Steam publishing does not signal any problems with the web portal. "The web business is stable and profitable. Expanding to Steam is a natural extension of our publishing business," she stated.
"Our mission is to help independent developers succeed and we want to work with developers on any platform where we think we can add value, whether that be browser, mobile, PC or console. As we work with teams in our publishing program we work together to figure out what platforms are right for the game from a gameplay and audience perspective. Our browser portal is a core part of our strategy, and a great place to incubate and iterate on a game: AdVenture Capitalist being a prime example, starting as barely more than a prototype on Kongregate before achieving success across a broad range of platforms. But there are obviously huge audiences on mobile and Steam and we want to help our developers connect to them as well."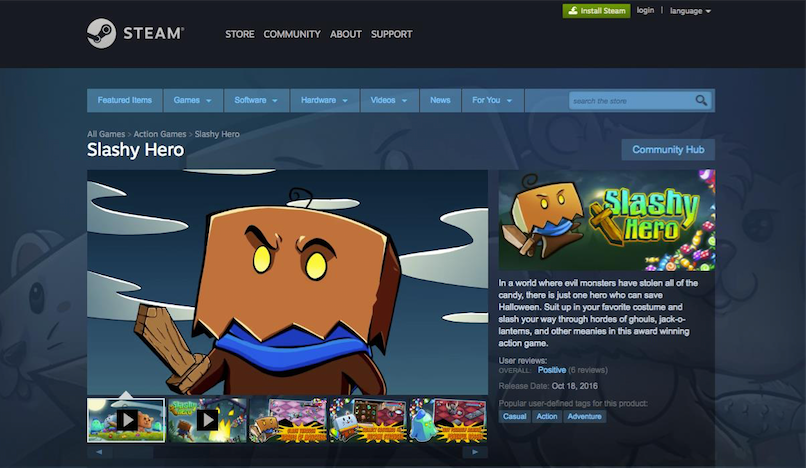 While Kongregate's web portal has more than 100,000 free games played by millions of gamers per month, the company recognizes the value of premium titles, especially on a platform like Steam where many hardcore gamers download titles.
"We've revamped our title Slashy Hero for Steam: it was ad-supported/free-to-play on mobile, but we reworked the balance and UI, added content, and are releasing it as a premium title to give it the best chance of success. We're generally interested in the premium game market and are exploring opportunities there more broadly," Greer added.
"We try to think about what's right for a particular game, both technically and in terms of gameplay. Ideally we like to see games live on as many platforms as possible, but we don't force it."
For now, the web portal remains Kongregate's bread and butter. The company is hopeful that adding Steam and supporting more platforms will accelerate its business, "But we're also investing into the Kongregate platform, we really believe in that, not just publishing," Greer said. "We're still keeping what we're doing there under wraps but will have an announcement in the next few months."
The new unified SDK is not being made freely available. Greer noted that it's only for "those devs working with us under a publishing relationship, which we're expanding. That could be just Steam and PC, or it could be any combination of platforms. As I said we like to figure out what's right for the individual game and developer."