Konami's first-half sales slip 13%
Gaming and pachinko struggles dent publisher's sales as Pro Evo Soccer 2013 "performed strongly"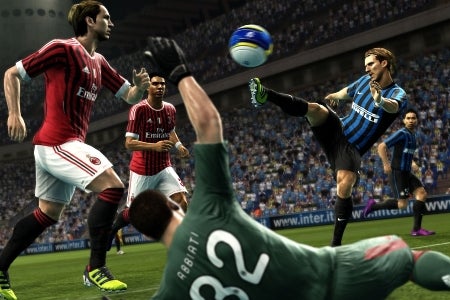 Konami is happy with the performance of its latest Pro Evolution Soccer, but the football sim hasn't been enough to boost the bottom line. The publisher today announced its earnings for the first half of its fiscal 2013, showing revenues that dipped 13 percent year-over-year.
For the six months ended September 30, Konami brought in ¥106.7 billion ($1.3 billion), down 13 percent from the same period last year. The company's net income also took a dive, dropping more than 39 percent to about ¥7 billion ($87.4 million). The majority of the revenues slide was accounted for by Konami's pachinko division (with sales down 80.2 percent for the year), and its video game business (sales down 9.3 percent). The publisher gave no reasons for the downturns other than to note general uncertainty in its business environment due to factors like a strong yen and the European debt crisis.
In the waning days of its first half, Konami launched Pro Evolution Soccer 2013 in the US and Europe. Konami said the game "performed strongly," as did its entire catalog of soccer titles. In the first half of its fiscal 2012, Konami sold 2.93 million soccer games, but the first half of fiscal 2013 saw it move 3.68 million adaptations of The Beautiful Game. Not all of the publisher's sports titles were so successful. Konami revealed that sales of its baseball games had fallen sharply, down year-over-year from 970,000 to just 390,000.