Konami rolling out free-to-play Pro Evo Soccer
"Entry level" version includes exhibition and microtransaction-driven myClub modes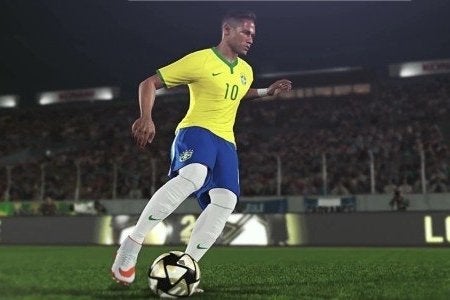 Much of this year's Konami coverage has centered around upheaval in the publisher's Metal Gear Solid series, but one of its other top-tier franchises may be undergoing some significant changes of its own. The publisher has announced that it will debut a free-to-play version of its Pro Evolution Soccer franchise for PlayStation 3 and PlayStation 4 on December 8.
Described as an "entry-level" version of September's PES 2016, the free-to-play iteration of the game will include an exhibition mode with seven teams, a training option, and the full microtransaction-driven myClub mode. Like EA's FIFA Ultimate Team mode, myClub lets players assemble a dream team of soccer players earned through gameplay or purchased as microtransactions.
Konami has said the free-to-play version of the game will also be compatible with all content updates made to the standard PES 2016 game, from rosters to gameplay adjustments.