Keynote speakers confirmed for 10th Nordic Game
Braben and Polfeldt head bill spanning audio, crowdfunding and AAA development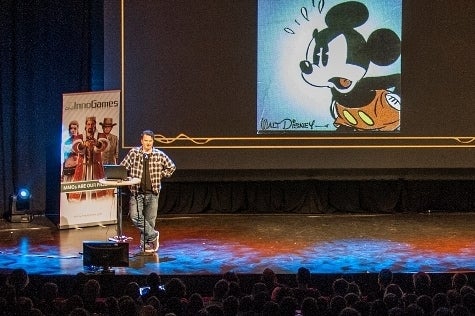 2014 is the year in which the Nordic Game festival will celebrate its tenth birthday and David Braben of Frontier will be keynoting, alongside Massive Entertainment CEO David Polfeldt, Cindy Au of Kickstarter, and Jory Prum, Camden Stoddard and Peter McConnell discussing game audio.
As usual, this year's show will take place at Slagthuset in Malmo, Sweden.
Poldfeldt will be talking about what makes the Nordic region such a hotbed for games development with a speech entitled: "Is there a reason Nordic developers are so good?" Other speakers include Ste Curran, Fullbright Company co-founder Steve Gaynor and board game pioneer Dr. Reiner Knizia.
This year the event's programme has been extended by half a day, with opening speeches taking place at 13:00 on May 21 before the first day wraps up at 17:00 for the infamous Nordic Indie party in the evening. The conference runs as usual from 10:00-17:00 the two following days.
Early bird tickets are on sales now from the event's website. GamesIndustry International will be at the show in May to report from sessions and interview the speakers.