Kevin Spacey to star in Sledgehammer's Call of Duty
After trailer leaks early, Activision confirms holiday release for Call of Duty: Advanced Warfare [UPDATE: added quotes]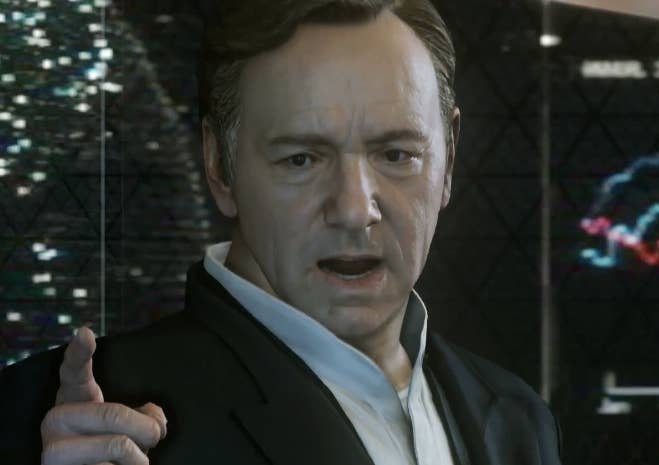 Another year, another Call of Duty - no surprise there. This holiday's installment of the blockbuster franchise will feature a starring role played by award-winning actor Kevin Spacey, who's riding high on the success of the first two seasons of Netflix-exclusive House of Cards. Activision had been planning to unveil the game next week anyway, but a trailer (see below) of Call of Duty: Advanced Warfare leaked out last night. In it, you can see Spacey acting as a character that feels somewhat similar to Cards' Frank Underwood.
Spacey's inclusion is notable not only because Activision is clearly aiming to capitalize on the actor's current popularity, but also because it continues a trend of big name actors landing more roles in top video games. Ellen Page and Willem Defoe in Beyond is the most recent example, but we've also seen Kiefer Sutherland and Gary Oldman in Call of Duty: World at War, Samuel Jackson in GTA: San Andreas, Sean Bean in Oblivion and more.
Call of Duty: Advanced Warfare marks the first time that Call of Duty development will be led by Sledgehammer Games, which previously had collaborated with Infinity Ward on Modern Warfare 3. The game is slated for launch on next-gen (and current gen) consoles and PC on November 4.
Update: Activision has now issued a press release, confirming that the game will launch on November 4. Activision also stressed that with a three-year development cycle, Sledgehammer has had time to really take advantage of next-gen technologies.
"We've made several key decisions with an eye towards creative excellence on Call of Duty: Advanced Warfare. We've really approached this game differently," said Eric Hirshberg, CEO of Activision Publishing. "This is our first three-year development cycle. It's our first time with Sledgehammer Games at the creative helm. And we're shaking up the formula in several ways. New core gameplay mechanics with the exoskeleton suit. A riveting new story. An iconic new character played by one of the world's best actors in Kevin Spacey. We're having a lot of fun making this game, and we think the world is going to have even more fun playing it."
"It's been a lot of fun working with the team to bring Jonathan Irons to life. The technology is truly remarkable and unlike anything I've done before. I'm excited to see where this goes," said Kevin Spacey.
The Sledgehammer co-founders also chimed in:
"This is an opportunity of a lifetime, and an honor for Sledgehammer Games. Call of Duty: Advanced Warfare is the most ambitious and creative project we have ever worked on. From the endless research and thousands of production designs, to our incredible focus on the narrative and amazing attention to detail - we're taking nothing for granted," said Glen Schofield, co-founder and game director of Sledgehammer Games. "Call of Duty connects with the fans on such a deep level, and crafting a new vision for the next generation has been so inspiring for us."
Michael Condrey, co-founder and studio head of Sledgehammer Games added, "Glen and I created this team with the singular vision of delivering the best work of our lives. We know we're stepping into some pretty big shoes, but every day I'm amazed at the talent and focus at work here touching everything from the story experience to multiplayer. We're excited to lead the next chapter in this great franchise, and we can't wait for November 4th."