Kabam on crossing over to PCs
VP of product Tyler Black discusses the mobile publisher's first simultaneous cross-platform launch, King Arthur: Legends Rise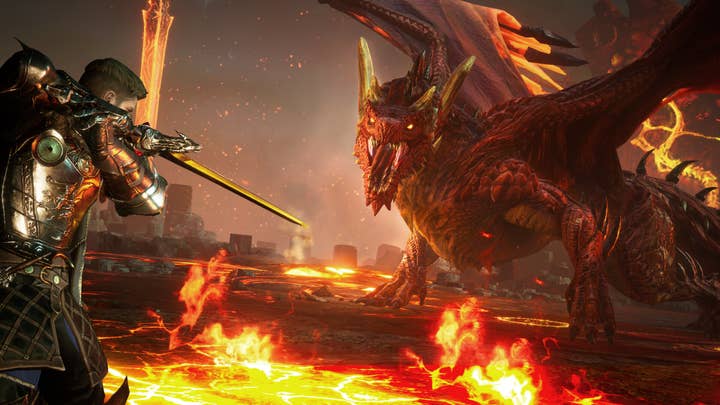 Kabam's official website bills the company as "The best in mobile gaming," but the publisher behind Marvel Contest of Champions and Disney Mirrorverse is increasingly looking beyond the world of tablets and smartphones.
A couple years back it took its first steps into the world of PCs, bringing its RPG shopkeeper sim Shop Titans to PC after an initial mobile launch. Now it's prepping to build on that with a simultaneous PC and mobile launch for its upcoming turn-based fantasy RPG King Arthur: Legends Rise.
It mirrors in some ways expansions we've seen from a number of other mobile stalwarts, with companies like Zynga and Tencent setting their eyes on the console market in recent years while Playtika has said it simply won't release new mobile games at all due to the acquisition costs being too high.
With that in mind, we ask Kabam VP of Product Tyler Black what's happening in the mobile industry that has caused so many companies to rethink the markets they pursue, and why Kabam is branching out to PC now as well.
"I think it's actually the same reason," Black says. "We do consider ourselves a leading game maker and publisher, so we need to respond to those changes in the market everybody is seeing and responding to.
"[Players] don't want to be constrained by the platform of choice, or the form factor of choice anymore"
"In general, it comes down to the player experience, and wanting to respect the fact that technology's advancing. Players want to play their games on their PC, on their TV, on their console, on their phones… They don't really care as much anymore, and they expect closer to the same level of experience as they go. They don't want to be constrained by the platform of choice, or the form factor of choice anymore."
In short, the company has to follow the players wherever it is they want to play. (As for whether they want to play on console, Black says there are no plans to bring King Arthur to consoles yet but he would not rule out anything in the future.)
While Kabam has already dabbled in PC with Shop Titans, Black says porting a mobile game to PC is a different endeavor from launching on both platforms at the same time.
"It complicates the launch activity," he notes. "Anyone who's launched a game knows there are a lot of people and a lot of moving parts involved. King Arthur is a really ambitious game. It's our first game we're launching with the Unreal platform as well. It's a worldwide launch. It's a big one…
"We could maybe have made it easier on ourselves if we launched on one platform first and then the other platform as a follow, but this is one of the things we've enjoyed about working with Unreal; we're able to do these simultaneous launches not with no cost, but with relatively small additional cost."
"We're able to do these simultaneous launches not with no cost, but with relatively small additional cost"
So what are the benefits of a multiplatform launch that justify that cost? Black explains it's primarily about reach.
"It's about the audience and players you can reach," Black says. "While a player might be willing to play something on their PC and on their phone, most of them are probably paying attention to PC game announcements or mobile game announcements. Once they get into a game they like, they may find they can also play it on what (to them) is a secondary platform. But if you can launch all at once…
"We want a big splash of a launch because we think the game deserves it, and that's the benefit of doing it: you get to reach all those audiences instead of having to queue them up to pay attention… When you do a simultaneous launch, there are synergies and some harmonies you get between both of those efforts."
Given that this is its first simultaneous cross-platform launch, Kabam has never had to deal with the design demands of such a game before. What works on mobile doesn't necessarily work on PC after all, from the interface to the gameplay mechanics.
"The expectation a player has when they come to one particular form factor is different," Black says. "They don't want to have a foreign experience from one to the other. They don't want a crippled product when they go form one platform to the other. So the demands are a little different if you're talking about where the PC version needs to stretch versus where the mobile version needs to stretch. I think the quality bar for visual fidelity for performance is really pushing the mobile devices. That's a big big push to get it close enough to that PC bar so that the player doesn't have a jarring experience when they go from one to the other."
Black says play session length in particular has been getting a lot of attention.
"As we expanded into PC, we saw some natural behaviors start to emerge from the players, and we realized that when they're on mobile, they want to play in a certain feature set in a certain area of the game, and that needs to be a rich experience," Black says. "That needs to satisfy that kind of play session. So we made alterations to some feature sets that are maybe more mobile-focused. They still work both ways no problem, but there are some feature sets that are definitely more PC focused."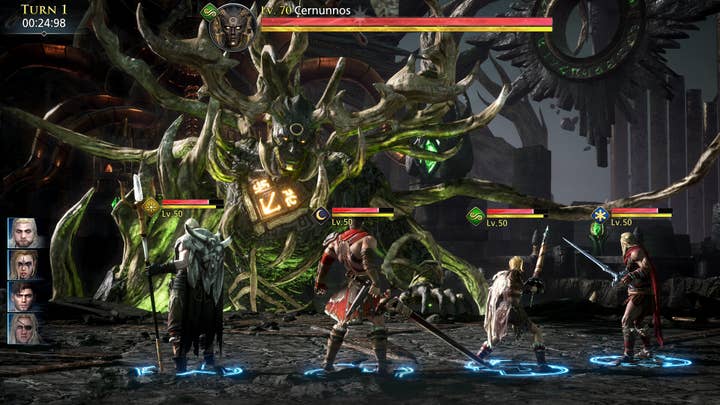 As an example from Shop Titans, Black says there are some automatic functions that can continue while the game is running on the background in the PC, so a session may technically be longer, but players aren't necessarily paying close attention to it. While on mobile, he said, things "need to be more targeted."
"The attention span isn't necessarily shorter, but it's more focused for a mobile players," he says. "It's not always about pure session length. There are definitely some aspects of our games that have really long mobile sessions, and that's not a barrier to people. It's about the demand of focus you're putting on the player on mobile. What you're expecting them to do on mobile – or what you want to make it easier for them to do or focus on – is much different from on PC. It comes down to player focus and player intention, and about satisfying that intention in a way that's really engaging."
"It's not always about pure session length. There are definitely some aspects of our games that have really long mobile sessions, and that's not a barrier to people"
We ask if that doesn't create competitive imbalances for players who only play on one platform and might miss out on the advantages of the other, but Black prefers to think of it in a more positive light.
"I think in terms of carrots and sticks," he says. "I think of it on the other side of the coin. There's an incentive for you to play a different way than you normally would, but you're not going to feel crippled one way or the other. And I think in a game that is more competitive, especially closer to real-time competitive, that type of balance concern or cross-play concern maybe hits home a little more. But we can control against that in the aspects of the game that are PvP and avoid those kind of balance issues. We can avoid a player feeling penalized on one platform. But if you're playing on multiple platform, we want your experience to feel more enriched."
One thing the cross-platform approach doesn't disrupt is monetization.
"Our monetization systems are through a variety of features and feature sets in the game," Black says. "If you're playing in one aspect of the game, you may be exposed to some monetization systems more than others, but in general, players will figure out the economy for themselves and they'll understand where to spend their time, or what's going to get them the best return for their resources. And we see that behavior transcend platform boundaries as well. If players need something, they'll go and play that feature regardless of whether it's optimized for their platform."
Finally, we ask about any advice he would have for other mobile developers moving to cross-platform development for the first time, and while he specifies that each project will have its own often different hurdles, there may be help available.
"The technology platform you're using – in our case for King Arthur, we're using Unreal – whoever your provider is, they are incentivized to have your title and get your game on as many platforms as possible. Use them as much as possible. Partner with them. We've worked with a number of different technology platform providers and they're all very good partners for us…
"We love taking advantage of our platform partners in the best ways. And they want to be taken advantage of, they want to be partners in your development. So those hurdles you're going to find are going to be pretty specific to your game, your genre or what you're trying to do, but chances are these platform providers have seen it already and can help guide you through some of the lessons your forerunners have learned. They're closer partners to you than you might realize, so use their support and advice, and you'll go a long way. You'll avoid a lot of mistakes."
Sign up for the GI Daily here to get the biggest news straight to your inbox