Pokémon Go brushes off competition from Jurassic World and The Walking Dead
Apptopia co-founder and COO Jonathan Kay explains why Pokémon Go thrives as its competitors flounder
Aspirations that The Walking Dead: Our World and Jurassic World: Alive could capitalise on the insatiable consumer appetite for Pokémon Go have fallen short.
Neither Jurassic World or the Walking Dead have been able break the top ten, let alone trouble Niantic's dominant position as the defacto augmented reality mobile experience.
According to data from Apptopia, first week IAP revenue of The Walking Dead and Jurassic World games was $630,000 and $488,000 respectively, compared to the $27 million of Pokémon Go.
Since launching on May 23 the peak ranking of Jurassic World was No. 21; The Walking Dead fared even worse and has only climbed as high as No. 94 since its July 12 release.
It is worth noting that Jurassic World was only live in Europe and Asia for its first week, launching globally on May 31.
While The Walking Dead is outperforming Jurassic World, with one million first week downloads compared to 900,000, both again drag miles behind Pokémon Go's first week which saw the game downloaded over 30 million times.
Currently there isn't enough data to know whether there is any crossover between Jurassic World/Walking Dead players, and Pokémon Go players.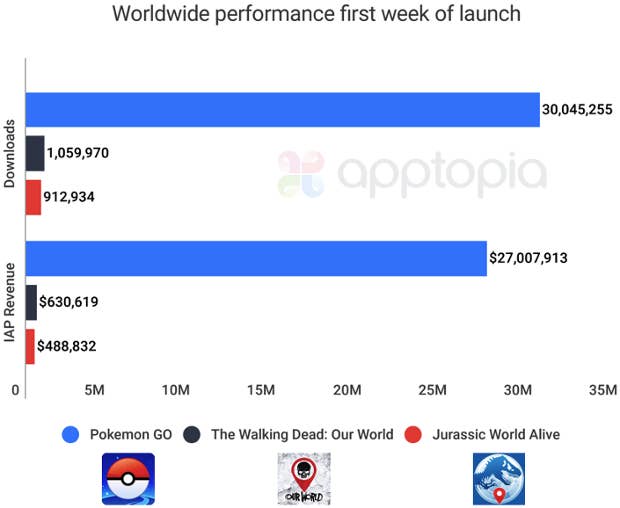 However, with Ghostbusters World set to release later this year, Pokémon Go has set a clear trend in mobile AR games, but it seems that even the biggest franchises around are struggling to generate anywhere near the same level of success.
"Games whose functions closely resemble that of their associated IP are more engaging," Apptopia co-founder and COO Jonathan Kay tells GamesIndustry.biz.
"This is why The Walking Dead is doing better than, and will continue to outpace Jurassic World. The Walking Dead is about killing zombies and surviving, which is exactly what the show is about.
"Pokémon Go is successful for a multitude of reasons, including its close correlation to TV show, movies and older games.
"And as simple as this sounds, people love collecting things - so when collection goes hand and hand with experiencing what the characters in the IP experience, you typically have a winner.
"Jurassic World has the collecting aspect but this isn't really what the characters in the movies are focused on so it doesn't work as well.
"Given this, I think Ghostbusters World will end up being more successful than Jurassic World and The Walking Dead.
"It appears the premise of the game closely resembles what the characters in the movie went through, which includes collecting ghosts."