Journey sweeps GDC Awards
GDC 2013: ThatGameCompany's latest goes six-for-six in developer-chosen awards ceremony; Dishonored wins Audience Award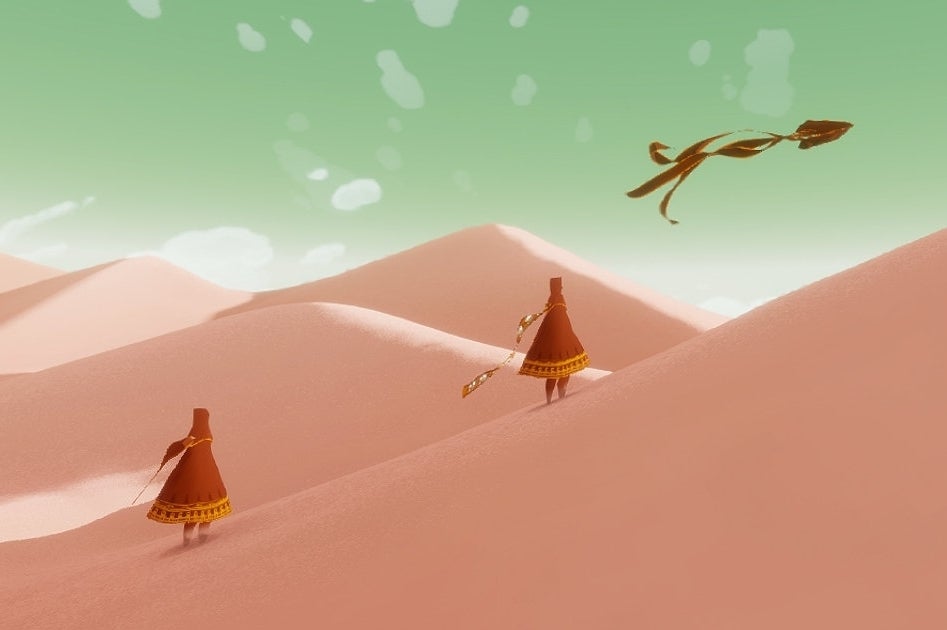 At the BAFTAs earlier this month, ThatGameCompany's Journey won five awards, but lost out to Dishonored when it came time to name the Game of the Year. The PlayStation 3 exclusive would not be denied a second time, as Journey swept tonight's Game Developers Choice Awards, winning all six of the categories it was up for, including Game of the Year.
Between Best Audio, Best Game Design, Best Visual Arts, Best Downloadable Game, the Innovation Award, and Game of the Year, Journey actually won more than half of the main GDC Awards given out this year. It was also the only game to win multiple categories. Dishonored and The Walking Dead--both winners of other Game of the Year awards themselves--were honored with the inaugural GDC Audience Award and the Best Narrative award, respectively.
Outside of the competitive categories, the Lifetime Achievement Award went to recently retired BioWare founders Dr. Ray Muzyka and Dr. Greg Zeschuk, while the Pioneer Award went to Spacewar! Creator Steve Russell. This year's Ambassador Award was given to Chris Melissinos, guest curator of the Smithsonian American Art Museum's "The Art of Video Games" exhibit.
The full list of main category winners follows below:
Best Downloadable Game
Journey (ThatGameCompany)

Best Narrative
The Walking Dead (Telltale Games)
Best Visual Arts
Journey (ThatGameCompany)

Best Technology
Far Cry 3 (Ubisoft)
Best Game Design
Journey (ThatGameCompany)
Best Handheld/Mobile Game
The Room (Fireproof Studios)

Best Audio
Journey (ThatGameCompany)
Best Debut
FTL: Faster Than Light (Subset Games)

Innovation Award
Journey (ThatGameCompany)
Audience Choice Award
Dishonored (Arkane Studios)
Game of the Year
Journey (ThatGameCompany)