Jesse Divnich leaves EEDAR for Tilting Point
Analyst will lead mobile research efforts for Tilting Point's development partners, discusses mobile strategies for devs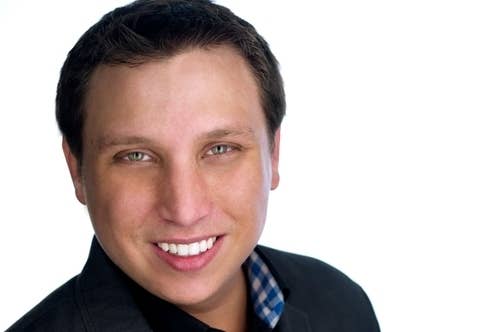 Longtime EEDAR analyst Jesse Divnich is moving on. Divnich has informed GamesIndustry International that he's been hired as vice president of insights and consumer experience at Tilting Point, a company that he's served on the board of since its inception. Tilting Point, which provides funding, marketing, and support services to mobile developers, will now benefit from Divnich's decade of analytical experience.
"I've seen the company grow from an idea into an all-star team that truly understands what independent developers need in the era of self-publishing. Tilting Point continues to form new partnerships with some of the top developers in the world; developers whose games I admire," he said. "Joining Tilting Point full-time allows me to work closely with these talented teams to help them make informed decisions based on the best possible information and bring fantastic game experiences to players everywhere."
Tilting Point has been building up a team of industry veterans including Tom Frisina (an EA Partners founder), Tom Bass (former 2K marketer), Giordano Bruno Contestabile (former PopCap exec) and more. Divnich joins the experienced team to "offer valuable recommendations to partners based on data-driven research and analytics."
"On a day-to-day basis this will involve working closely with product management, our brand managers, and marketing to execute analytic and research strategies for the benefit of our partners. From green light to post-launch services, I will be there every step of the way to ensure the best information is being utilized properly to maximize the potential of each title, balancing the necessity to keep the positive consumer experience intact, and all while respecting the vision and creative freedom of our world-class partner developers," Divnich explained.
"For those making free-to-play games, while 3-5 percent of your consumers will represent 100 percent of your revenues, don't ever lose sight of the importance of the other 95 percent"
Divnich said he chose Tilting Point after six years with EEDAR to "align myself closer with my passion for game development." That said, his job is still very much analytical in nature, and Divnich defended the role of data in development.
"Developers can be skeptical about data, analytics, and insights. Rightfully so, they don't always know who is on the other side of the reports that recommend making critical changes to their games. I want to show our talented developers that behind the analytics, regressions, and insights that there is someone like myself who respects their vision and the creative process of game design. Someone who understands that building a great experience is much more than just number crunching," he said.
"I've found that the best analysts are the ones that not only understand the importance of analytics in game design, but also understand its limitations. Data should be a guide to making informed decisions, but the use of analytics is only part of the equation. Tilting Point's approach is always to start with and focus on the creative vision of talented game developers and use data to help produce the ideal conditions for success."
The mobile landscape has been evolving quickly and while the opportunities for developers are vast, the challenges are equally large. Discoverability and monetization remain huge concerns for mobile game creators. Divnich offered some thoughtful advice.
"For those making free-to-play games, while 3-5 percent of your consumers will represent 100 percent of your revenues, don't ever lose sight of the importance of the other 95 percent. The success of all free-to-play mobile titles comes from the engagement of the entire ecosystem. Even the biggest spenders don't spend a penny in a lot of games. We are all part of the 95 percent in one game or another. Remember why we, as players, are all here - the consumer experience - that positive emotional rush we all get when playing games. In the free-to-play environment, games need to be just as fun for those that choose to pay and those that don't," he said.
Weighing in on the much discussed topic of whales, Divnich added: "I hear the term 'whale hunting' and it is disturbing. It often leads to monetization strategies that exclude the other 95 percent from having fun. If you build a game on an inverted pyramid, it will tumble. Your revenues will certainly come from the 5 percent, but without strong and constant engagement from the other 95 percent, your ecosystem will quickly collapse."
Some believe that digitally released games can do well if they are of high quality, and that an active marketing effort is simply not required. That approach is a mistake, however, Divnich remarked.
"The era of self-publishing has evolved a lot over the years, especially in the area of product discovery. User acquisition costs are rising rapidly and product marketing is more complex than ever. Unless you have an internal team of experienced marketers and user acquisition professionals, access to all the disparate data sources, and deep pockets, you are showing up to a gunfight with a sharp wooden stick," he said. "I'd like to believe the cream always rises to the top, and some have achieved phenomenal success with minimal to no forms of marketing, but they are the exception not the rule. The need for informed, state-of-the-art marketing strategies is increasing in today's highly competitive mobile and tablet market."
Tilting Point said the first three games from its partners are on track to release this year. They include Leo's Fortune from 1337 & Senri, Toy Rush from Uber Entertainment, and The Sleeping Prince from Signal Studios. Back in January, Tilting Point also signed a multi-title agreement with Quark Games.