iPhone gets its first officially licensed controller
Moga's Ace Power controller utilizes the new framework built into iOS 7 and gives any iPhone 5 or 5th gen iPod Touch console-like controls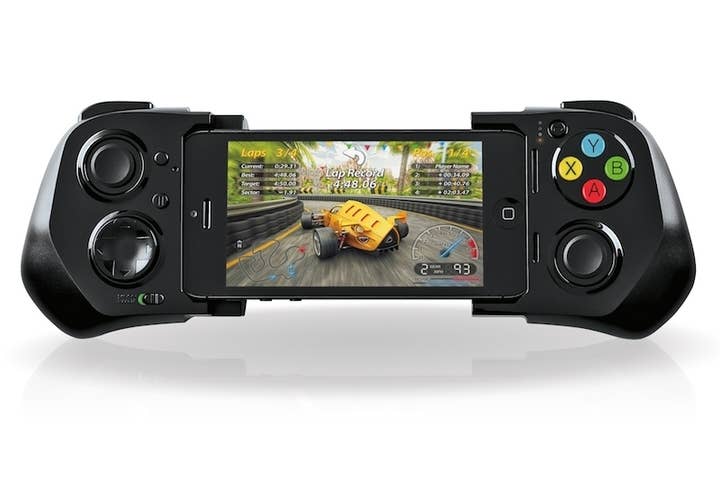 PS4 and Xbox One may be the focus right now, but for some consumers the iPhone in their pocket is good enough for games. That "good enough" experience can now be taken a step further for players who'd rather have the precision of a game controller over a touch screen. Moga, which has created mobile controllers for Android devices, is now selling its Ace Power controller through Apple and its own online store. It retails for $99.99 and is compatible with any iPhone 5s, iPhone 5c, iPhone 5, and iPod touch (5th generation) running iOS 7.
The Ace Power looks very similar to an Xbox 360 controller and its design allows it to collapse when not in use for better portability. It plugs in to the iPhone's Lightning connector and doesn't need to use a Bluetooth connection (as was the case with previous Android controllers). Additionally, it includes a built-in 1800 mAh battery featuring "Moga Boost" technology, which charges the iPhone during gameplay, enabling longer sessions.
"Moga controllers were built for real gaming by real gamers," said Eric Bensussen, President and Co-Founder of PowerA. "We're excited to deliver Moga Ace Power to iPhone and iPod touch users in time for the holidays and have them experience the precision, console-style controls that promise to revolutionize the gaming experience on these devices."
For console genres that have been adapted to mobile with clumsy touch screen controls, such as first-person shooters, platformers and racers, the Ace Power is likely to be advantageous. Moga said it's expecting "a flood of game developers to take advantage of controller support."
Update: It's worth noting that the Logitech PowerShell launches today as well, but it does not feature any analog sticks and it's also $100.