International mobile games revenue from Tencent and NetEase rose 382% in 2018
Chinese mobile giants see importance of international markets during Chinese game license freeze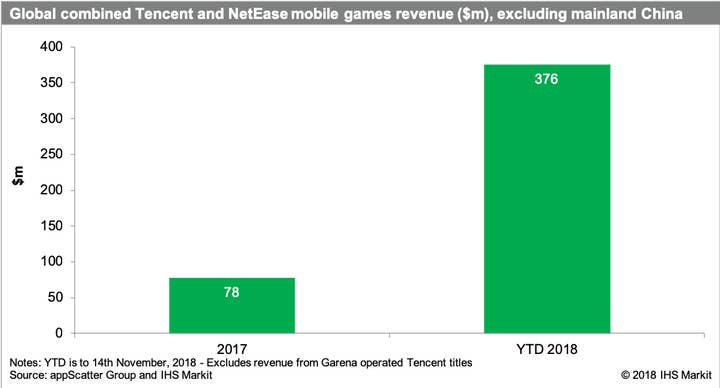 The freeze on new game licenses in China may finally be putting the hurt on Tencent and NetEase domestically, but both companies seem to have seen a strong enough year outside the country.
Business information provider IHS Market reports that combined international mobile game revenue for Tencent and NetEase grew by 382 percent year-over-year for the year-to-date period of January through mid-November. Combined revenue for the two publishers outside of mainland China amounted to $376 million, a huge jump from the same period in 2017, which saw $78 million.
Of the two, Netease's growth made up 72% of the combined revenue growth for the two companies - perhaps a surprising figure given that Tencent was responsible for PUBG Mobile. However, IHS Markit points out that PUBG Mobile only made up 2% of Tencent's total mobile game business in 2018, and the publisher's other major title, Arena of Valor, flopped in the West.
"Tencent and NetEase have begun to build a stronger international franchise for their games in response to the regulatory environment in their domestic market," said IHS Markit games research and analysis director Piers Harding-Rolls. "However, even with this stronger focus, in the opening nine months of 2018, direct international revenues from mobile games represented only three percent of the companies' total mobile games revenue. Both companies still have a mountain to climb to derive meaningful revenues from international markets to offset slowing growth in mainland China."