Inspiration in five minutes: GDC 2013 Microtalks
GDC 2013: Industry luminaries come together to share their ideas under a short timeframe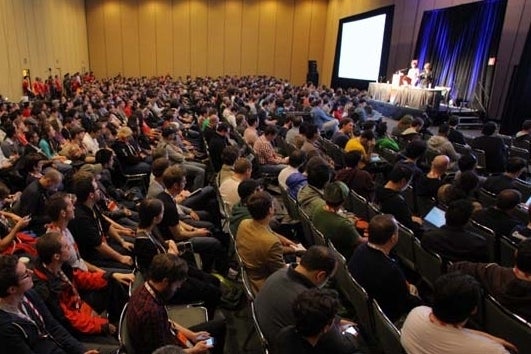 The GDC Microtalks are an interesting experiment in delivering ideas from some of the game industry's best and brightest. Each speaker has just over 5 minutes to present 20 slides, with 16 seconds per slide and no stopping. The format is one of the most popular sessions at GDC and is still organized by former Naughty Dog lead designer and visiting associate professor at University of Southern California, School of Cinematic Arts' Interactive Media Division Richard Lemarchand. This year, the session skipped having a central theme for all ten speakers, leading to a more varied set of talks. Here are the highlights for the session.
"This is an interesting time for the game industry," said Lemarchand in his opening speech. "It's a time of great change in terms of the way we make and distribute games. The way we fund the games that we make. In terms of the culture around games and the people who play them. Anyone with a background in Agile development will be used to seeing change as an opportunity rather than a crisis."
"By approaching the challenges we face with rationality, openness, criticism, and new ideas, we can seize a chance to forge positive change in this industry that we love."
Leigh Alexander, Gamasutra Editor-at-Large, on marketing to a changing audience
"We know our audience is getting bigger. We know more people are trying to join the industry because we see an increased focus on diversity issues. We know people want to develop more creative experiences. The market's constrained. We're told we just want sequels; the audience doesn't want innovation and so forth. I talk to game developers who constantly tell me that they wanted to do something really cool in a game, but it got cut because of a marketing decision," said Alexander.
"I've heard this game couldn't have a black hero because it wasn't going to sell. You have to basically do what the market leaders do or else no one will buy your game. This is not an anti-marketing rant. Marketing shapes the tone of our industry. Right now, maybe marketing isn't doing the best job. Marketing decisions are indirectly constraining the growth and creativity in the industry with ideas about what does and doesn't sell."
Alexander mentioned recent marketing failures, including Dead Island Riptide's Zombie Bait statue and Hitman: Absolution's Hire Hitman social site. She tackled the idea that sex is the only way to sell our games, by pointing to one of the industry's most successful and longest-running brands: Mario.
"We have a serious image crisis right now," she stressed. "Marketing can sell crap, but it's failing to sell truth and joy. We need a fresh perspective. If you work in marketing and you just want to make numbers, please work in another industry. It'll be better for everyone."
Tom Bissell, Gears of War Judgment writer, on storytelling in games
Bissell explained how his previous experiences as a writer differed from his time as a co-writer for Gears of War Judgment.
"Big action video games are not and never will be, a writer's medium. The writer doesn't steer the story, the gameplay determines the story, the player steers the story. The writer contextualizes gameplay and grounds the player's experience in the story," said Bissell.
Bissell said that Judgment developer People Can Fly sent emails asking about small moments for dialogue and cutscenes without either writer knowing where their content fit within the game.
"Big action video games are not and never will be, a writer's medium."

Gears of War Judgment writer Tom Bissell
"The problem was we were writing dialogue that took place in environments we hadn't seen, after gunfights we hadn't fought, and assigning them to place during moments we didn't really understand. Nothing in our script felt grounded. As an experience, it felt false. We realized the only way it would work was to allow the player's experience to be our story."
Bissell and company had to drop the script they originally had and instead worked with the developers to give the game's writing more context. He said the new writing experience was completely different and said he "felt like a journalist reporting live from Gears of War."
"One of the many reasons video game scripts often feel divorced from what is actually happening on screen is people have this very ingrained belief that game and story are two different things," said Bissell. "Our experience on Gears taught me that story and game need to be the same thing. The story has to be what the player does. A writer who is not having a constant conversation with the experience of the player has been put in an impossible situation."
Kim Swift, Airtight Games studio producer, on being a great boss
Swift noted that she's been a manager of some type for almost half her career, so she laid out a few ways to be a great boss.
"Listen to your teammates and your employees. If you don't trust your teammates to help you make your decisions, then you probably shouldn't have hired them in the first place," Swift said. "When your teammates do good work, tell them. Give people credit for their work and ideas. Having had credit actually taken from my work before? It really sucks ass. When things go bad as a manager, take responsibility. When things go well, give credit to others."
"Express opinion, but make sure your criticism is actually constructive. Find something you do like first, comment on it, and then move on to critical comments. Don't underestimate the inportance of empathy. By being empathetic, it makes you more approachable."
Mare Sheppard, Metanet Software president, on surviving the one-hit wonder
Sheppard and her team developed N and N+, a simple zen-like platformer. N was the company's first real hit and Sheppard explained the difficulty of feeling like you'll never reach the top again.
"Even though we released N, we've never really felt like it was done. It was good, but it could be better. Part of us never felt like we should move onto other games until we finished N. But there's tremendous pressure to always be learning and growing, and that typically means moving on to new projects."
"Everyone is stressed and has problems, even if they're not talking about them."

Metanet Software president Mare Sheppard.
Sheppard said that other projects they worked on didn't feel the same and the studio started to believe that N was "it". Metanet was caught in the "struggle" of needing to finish N and needing to move on away from N. Sheppard wanted to let all developers know that everyone is stressed about creating successful titles.
"Everyone is stressed and has problems, even if they're not talking about them. It's part of the creative process, the learning process. Everything about making games is hard, and not just the technical part. I know we aren't the only ones struggling. We felt for years that it was our private hell. It doesn't have to be that way. Maybe we need to talk about the psychological and emotional side making games as well. That's incredibly difficult to do, because it means we have to accept ourselves even at our lowest and most vulnerable points."
Sheppard also announced N++, the final iteration of N, in the hopes that after release the studio can move on.
"We are worried, we want to move forward. Is this a step back? This feels like the right thing to do. This feels like a turning point for us."
Anna Anthropy, dys4ia creator and game designer, on diversity at tech conferences
Anthropy simply asked men in the industry to boycott panels without a single woman on the roster.
"If you're a man and you're being asked to speak at a panel where no women have been asked to speak, refuse vocally. Say, 'I'm not comfortable speaking on a panel where no women are allowed to speak.' GDC has a bit of problem with women. The game industry as a whole has a problem with women," she said.
"Are you proud to tell people you work in the game industry? Maybe you'd like a games industry for grown-ups, not one for ten year-old boys. What would happen if women were given more of a voice at conferences like GDC? The value a single outside perspective brings to any discussion is far greater than that of the most seasoned industry insider."
"I feel like many of you sitting here want diversity at this conference. You see the value that more perspectives, different perspectives, could bring to inception. It's not enough to have the want, you have to act," Anthropy said.
Manveer Heir, Bioware Montreal designer, on emotional games
Heir talked about his experiences playing Minority Media's Papo & Yo, which touched him emotionally and moved him to tears. The game is a semi-autobiographical tale about Minority Media designer Vander Caballero's struggles with his father's alcoholism.
"By the end of Papo & Yo, I was sobbing profusely. I was a grown man breaking down in his living room. I've never experienced that gravity of emotion through media." said Heir.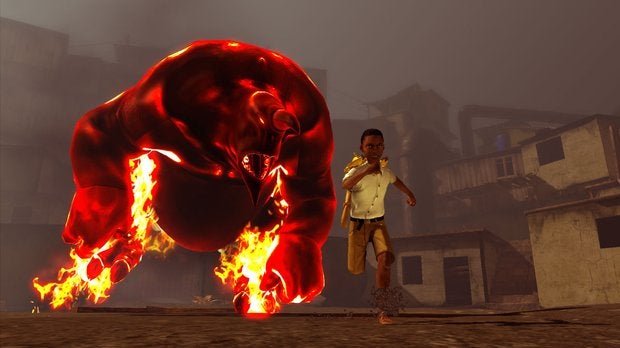 Heir said that Papa & Yo made him remember his strained relationship with his younger brother, who fought with bipolar disorder and committed suicide in 2011. Heir said that games should be about having experiences that one couldn't normally have, within a safe space. He said he'd rather be challenged to think about his world differently and titles like Papo & Yo are key to that challenge.
"Papa & Yo reminded me of something I already knew: the need to let go of my anger, the need to forgive and look towards the future, the need to grow as a person. What's interesting about Papo & Yo is it captures a universal truth."
"My only current interest in making games are those that have emotional resonance," Heir closed. "Games that move players to reflect, consider, and emote in way they do not normally. I hope more of you will consider putting this emotional content in your game. There are those of us that crave this emotional content."