Indies on Steam concerned Summer Sale promotion is hurting Wishlisting
Steam Grand Prix promotion confusion may be causing numerous users to remove smaller, cheaper games from Wishlists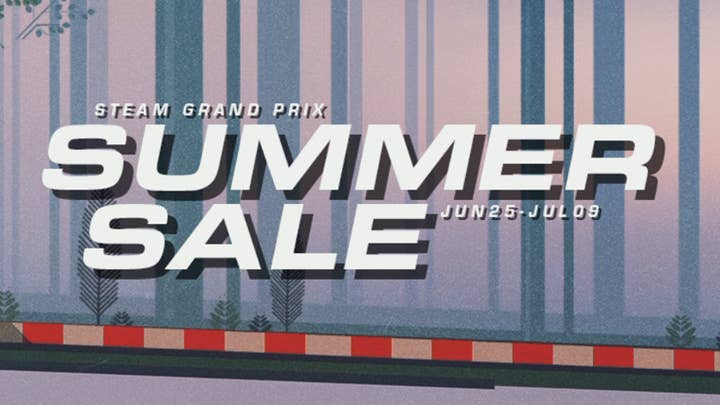 A number of indie developers have taken to Twitter to express frustration at a Steam Summer Sale promotion that appears to be hurting the Wishlist numbers for their games, which they predict will in turn harm sales.
The Steam Grand Prix promotion began with the Steam Summer Sale on Tuesday this week. Aside from the usual deep discounts on numerous games, the promotion lets users earn points for making purchases during the event. Those points can then be used to "boost" a chosen team, with random members of the teams with the most points at the end of each day and at the end of the sale receiving free games from their Steam Wishlists.
However, there appears to be some confusion as to which games players will receive. Today, Steam published a tweet assuring users that they do not have to remove games from their Wishlists - just put the game they want at the very top-ranked position. It also published a blog post with similar clarity. The wording on the website is less specific, saying, "Be sure to update your Wishlist before you put the pedal to the metal, as the very best drivers will be awarded their Most Wished For games throughout the event."
Many indie developers with games on Steam have said they have seen their Wishlist numbers drop sharply since the sale began, presumably because users are removing smaller, cheaper games from their Wishlists in hopes of receiving a more expensive one for free. Here's one example from Rise to Ruins developer Raymond Doerr:
Hey @GreyAlien - Are your games seeing an abnormally high amount of wishlist deletions? I and 4 other devs all are seeing some pretty strange stats. I've never once in 5 years seen more deletes than adds/P&A during a seasonal sale. I've always left a sale with a net increase. pic.twitter.com/v1OY4MUQW5

— Raymond Doerr (@RaymondDoerr) June 26, 2019
"This is heartbreaking," wrote Wildfire developer Dan Hindes. "Wishlists play a huge part in potential store placement once you finally launch. We've put so much work into being so open and transparent with development to build that wishlist over years and it's melting away in a graph, for a sale."
Thanks to the Steam summer sale minigame, where can win a free game from your Steam wishlist, @WildfireGame wishlist deletions have skyrocketed

People want to narrow the pool to more expensive games.

Wildfire isn't out. You can't win it as an unreleased game. This is madness. pic.twitter.com/kon3ZPl96X

— Dan Hindes (@dhindes) June 27, 2019
Snipperclips developer Tom Vian also tweeted his numbers, saying, "I know plenty of folks for whom Steam is their main/only source of income, and it looks like from other charts I've seen posted today that everyone is being hit by the same relative percentages. So this is super rough for them, wishlist numbers are really important."
Oof, in Steam's summer sale, they're offering users a chance to win their 'most wished for games'. Lots of users have misinterpreted as 'any game on my wishlist', instead of 'the top game', and are deleting lower priced indie games to make sure they get pricey AAA games instead. pic.twitter.com/xo4Z7cpUgz

— Tom Vian (@SFBTom) June 27, 2019
Kitsune Games founder Emma Maassen also shared her Wishlist actions graph with GamesIndustry.biz, following a tweet reinforcing the importance of Wishlisting to indies: "Anyway in case people are confused, Valve's stupid little minigame can get people a game off their wishlist for free. Because people think it's random people are delisting small indie games from their wishlists en masse. Wishlists are vital to performance on Steam."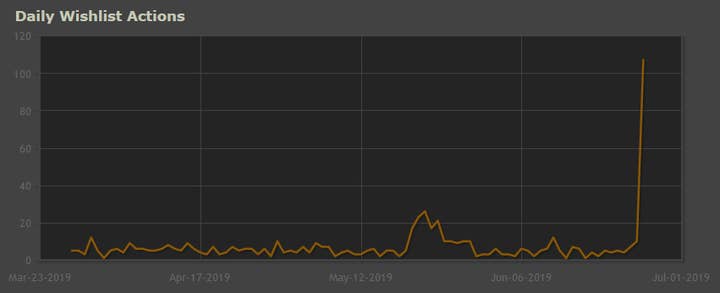 GamesIndustry.biz has reached out to Valve for comment.