IGN launches Xbox Live app in UK
Video, TV and film apps on Xbox Live increased 140% YoY says Live GM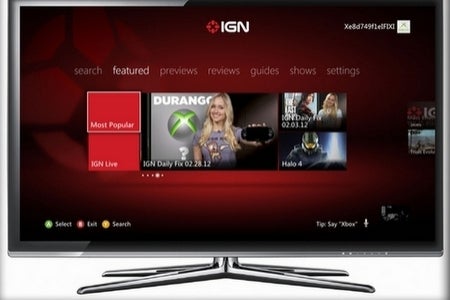 IGN Entertainment now offers content, shows and access to its pro-gaming league, the IPL via a new Xbox Live app.
"Gamers across Europe have been eagerly awaiting the arrival of the IGN app on Xbox Live and we're excited to offer them the very best of our global video content with a local flavour - straight from their TV," said IGN's international publishing director Rich Keen.
IGN's mission is to reach gamers wherever they are, across all platforms, services and devices."
The app is also available in Germany, Austria, Switzerland and the USA.
"We're seeing usage of video, TV and film apps on Xbox LIVE increase 140 per cent year on year," added Xbox Live (EMEA) GM Rohan Oommen.
"As one of several new European apps set to debut across the region (including Absolute Radio in the UK, SPORT1 in Germany; and TV3 in Spain, amongst others), we welcome IGN to our service as Xbox Live continues to cater to all its users' information and entertainment needs."