IGF finalists guaranteed Steam deals
Valve to offer distribution for all honored games in seven 2013 competition categories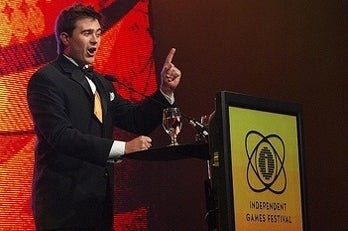 In the past, the Independent Games Festival has led to distribution deals for honored games simply by raising their profile. This year, the connection will be a little more direct.
The organizers of the IGF today announced a deal with Valve that will see the company offer the finalists in the seven main competition categories a distribution agreement for the Steam storefronts on the PC, Mac, and Linux. The categories range from the Seumas McNally Grand Prize to nods for excellence in design, narrative, audio, and more. Each category will have a field of five finalists, except for the esoteric and abstract game Nuovo Award, which will have eight.
Valve isn't the only company looking to support the best of the IGF. For the second straight year, Microsoft Studios is going to choose one of the main competition entries and offer it a guaranteed first-party publishing deal to launch on Xbox Live Arcade, Windows Phone, and/or Windows. Last year's winner was Capybara Games' upcoming side-scrolling shooter Super TIME Force.
The 2013 IGF will take place March 27, 2013. As in previous years, the awards show is running in conjunction with the Game Developers Conference in San Francisco. A field of 588 games is vying for recognition in this year's main competition categories.