"I don't think VR is a now thing" - Spencer
Head of Xbox suggests success for new tech is not imminent, acknowledges interest in Minecraft VR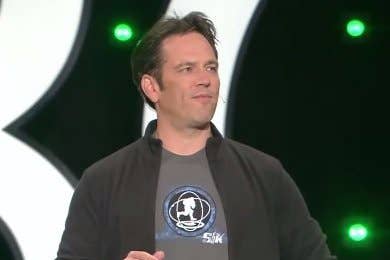 Microsoft head of Xbox Phil Spencer isn't dismissing virtual reality; he just doesn't think the technology's time has arrived yet. In the latest issue of Edge Magazine (as reported by Edge sister site Games Radar), Spencer explained why Microsoft is sitting on the VR sidelines for now, even as other big players in the gaming world are staking their claim to the space.
"Right now, it's just been about technologies and things that I think we need to do on Xbox One to make the experience better, and that's where our focus has been," Spencer said. "And I don't think VR is a now thing. I'm not saying it's five years from now, but it's not really a now now thing. Valve's got their VR thing, which I think is great; Samsung has GearVR, too... Funnily enough, they are very interested in Minecraft and how it could work in those VR spaces."
And even though Microsoft has unveiled its entry into augmented reality with HoloLens, Spencer suggested that tech's significance for the Xbox business isn't much of "a now thing," either.
"Well, we haven't announced it as an Xbox accessory," Spencer said. "But it sits within one team, and we have the conversations. Right now, we want to focus on a standalone, untethered device and make sure that we can prove out that scenario. That's where we started, and that's what we announced in January: the first fully self-contained headset.
"The tethered scenarios around VR I think are interesting, but we were going for something different. Not being tethered to either a PC, Xbox or a phone as part of the solution was one of our design challenges for HoloLens, and we did that. Now we can say, 'Well, OK, if I do have an Xbox or a PC, what are those scenarios?' We haven't publicly talked about what those are, but you can imagine, as we continue to drive and get success with HoloLens, those scenarios will become obvious and developers will take advantage of them."