How Lockwood pulled off giving 4.5 million festive gifts to over a million players
Lockwood Leamington's Studio Director Oliver Clarke on the seasonal gifting feature created for virtual world Avakin Life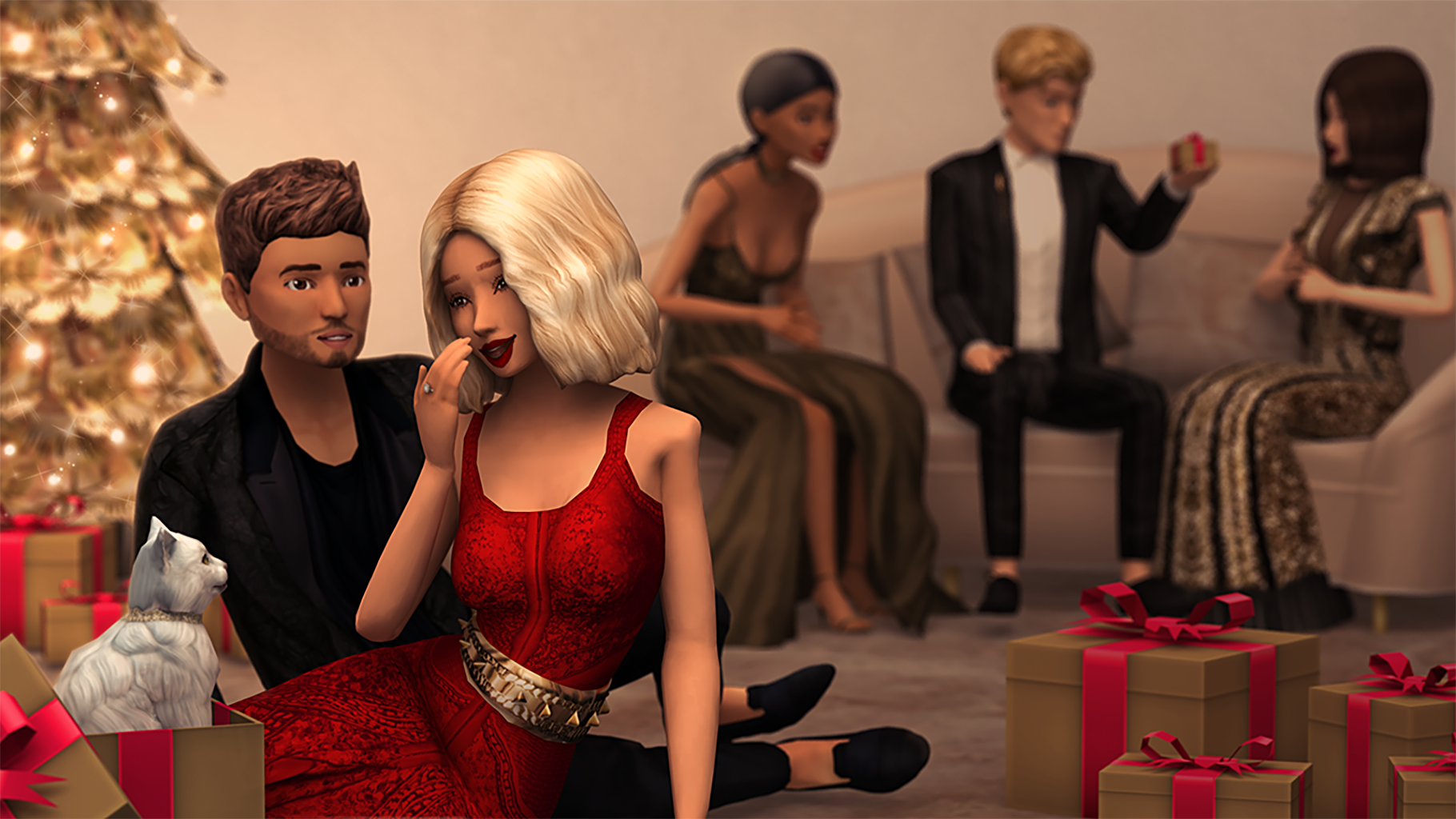 It's the 21st of December. All over the world people are spending time with their loved ones, enjoying the season of peace, togetherness and joy.
And in our 3D virtual world Avakin Life, hundreds of thousands of players are opening their gifts.
Everything is going to plan. We're thrilled, relieved - and hugely proud of what we've achieved.
We'd just developed, set up and run a live operation that served 1.5 million gifts to over 300,000 players within 12 hours. Over the next two weeks we served a total of 4.5 million gifts to over a million players embracing the spirit of giving in our game.
This is the story of how we did it, and the three most important things we learned along the way.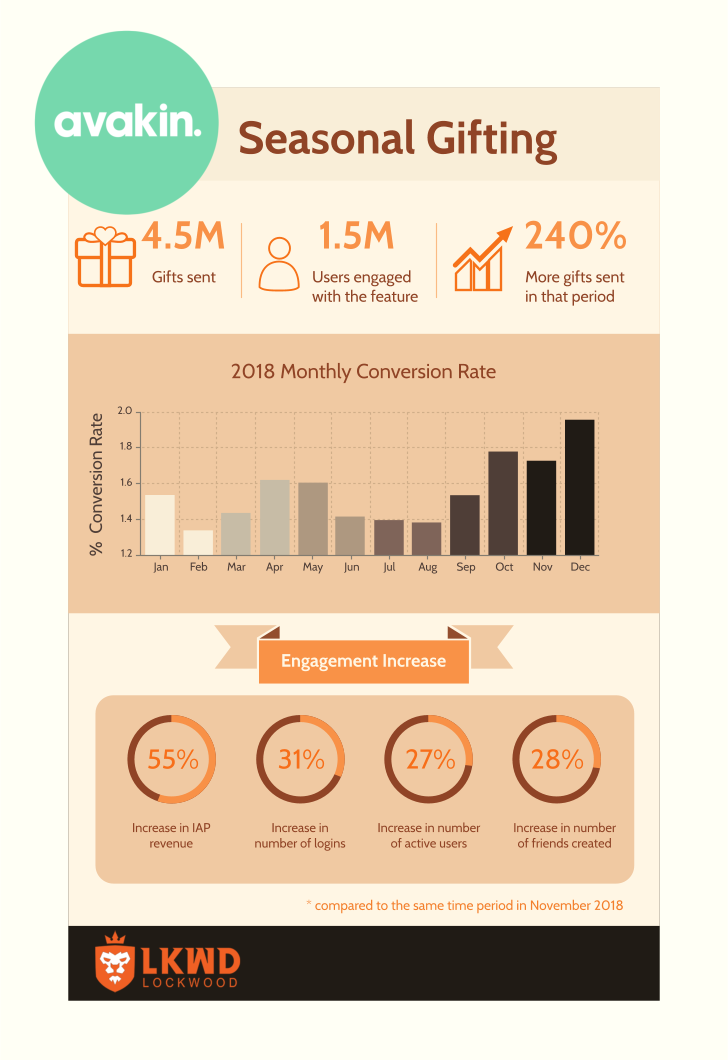 Engineering human connection
Avakin Life combines the entertainment of a mobile game with the immediacy of a social network. Every day almost a million players log in to their virtual lives to hang out with friends, customise their avatars, style unique looks and play games together.
We're always adding new features and content to Avakin Life, but one thing remains at the heart of what we do: human connection.
Our job here at Lockwood is to help people make friends, break down boundaries, and celebrate what connects us - all through a massive virtual world.
For the festive season, we wanted to create a unique social experience of seasonal joy for our players. This live operation would be instrumental in raising our players' engagement to a whole new level. Our colleagues in the server team had built a robust and powerful backend that could manage millions of players (learn more about that here): it was time to work out how we could use it to meaningfully connect our players all over the world.
We knew it would be a challenge. But we pride ourselves on being an ambitious team, and we were eager to make this a really special time for everyone in Avakin Life.
The idea of seasonal gift-giving is a simple concept on the face of it, but one that would require us to add a whole new set of functionalities to our game. Players would be able to give each other gifts from a festive selection - the twist was that recipients wouldn't be able to open them immediately. They'd have to wait until the right moment to tear off the (proverbial) wrapping paper.
"The idea of seasonal gift-giving is a simple concept on the face of it, but one that would require us to add a whole new set of functionalities to our game"
This seasonal gifting feature would celebrate the spirit of kindness, generosity and that indescribably Christmassy anticipation of giving gifts.
It was a real meaty challenge; a large project with lots of moving parts. It meant multiple teams in multiples locations building the UI, preparing the backend, choosing the gifts, creating the marketing, and running it all through our intensive QA processes in time for Christmas...
So how did we do it?
1. Collaboration = communication
At Lockwood Leamington our aim is to create incredible features and games for the massive operation that is Avakin Life. We're one part of the huge team of talented and passionate people across the UK and Europe who make up Lockwood Publishing.
The seasonal gifting project would span the client-side (developed by us) and the backend (handled by our Nottingham offices). It was clear we would need to collaborate more closely than ever before with the rest of our team to make the project a success. So from the start, we arranged daily meetings to speak with the developers working on the backend. Thanks to this we realised an important design consideration early on: when exactly would our players be able to open their festive gifts?
Christmas Day was impractical. The whole team wouldn't be working that day, and if anything went wrong, it could turn into a major headache.
Instead we decided on a short gift-opening period beginning just before Christmas Day to spread the influx of players opening their gifts over two weeks. We designed and created timers in the UI that let players know how long they had to wait before opening their gifts. And we ensured all promotion about the feature stressed the idea of waiting to get gifts from friends. This created a sense of anticipation which made the purchasing and receiving of gifts even more exciting. "What did they give me? How long until I find out?"
In fact, the project was so complex it required us to develop a whole new UX and UI. We spent time initially experimenting with UX prototypes that could be updated in real time across multiple instances. This was a game changer: it meant instant communication, which in turn meant we were all clear on how the user experience we were developing would actually work. We had faith in what we were creating.
It would not have been possible to stick to a tight deadline had we not dedicated ourselves to constant and early communication at all levels. With it, extra complexities were cut away and we doubled down on what made the feature compelling.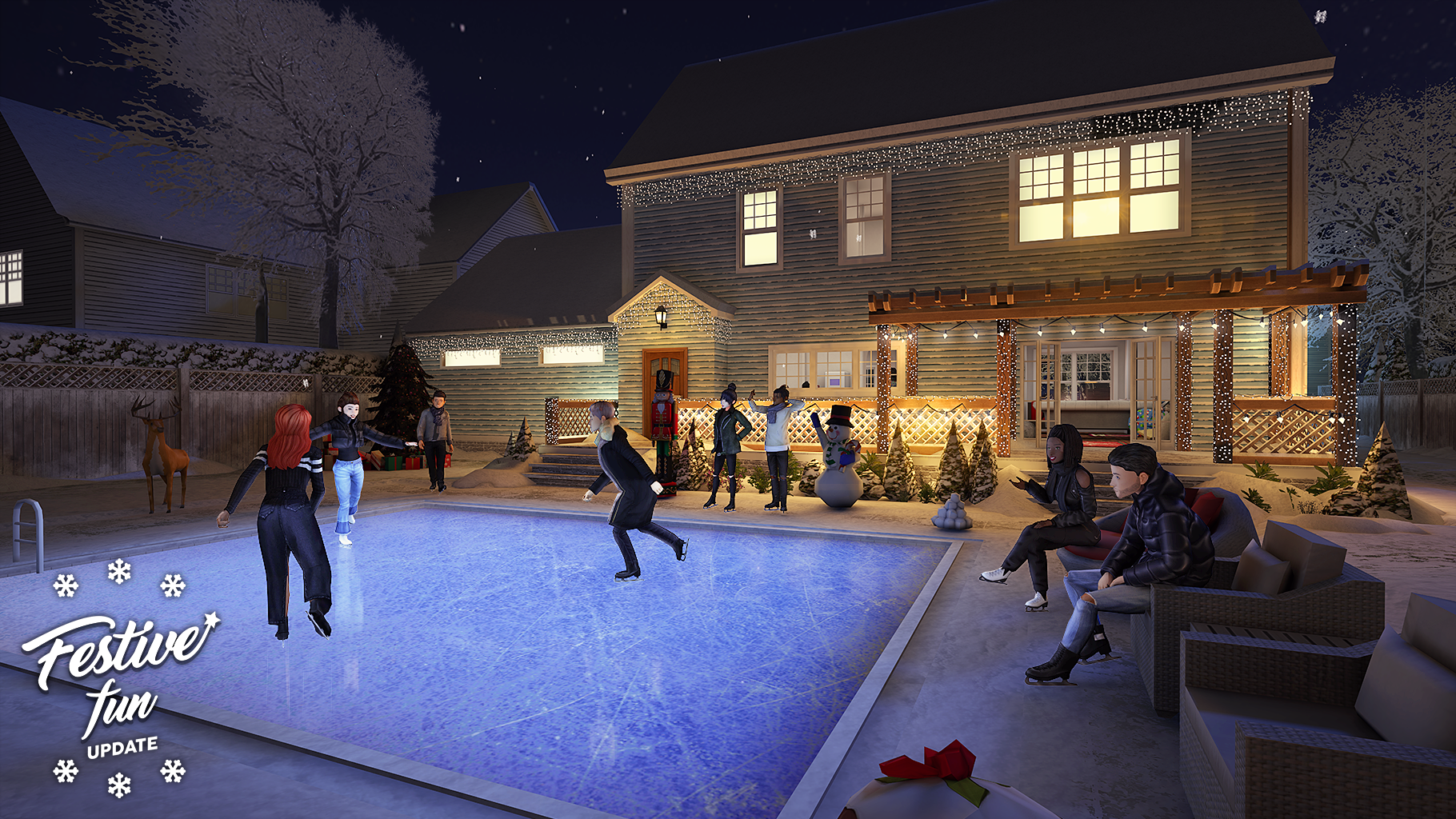 2. Flexibility is key to rapid progress
Getting stuck wasn't an option with a short timeframe available to deliver the entire project. In many ways the seasonal gifting project was successful because we focused on allowing for swift organic growth rather than forcing everyone to adhere to a specific structure. Our documentation was kept to a minimum, and what we did write down was simple, concise and clearly signposted for all to see and comment on.
Take our stretch goal, for example. We wanted to give players the ability to watch a video ad to give a gift for free, rather than using our in-game currency. It was important to us that everyone in Avakin had the chance to experience the feature, especially considering our global audience.
We defined and communicated this goal to everyone involved in the project, and empowered them to make it possible. Team members were encouraged to find their own solutions. We came together, worked hard, and the resource was found to achieve the stretch goal. Thanks to our commitment to flexibility, ultimately millions of ads were watched by players giving gifts to their friends.
We also wanted to create a reusable gifting system - something flexible that could be repeated to engage players throughout the year. By working with modules, we created a framework between client and backend that could easily be reskinned and modified in the future. Not only are we adding maximum value to everything we do, but we're ensuring our work will last over many iterations.
And it paid off: seasonal gifting was so successful it's already had its second appearance over Valentine's Day. This second outing saw an increase of 37% in the number of players giving gifts, a 15% increase in the number of gifts sent, and an incredible 120% increase in our total coin revenue from the event. Thanks to seasonal gifting and a range of other features we developed last year, Lockwood has grown significantly and we were able to reward everyone with a record breaking £900,000+ bonus paid out to the team in 2018.
3. Always work with passion
"We were able to reward everyone with a record breaking £900,000+ bonus paid out to the team in 2018"
Lockwood is a team of people working together to achieve something great. So much of what we do is based on teamwork, and one of the most important things we believe in is trusting everyone on their instincts - and letting them get on with their work.
There's a lot to Avakin. We have dozens of unique features and hundreds of new content releases every year that engage millions of players. This project alone involved the collaboration of our backend, client-side, liveOps, QA, retail, marketing, community and metrics teams. We managed to do it all in time because everyone was on the same page, working together towards the same goal. And crucially, we all believed in what we were doing.
We empowered talented people to do their best work, and enabled them to get on with it. Their passion to do a good job never wavered, even in the face of huge challenges - because they were challenges we all wanted to conquer together.
For example, our QA team proved themselves once again as world class. They managed to test for every possible eventuality in the feature in just a few weeks and point out a handful of bugs and exploits that had slipped through the cracks. Thanks to their diligent testing, seasonal gifting launched without a hitch: an outstanding achievement for a live service feature released to millions of people for the first time.
Thanks to the immediate nature of mobile development, we saw how quickly players dove in. Within the first 12 hours over 1.5 millions gifts had been given, and that rose to 4.5 million over the feature's four week span. Compared to our pre-existing standard gifting feature, players gave each other 240% more gifts than usual during the whole period.
With the many exciting new features and events we launched, December 2018 saw a 14% conversion rate increase to active paying users and a 55% increase in IAP revenue compared to the previous month. Players even made more friends: there was a 28% increase in the number of friendships created in December. And with transparent access to our data, we all got to see those numbers ticking upwards.
It was impossible to be involved in the seasonal gifting project without experiencing a huge adrenaline rush. There's nothing more rewarding than seeing players enjoying what you've just created. As the data rolled in and we saw players giving gifts out of the generosity of their hearts, making their friends feel special and loved, coming together as an entire community... it was immediately clear why we'd been all-in on this project.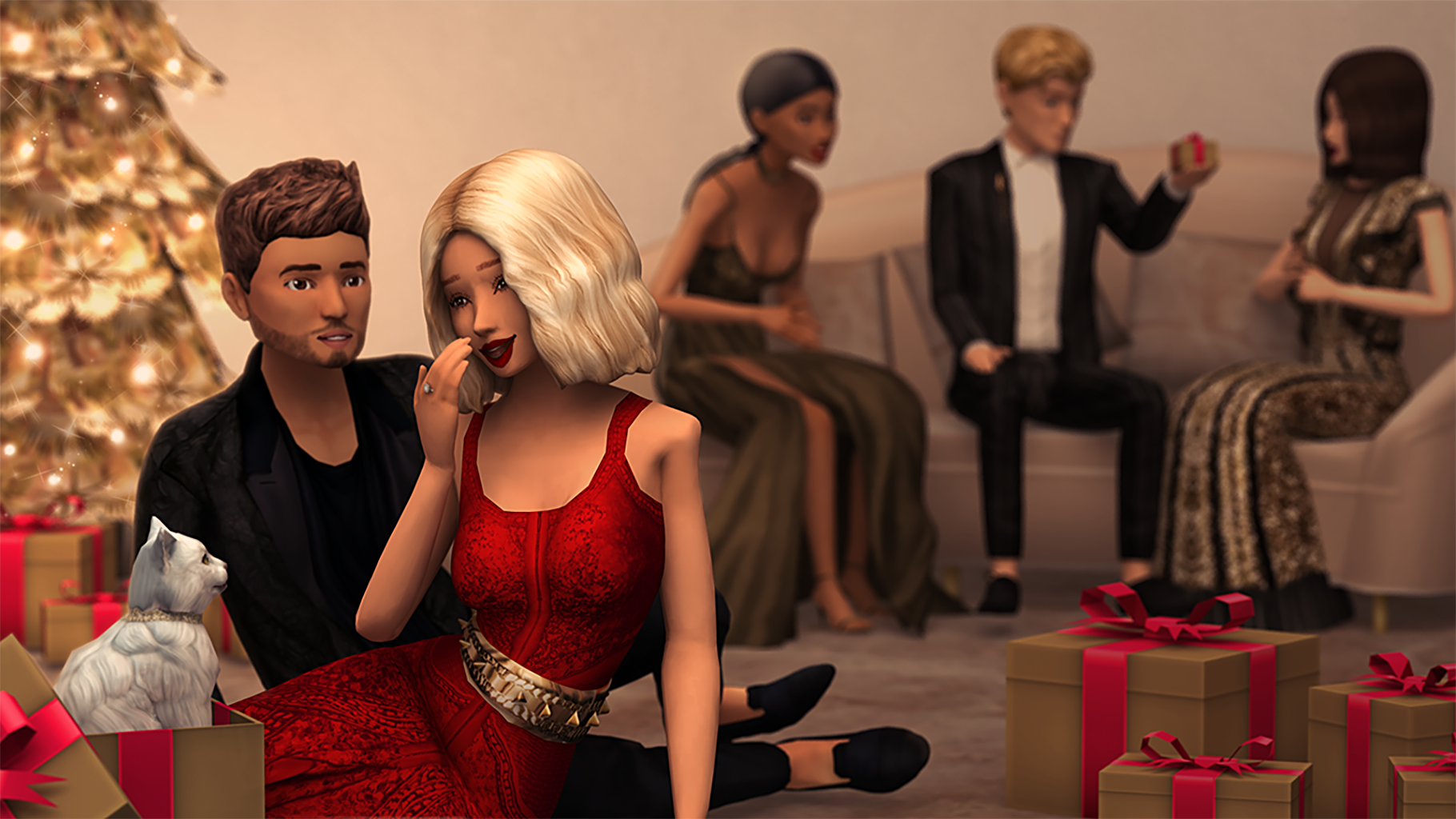 Building a remarkable team
Over the course of a few weeks, we achieved something that at first seemed impossible.
How?
By dedicating ourselves to simple, clear and regular communication, focusing on flexibility rather than rigidity, and keeping the passion alive at all times. These are all elements of a great working environment that are easy to pay lip service to but much harder to actually implement.
Plus, we set ourselves an immense goal. There's nothing like a big mountain to inspire climbers.
Most importantly, we gathered a great team and empowered them to do their best work, with the best possible support.
It's a huge responsibility as a developer when you're delivering to over seven million monthly active users - but there are also so many ways to prove yourself and your ideas, and immediate feedback on the ones you do develop. That's what working at Lockwood is all about.
We're dedicated to gathering an exceptional team to join us on our journey as we create more social and more exciting experiences for our players. We can't wait to achieve more incredible features together - concepts that broaden what it means to connect with others through games. Even something as simple as the sincere pleasure of opening a gift.
To learn more about Lockwood Publishing and the Leamington studio, click here.