How to use data to make a hit video game
Newzoo's Tyler Long on how to maximize your potential using market data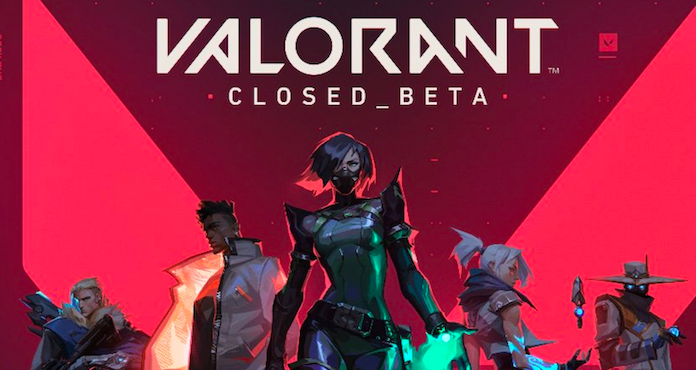 As the games market continues to become more globalized, complex, and saturated, robust strategic processes in game development and publishing are more important than ever. As the publisher/developer market lead at Newzoo and having worked in the industry for the last decade, I know there's no standard recipe for success. However, making the right decisions at every single stage of a game's lifecycle will provide you with a strong foundation.
In this article, I'll explain how data from Newzoo's Game Development Solution can help developers and publishers -- big and small -- set up strategic data-driven processes in two key stages of development.
Game Development: Asking the Right Questions
Making the right strategic decisions is easier said than done, but framing your struggles is a good start. Here are a couple of everyday problems for developers and publishers during two major phases of game development:
1. Game Concept Phase
• What type of game should I make?
• What genre has the most market opportunity?
• What key elements should I include in this game?
2. Game Launch Phase
• Which market(s) should I launch my game?
• Which platform(s) should I launch on?
To help answer these questions, let's try setting up a step-by-step framework that makes development a little clearer, untangling the pathway to a game's success. We'll continue to focus on the concept and launch phases, often referring to Riot's Valorant as a case study.
Conceptualization: Where to Begin with Game Development
The innovation of different game mechanics, themes, and settings is key in game creation. We often have a million ideas about our next great game. It's all very exciting, but taking a step back is essential. Simply put, sifting through all your ideas is a must, as it helps to pinpoint concepts with the highest market potential (and thus chances for success).
Here are a couple of questions to get you thinking on the right lines:
• Does this game concept have potential in a given market?
• What are the key design elements we should include?
This is where data comes in. The steps involved in answering these questions include:
• Understanding the landscape
• Spotting current and emerging trends
• Knowing what makes the biggest games so popular
Gaming is one of the fastest moving markets out there. While many games hold their popularity for years, there are always new competitors entering the fold. A fantastic way to understand the landscape is to look at rankings for popular games and genres.
Genre and Game Data: A Strong Springboard for Game Devs
Creativity and originality are vital in game development, especially for smaller teams. However, it's also important to understand what's currently going on in the market.
The advantages are twofold: firstly, you can discover the types of games that currently resonate with gamers; and secondly, you can learn if your idea is truly unique or if it already exists in the market.
If you have a specific concept idea within one particular genre, you can dive into the data around that genre. Using Newzoo's Game Development Solution, we can see the shooter genre was extremely popular in April. I then zoomed in on April's most popular shooters on PC.

Naturally, there are many design elements, gameplay mechanics, and other factors that make the above top games so popular. Using the solution to look into each game individually helps pinpoint the different factors that contribute to a game's success, including:
• Player share and average play time, which can help games companies benchmark KPIs.
• Taxonomy elements: understanding specific mechanics and game modes, giving you inspiration about which mechanics resonate with players.
Next step: utilizing elements from Newzoo's Games Taxonomy to find similarities between the top four shooters:
• Call of Duty and CS:GO are both team-based and feature different character loadouts
• Overwatch and Rainbow Six are team-based with different characters and abilities
• Rainbow Six and CS:GO feature more hardcore game modes and gunplay
• Overwatch's art style is less realistic than the other games in the top three
• CS:GO and Call of Duty's battle royale mode are free to play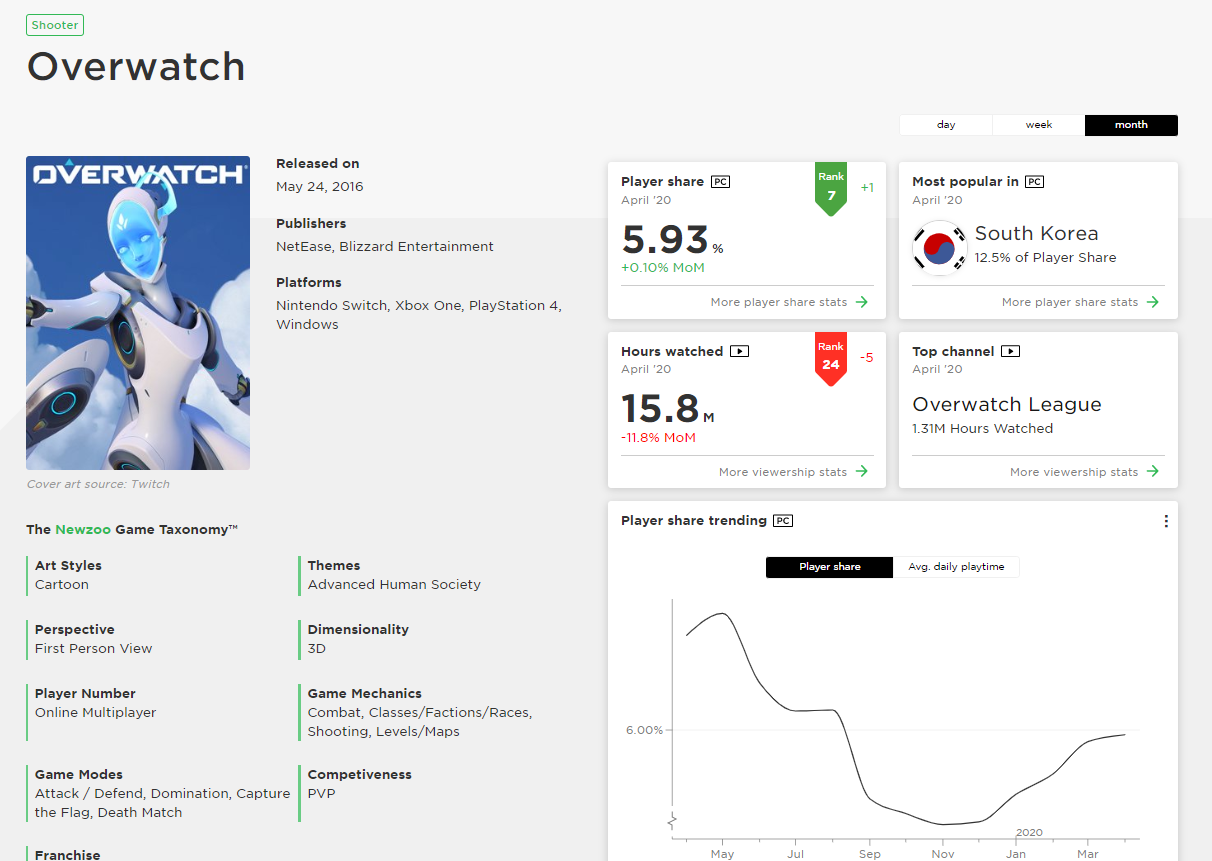 By combining the mechanics of these top three games, we could end up with a game concept resembling Valorant: mixing the art style and characters of Overwatch with the gunplay, tactical shooting, and free-to-play monetization of CS:GO. Of course, popular themes from other genres (Fortnite in the Battle Royale genre, for example), were also used in the analysis. Learn more about different taxonomy elements here.
Luckily, Newzoo's Game Development Solution lets users combine any cocktail of game mechanics to see if such a game exists in the games market and whether it's popular. We created a custom set including the elements of competitors' games (listed above). The solution shows that this custom set's player share has been growing significantly recently.

We can also see the users playing similar games, including their themes and art styles. When comparing the preferences of these users to the entire PC userbase, the "Contemporary War" and "Advanced Human Society" categories skew way above average. Using this insight, we can make an informed decision about which theme/art style to use for our game.

Going Beyond Genre to Truly Understand the Competition
Once you and your team have settled on the kind of game you want to create, it's time to start thinking about how you're going to launch it. The most important question here is:
On what platform(s) and in which markets(s) should I launch my game?
Platforms and market sizing alike are covered in Newzoo's Game Development Solution, including the playerbase size, as well as pay per player/spender on mobile, console and PC. Data like this is essential for KPI benchmarking and setting internal expectations.
Another key problem is figuring out which markets to focus on for your launch, which will help decide what languages to include for launch (aiding localization) and where to focus your marketing activities.
If we're looking at free-to-play, comparing the total number of payers to spend per payer is a reliable benchmark to understand the potential of a given market and -- ultimately -- its potential revenue.
Zooming in on this topic, we can see that China has an unmatched number of payers and relatively high spend per payer.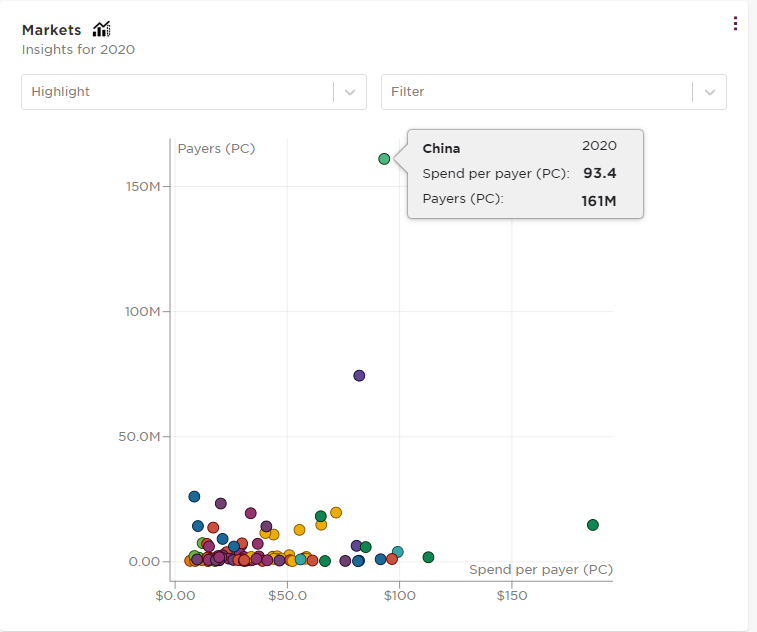 Other high-potential markets include the US and South Korea.
Digging Deeper into Player Demographics
Once you've settled on the markets and platforms, you should be aware of the deeper dynamics of your chosen market and their users' demographics.
For each market, we can dig into the specifics to understand key demographics such as female/male ratio, age distribution, and even more situational metrics like esports vs players, depending on what type of game we are making -- all of which you can find in Newzoo's Game Development Solution.
These demographics can help you convince your investors/stakeholders that you're pursuing the right market, giving deeper insights into your game's intended target audience.
In the US, for example, over two-thirds of the population are players, while around 14% are part of the esports audience. Taking inspiration from CS:GO and developed by Riot, Valorant is heavily esports focused.
We can, therefore, assume that at least 14% of the US population (its esports audience) will be interested. Demographic data like this is invaluable input for choosing who to target during your game's initial marketing campaign.
It's also vital to consider the many channels at your disposal for building exposure and engagement. Three areas are becoming increasingly crucial for games: video content viewership, social media/shareability and esports.
Games like Valorant, Apex Legends and Fortnite have proven just how important it is to hone in on all these areas as early as possible.
Valorant enjoyed a hugely successful beta launch by doubling down on just one key area: streaming, which quickly helped the title surpass more established games. In fact, for players to get beta keys, they needed to watch specific live streams on Twitch.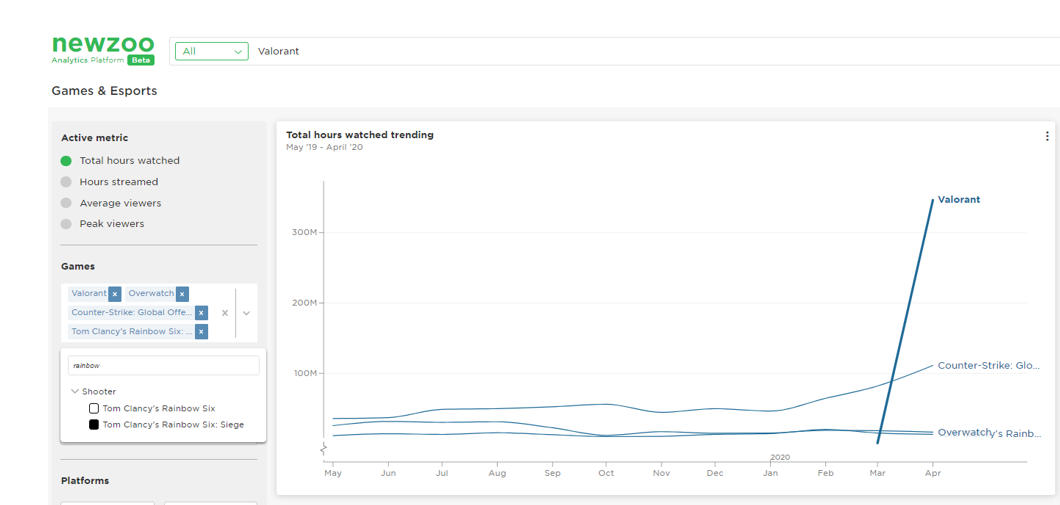 Data from Reddit, which boasts one of the world's biggest online gaming communities, is another great barometer to check a game's engagement. Fortunately, Reddit data for most of the newest and biggest titles is included in Newzoo's Game Development Solution.

With a clearer understanding of markets and platforms and potentially what channels to focus our marketing efforts on, we can feel more confident that we are focusing on the right market and potential users for our specific game at launch.
Using Data to Help Game Development: Some Final Remarks
With this basic process in place for different stages of development, we can feel more confident in creating the best game possible for our users, allowing you to test your unique ideas against what's already in the market. Thanks to actionable data, deciding on the right game concept and elements -- as well as locating and prioritizing markets and platforms -- is easier and more accurate than ever.
And as we develop and publish more games, continually improving game development skills, we can also focus on finding better and better ways to implement data and market analytics to succeed. Newzoo's Game Development Solution is your go-to destination for such analytics, and I hope this framework can help you with your first or next steps on the road to success.
Company and author bio
Newzoo is the world's leading provider of games and esports analytics. We're proud to help some of the most successful entertainment, technology, and media companies -- such as EA, Bloomberg, PepsiCo and Vodafone -- target their audience, track competitors, increase brand awareness, spot opportunities and make strategic and financial decisions. Tyler Long is our Game Development & Publishing Market Lead. Want to chat about leveraging data to supercharge your development process? Get in touch with him at tyler.long@newzoo.com.