How CodeDay inspires students to unlock their creative potential in tech
The non-profit is seeking more volunteers and mentors from tech and gaming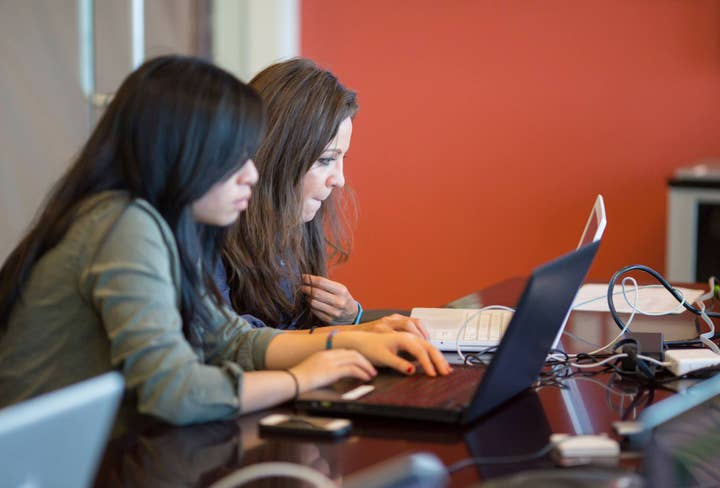 From its humble beginnings in 2009 as a group of college friends volunteering, to its growth as a non-profit organization that operates across the US and expanding internationally, CodeDay's mission has been to inspire young people to explore a future in tech.
Since its inception, over 50,000 students have taken part in CodeDay events, with the titular beginner-friendly workshops welcoming people who have no knowledge of programming or never even considered working in technology.
CodeDay's executive director Tyler Menezes knows first hand the impact the organization's work can have on changing lives, having been volunteering from the beginning.
"At the very first CodeDay we ever ran, we had a student who was working at Best Buy, he was not particularly interested in technology but he always had a lot of ideas for things he wanted to make," he explains. "He went and made a really fun multiplayer game, and then he went to the next CodeDay and started to feel more confident in his abilities as a person in technology."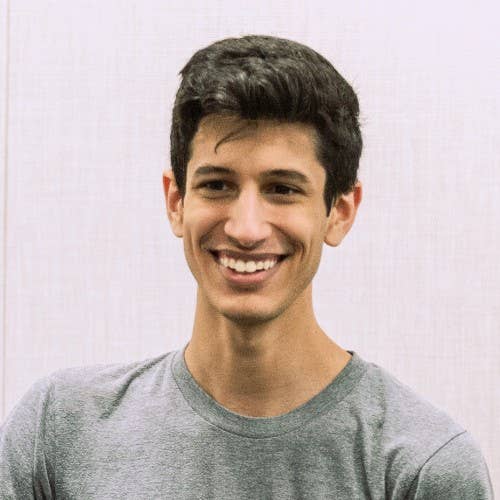 While this student dropped out of high school without gaining a diploma, his enthusiasm for tech sparked by CodeDay led him to continue networking with other tech professionals and he soon got a job in the industry; a decade on, he's a senior-level engineer for a large tech company. "For me, that was the reason that I decided I wanted to work for this organization because we could make such a big impact."
In order for CodeDay to deliver its growing demand for workshops and to support students navigating their first steps into the tech industry, it's seeking more volunteers. In particular, it's seeking mentors to be part of a fun and welcoming team that can be as enriching for them as it is for the students. These include the beginner-friendly 24-hour coding marathon CodeDays - which run both in-person across many cities as well as online - and CodeDay Labs, virtual summer intern-style programs where students are matched with mentors from leading tech companies.
Game changing for students
Students who attend CodeDay aren't typically interested in computer science. Indeed, when the organization goes into a school, they're approaching teachers from other departments such as art or music, and looking for fun ways that students' interests can be applied, such as in graphic design or making music for a video game.
For Menezes, it's about busting the Hollywood archetype where coding is a guy in a basement wearing a hoodie, typing 1s and 0s on a black screen with green text. "For many of us in the industry, we're not programming because we love math, it's because we love the creativity it allows us to have," he explains. "Bringing these students together and showing them how coding and technology can be a creative endeavor really changes a lot of minds."
"Showing these students how coding and technology can be a creative endeavor really changes a lot of minds."
Take an event last fall: Jeshua, Jodi, and Jordany were students who had never worked in a team before or coded before until they attended CodeDay in Baltimore, Maryland. By using the event's theme 'together', the three built a game, complete with a trailer and backstory, about a woman trying to save her family from gangsters.
"When they come in the door, the first thing we do is we have them express what creative thing they want to make, like a game or an app," Menezes explains. "After that, we have a really quick one-hour workshop that gives them the basics. They come out of it with the framework for a game or they have something on the screen that moves around -- we have a few different options for them. It's not a complicated programming language, it's very beginner-friendly."
From there, Jeshua, Jodi and Jordany also have other resources available to them. So they attended a construct workshop where they learned how to make their game character jump over obstacles, while Jodi also attended an animation workshop to learn how to animate her character design. Over the course of the day, they also learned time management, multitasking, and team building skills. In the end, the team won Best in Show with their game: Toget-Them.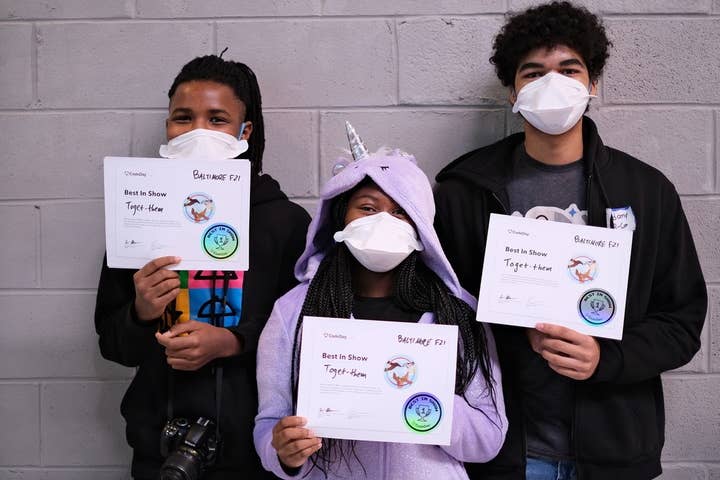 Having never taken an interest in coding before, CodeDay has opened the potential for them to consider exploring computer science in their education and pursuing careers in game development or software engineering. "CodeDay has helped me recognize that I am a lot more interested in computer science than I thought I was before and that I am a lot more capable than I thought I was," says Jeshua.
Just like with the first student Menezes encountered at the very first CodeDay, it's a pattern that happens with many CodeDay attendees, with around 70% of beginners continuing to code after their first CodeDay. Sometimes they even go to another one or two during the year, and those who feel more confident look for something more advanced, such as CodeDay Labs.
Enriching for mentors
One of CodeDay Labs' mentors is Adele, a cybersecurity industry professional from Security Innovation. She worked with students who had no knowledge or experience with cybersecurity but tasked them with learning penetration testing tool Burp Suite for a project where they would run timing-based attacks against different login forms. Learning from the ground up, the students were able to build a functional extension that could be used in the industry.
Adele was not only impressed by how capable her students were with taking initiative and being motivated to complete their project without having to ask for too much help, but also by the resources in place to support them.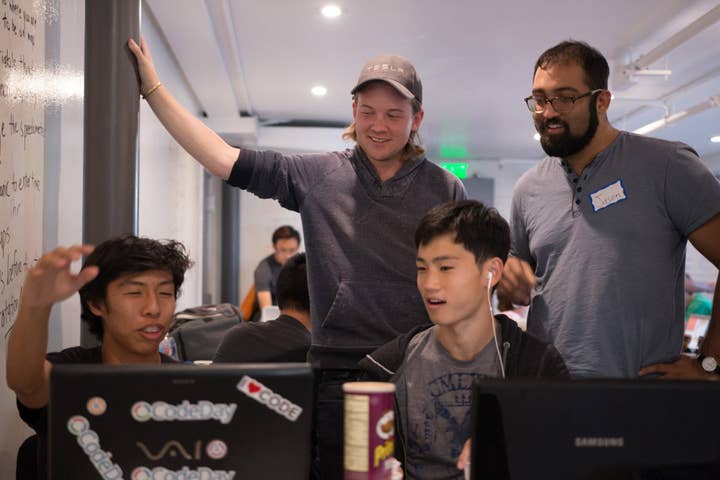 "Being a mentor at CodeDay Labs was a really fun and kind of easy experience, because there's so much infrastructure and help in place for your students that the time commitment for a mentor who's busy with their professional job is not actually that high," she says. "It was also exciting for me as a CodeDay Labs mentor to be able to continue to connect with my students and also to connect them with people in my field with similar interests to theirs."
Mentors are welcome from across the tech sector, from app and web development to cybersecurity, but the games industry is especially a draw. "You can think of what high school students are interested in, and many of them have a great interest in video games," Menezes says. "If there are people who work in the games industry, they are not going to have any shortage of students who are excited to meet and learn from them."
Helping students unlock their potential
The need for mentors and volunteers has only risen as demand for CodeDay Labs has increased, with the effects of the pandemic also accelerating the need for more support for computer science students looking to seriously get into the tech industry, whether that's getting ready to look for a job or help with their resume.
Typically, mentors and volunteers have found themselves helping out not just once but for many years, enriched by being able to share their wealth of knowledge and expertise to people who may not have had the opportunities to learn about tech before, while also having the opportunity to network with other professionals in a similar field.
CodeDay Labs mentors will need tech industry experience to guide students towards their career paths, with the ability to commit to five weeks over the summer, working four hours a week, with three students in a flexible schedule. As these are completely remote and online, they're also open to mentors outside of the US. For mentors with coding experience and knowledge able to meet with students in person, they can also sign up to help at CodeDay events throughout the year, with the next happening simultaneously across the US and overseas in cities like Mumbai and Penang in March.
However, for people working in tech who aren't coders themselves, they can still support as volunteers to help in other ways, such as giving feedback for resumes, judging, or running the events, and any time they can give is appreciated, whether it's for 30 minutes, a couple hours or more. Together, they can be part of a fun and welcoming team that's dedicated to providing hundreds of thousands more underrepresented students the opportunity to unlock their full potential.
To find out how to volunteer at CodeDay, visit https://www.codeday.org/volunteer