HMV sees £16m loss, 12 per cent drop in sales for year
Games market down 17% for retailer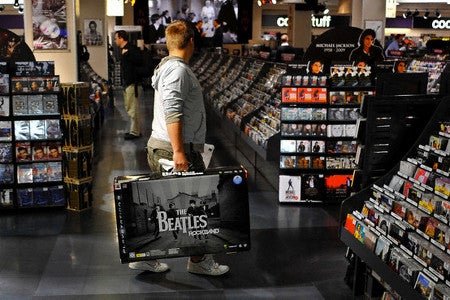 Entertainment retailer HMV saw a 12.1 per cent drop in like for like sales for the full year, contributing to a loss of £16.2 million - compared to a profit of £17.6 million 12 months ago.
In its financial reports for the year ending April 28, sales for the period stood at £923.2 million, down from £1.1 billion last year. HMV Retail alone saw a 17 per cent drop in the value of the UK games market.
It reported however that it saw games as a "new material opportunity" thanks to the recent closures at GAME and GameStation stores, and inspected the resulting increase in market share to continue. It also highlighted pre-owned market as an area to build on.
"The last year has been a difficult and challenging one for HMV and, as expected, this is reflected in our annual results. However, we are confident that the actions we have taken will enable us to significantly improve cash generation and make profits of at least £10 million in the year ahead," said CEO Simon Fox, who has since departed from the company.
"Although we have clearly been through a turbulent period, our financial position is now stable thanks to the support of our suppliers, banks and colleagues, and I am confident, as I hand over the reins to Trevor Moore, that HMV has a secure future under his leadership."