HMV: Music and film can learn from game launches
Gennaro Castaldo says Diablo III and WoW the chain's biggest launches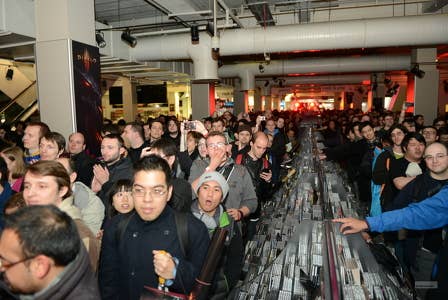 HMV's Gennaro Castaldo has suggested the music and film industries should pay attention to events like Monday's Diablo III launch, an event that even late-nighties Oasis couldn't match.
"I think music and film should be here. Our two biggest ever launches in HMV's history are games related, Diablo III and World of Warcraft, and nothing's come close," Castaldo told VG247.
Castaldo was speaking at the late-night launch itself, which saw a huge number of gamers brave rain and cold to queue outside the Oxford Street branch of the retailer.
He said the only thing that had come close to this type of launch in the past was the 1997 launch of the Oasis album Be Here Now.
"But that was one of those moments where it kinda seemed to connect with a mass audience. This isn't a mass audience, it's a very specialist audience and they'll go to any lengths to be part of it."
He also suggested other entertainment companies should pay attention to the success of these types of game events,
"I think if the music and film industry could bottle up what is here, they'd be a very happy business because there's change happening in their business. They can't quite understand it, they don't quite know what their customers or their fans want, how they're behaving."
There were 8000 late-night openings around the world to launch Diablo III, and over 2 million pre-orders.
"If I was a games publisher or distributor, I'd be very happy because I'd know I'd have the most loyal fans anywhere on the planet."