Hines joins mental health charity board
Take This aims to educate and inform gaming community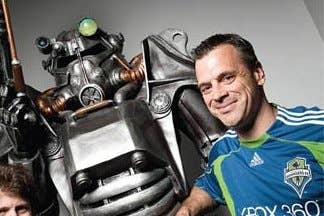 The VP of marketing and PR at Bethesda Softworks, Pete Hines, has joined the board of non-profit Take This to help in their mission to support, educate and inform the gaming community about mental health issues.
"It's an honor and a privilege to be asked to join the board of Take This," said Hines.
"Their work on mental health awareness and education is something that means a lot to me personally, and anything I can do to help them reach and help a wider audience in the gaming community and beyond is time well spent."
Take This was founded in 2013 and its activities including attending conventions and expos and providing an AFK Room where attendees can take a break from the crowds, learn more about mental wellness and speak to volunteers and clinicians. They will offer AFK rooms at every upcoming PAX event, and plan to grow their industry expo presence.
"I've been an admirer of Pete for a very long time. He was the first person at a game studio to give me an interview when I was just starting out as a journalist, and I've always considered him a direct, fair and amazingly talented individual," added charity co-founder and former Polygon writer Russ Pitts.
"The opportunity to work with Pete in furthering the mission of Take This, which for me is a deeply personal effort, is a dream come true."
Take This will also be presenting a panel titled When to Step Away from the Screen at PAX South later this month.