Hades and Ghost of Tsushima triumph at GDC Awards 2021
Supergiant's Roguelike wins Game of the Year, while Umurangi Generation takes home $12,000 in IGF prizes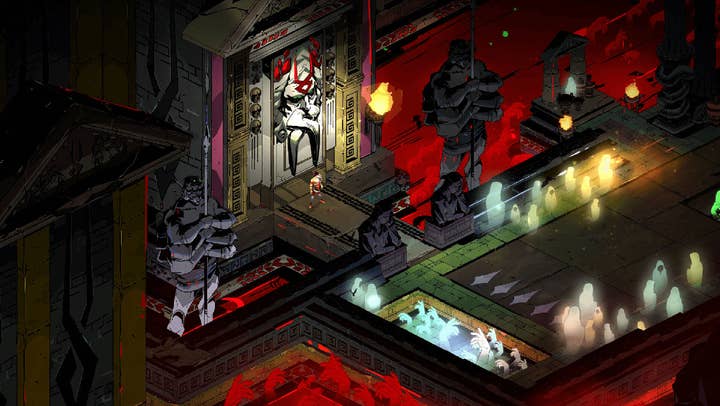 This year's Game Developers Choice Awards took place last night, once again celebrating some of the industry's finest works.
Supergiant's Hades was the big winner of the evening, taking home the Game of the Year gong. The roguelike also snapped up awards for Best Audio and Best Design.
Sucker Punch productions' Ghost of Tsushima also picked up two awards -- taking home Best Visual Design and the Audience Award, as voted for by the public.
Valve and Naughty Dog both took home an award each -- Best VR/AR Game went to Half Life: Alyx from while The Last of Us Part 2 took home Best Narrative.
Kinetic Game's indie horror hit Phasmophobia snapped up the Best Debut accolade, meanwhile, Mihoyo's Genshin Impact won Best Mobile Game.
The Innovation Award went to Media Molecule for Dreams, and the Best Technology Award landed smoothly with Asobo Studio for Microsoft Flight Simulator.
Additionally, Tom Fulp picked up the Pioneer Award, for his role as the founder of entertainment site Newsgrounds, and his role in the evolution of Flash games.
The Lifetime Achievement Award was given to game designer Laralyn McWilliams, recognised for her 28 years in game development, which includes leading roles on Sony-published MMO Free Realms, and Pandemic Studios' Full Spectrum Warrior.
The winners for this year's Independent Game Festival Awards were also unveiled last night, which saw Origame Digital's Umurangi Generation sweep up the Seumas McNally Grand Prize of $10,000 and the Excellent in Narrative accolade of $2,000.
In addition, Feral Cat Den's jazz adventure took home the Excellent in Audio and Excellence in Visual Art Awards -- worth $2,000 each -- and Tuxedo Labs' Teardown swept up the Excellent in Design gong, also worth $2,000.
Finally, the Best Student Game Award went to Vessels from Local Space Survey Corps, a, the Nuovo Award went Blaseball by The Game Band, and the public-voted Audience Award was given to Arrog by Hermanos Magia and Leap Game Studios.
You can read the full list of GDC and IGF winners below:
Game Developers Choice Awards
Best Audio: Hades (Supergiant Games)
Best Debut: Phasmophobia (Kinetic Games)
Best Design: Hades (Supergiant Games)
Best Mobile Game: Genshin Impact (miHoYo)
Innovation Award: Dreams (Media Molecule / Sony Interactive Entertainment)
Best Narrative: The Last of Us Part II (Naughty Dog / Sony Interactive Entertainment)
Best Technology: Microsoft Flight Simulator (Asobo Studio / Xbox Game Studios)
Best Visual Art: Ghost of Tsushima (Sucker Punch Productions / Sony Interactive Entertainment)
Best VR/AR Game: Half-Life: Alyx (Valve)
Audience Award: Ghost of Tsushima (Sucker Punch Productions / Sony Interactive Entertainment)
Game of the Year: Hades (Supergiant Games)
Pioneer Award: Tom Fulp
Lifetime Achievement Award: Laralyn McWilliams
Independent Games Festival Awards
Best Student Game ($2,000): Vessels (Local Space Survey Corps, LLC)
Excellence in Audio ($2,000): Genesis Noir (Feral Cat Den)
Excellence in Narrative ($2,000): Umurangi Generation (Origame Digital)
Audience Award ($2,000): Arrog (Hermanos Magia and Leap Game Studios)
Excellence in Design ($2,000): Teardown (Tuxedo Labs)
Excellence in Visual Art ($2,000): Genesis Noir (Feral Cat Den)
Nuovo Award ($2,000): Blaseball (The Game Band)
Seumas McNally Grand Prize ($10,000): Umurangi Generation (Origame Digital)