Guerrilla Games and the road to Horizon: Forbidden West
"The biggest challenge with any sequel is can you recapture that original magic?"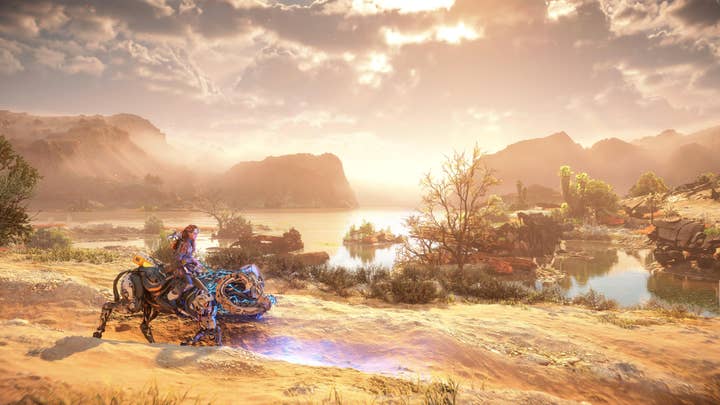 Sign up for the GI Daily here to get the biggest news straight to your inbox
Horizon: Zero Dawn was a dramatic shift for Guerrilla Games. The studio known for the Killzone series dropped its linear levels, guns and space Nazis for a sprawling open world, more primitive weapons, and robot dinosaurs.
At Develop:Brighton this morning, three members of the studio's leadership reflected on this journey to mark the studio's 20th anniversary, sharing the motivations that led them to create PlayStation's blockbuster series.
"Killzone was our first IP, testing all our ideas, seeing how things worked. There were some great ideas in there, but also some that never really worked," said studio director and art director Jan-Bart van Beek. "We had this idea that was based upon franchises like Aliens, where it's all about the bad guys and what we found out was that people still really need a hero to clamp onto and identify with. So when you're making a whole IP about the baddies, it's hard to do good storytelling. That was something we definitely took on board."
"We'd been making ruins for a little bit too long, and the studio got really excited about making nature"

Michiel van der Leeuw, Guerrilla Games
Van Beek added that Aloy was an "intrinsic part" of the pitch, and the team reminisced about first seeing fans cosplaying as the Horizon hero, finding tattoos of her, and even learning that babies have been named after the character.
Looking back, he also suggested Killzone was "maybe a little too Euro-centric," suggesting there were elements that may not have resonated with American audiences.
"Idiosynchronacies that meant it never really gelled with them, so when we were making Horizon we were looking at a much broader audience, and telling a bigger story that's relevant to a lot more people."
Angie Smets – previously studio director and executive producer, now head of development strategy for PlayStation Studios – added that Guerrilla learned through Killzone how much effort it takes to create a new IP.
"When we decided to do something new, from the start we set out to do something that was bigger than a single game. We really thought about it as a franchise from day one. I think we were quite ambitious, thinking back."
Michiel van der Leeuw, technical director at Guerrilla, described Killzone as a good testing ground, especially as the team was building new tech and processes.
"After Killzone: Shadow Fall for [the] PlayStation 4, we knew we wanted a bigger, broader IP. We also wanted something positive. We'd been making ruins for a little bit too long, and the studio got really excited about making nature. Everyone was really excited about robots. There were many things we could do with the same universe, different games, different styles."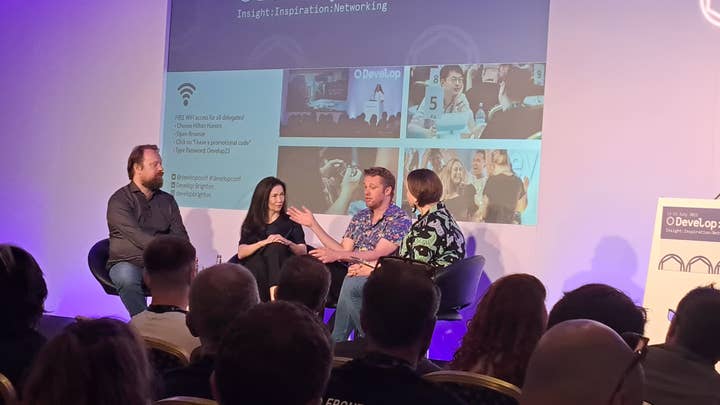 The trio remembered the nerves around the original E3 reveal, about the expectation that Guerrilla would be making a new Killzone. At E3 2015, where the game was first unveiled, van Beek expected the team to be "laughed out of the room" – but the unveiling was met with such excitement that the studio knew it was onto a potential hit. Even iconic developers like Hideo Kojima and Shigeru Miyamoto were asking to see the behind-closed-doors demo at the show.
Fast forward to Horizon: Forbidden West and the Guerrilla team found themselves facing new challenges. With Zero Dawn and Aloy both established as hits, the studio needed to prove it could maintain its momentum.
"The biggest challenge with any sequel is can you recapture that original magic?" said van Beek. "People now know the IP, so if you had something so built on mystery, can you create another mystery again or do you fall into repetition? That was definitely challenging, to keep the surprise, the momentum and the awe of the first game going through the second game.
"A large part of that was also adding the two layers of exploration, underwater as well as aerial. Those were very, very challenging from a technical point of view. It was almost up until the last moment that we didn't know whether we could support the flying on PlayStation 4. We were like, 'Do we need to cut the whole feature of the game? That's going to make such a mess' but we got it to work. We sacrificed some coders to the gods," he laughed.
"From the start, we set out to do something that was bigger than a single game"

Angie Smets, PlayStation Studios
Smets added that there was an additional challenge, in that it was the first time Guerrilla had made a multi-platform title since its debut with 2004's Shellshock: Nam '67. Not just multi-platform, but multi-generation, built simultaneously for PlayStation 4 and 5.
"In the early part of the project, it was really hard to get the focus on the PS5 and push the quality bar there, and in the second half it was really hard to get the PS4 to catch up," she said.
Van der Leeuw added: "We pushed the quality bar because we knew it had to look so much better than other PS4 games, but we also wanted it to look significantly better on PS5. We wanted it so that in every Horizon screenshot, you could see the difference. So there was the clouds, the vegetation, the cloth, skin, and we had to look at all these elements and see what we could do because if you had a screenshot, you should always be able to tell which version it is. And I think we succeeded.
"The problem was we made a PS4 game I'm super proud of, but then we made the PS5 game so much better that a lot of people said, 'Actually, I want to play it on PS5 so I'll wait until PS5s are available because I don't want to miss out.'"
Van Beek also discussed the core pillars both games were built on. When work began on Zero Dawn, the team set three statements to keep development in line with the original vision.
"These are not verbatim, but the first one talked about the overgrown cities, the ruins, the majestic nature, and this basically covers the exploration part," he said. "The second part is about the combat; using your smarts and feeling clever, laying traps and feeling like a hunter against these awesome machines. The third part is about these memorable characters, and emotional and relevant stories. Those are still the key building blocks of any Horizon game we make."
For Forbidden West, the team decided not to add new pillars or dramatically change them, but instead "strengthen or lengthen" these core concepts, building on top of everything that made Horizon: Zero Dawn so popular.
"The philosophy that came up was an acronym, ACE: Amaze, Challenge, Engage. So for every encounter, every environment and every story, we would need to do something with those elements to heighten the experience over everything people had had before. It should be more amazing, more challenging, more engaging, so we looked at how we could do that. How could we make the combat more challenging? How could we make the characters more engaging, and the environments more amazing?"
Looking forward, Van Beek said Guerrilla will be "continuing Horizon for a long while." The franchise is expanding beyond games with an upcoming Netflix TV show, and the studio is currently undergoing another massive shift as it works on a multiplayer game set in Aloy's world.
Sign up for the GI Daily here to get the biggest news straight to your inbox
GamesIndustry.biz is a media partner of Develop:Brighton