GTA V tops Europe's Christmas digital download chart
Unsurprisingly, FIFA 19 reigns overall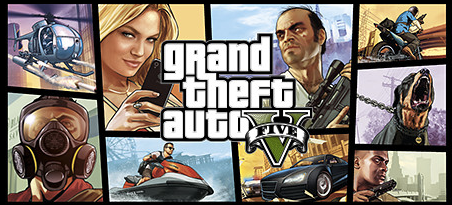 The best-selling game across EMEA regions in the week before Christmas was FIFA 19.
It's not especially surprisingly considering the sheer popularity of EA's football game across European markets. It beat off stiff competition from Rockstar's Red Dead Redemption 2, which had to settle for No.2 in the weekly EMEA charts (it did manage No.1 in the UK charts).
However, what was (slightly) surprising was the No.1 downloaded game over the same period - Grand Theft Auto V on PC.
It's all down to the Steam Winter Sale, where the game's price fell to under $15. It saw Rockstar's ageing action game rise up 475 spaces in the individual platform charts. Indeed, the power of Steam can be seen throughout the charts, with the Winter Sale causing spikes for the likes of Middle-Earth Shadow of War, Tom Clancy's Rainbow Six: Siege and Assassin's Creed Odyssey.
However, the pre-Christmas week was dominated by physical game sales (as you would expect), and when combining digital and physical together, GTA V actually 'only' managed No.10.
Super Smash Bros Ultimate continues to perform well across Europe, dropping one place from No.2 to No.3. Nintendo is one of the few companies that doesn't contribute to the download figures for these charts, so Smash Bros downloads are not included.
Here is the combined physical/digital chart for the EMEAA region for the week ending December 23rd:
| Last Week | This Week | Title |
| --- | --- | --- |
| 1 | 1 | FIFA 19 |
| 3 | 2 | Red Dead Redemption 2 |
| 2 | 3 | Super Smash Bros. Ultimate |
| 4 | 4 | Call of Duty: Black Ops 4 |
| 5 | 5 | Super Mario Party |
| 8 | 6 | Assassin's Creed Odyssey |
| 6 | 7 | Battlefield V |
| 9 | 8 | Mario Kart 8: Deluxe |
| 7 | 9 | Spider-Man |
| 11 | 10 | Grand Theft Auto V |
Participating companies in the GSD charts (run by B2boost on behalf of ISFE) are Activision Blizzard, Bandai Namco, Capcom, Codemasters, EA, Focus Home Interactive, Koch Media, Microsoft, Milestone, Paradox, Sega, Sony, Square Enix, Take-Two, Ubisoft and Warner Bros. Notable absentees are Bethesda, Konami and Nintendo.
Digital data includes games sold in Australia, Austria, Bahrain, Belgium, Bulgaria, Croatia, Cyprus, Czech Republic, Denmark, Finland, France, Germany, Great Britain, Greece, Hungary, Iceland, India, Ireland, Israel, Italy, Kuwait Lebanon, Luxembourg, Malta, Netherlands, New Zealand, Norway, Oman, Poland, Portugal, Qatar, Romania, Russia, Saudi Arabia, Slovakia, Slovenia, South Africa, Spain, Sweden, Switzerland, Turkey, Ukraine and UAE.
Physical data includes all games, but only those sold in Belgium, Denmark, Finland, France, Italy, Netherlands, Norway, Poland, Portugal, Spain, Sweden and Switzerland. UK will be added to the list from next year.